Categories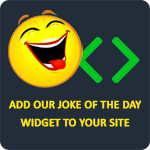 You've got the perfect weapon against muggers. Your face.
LaughFactory
A man and woman were having sex. After they were done, the man asks the woman, "Are you a nurse?" The woman answers, "Yes. How did you know?" The man replies, "Because you took care of me so well." Then the woman asks the man, "Are you an anesthesiologist?" He says proudly, "Yes. How do you know?" The woman answers, "Because I didn't feel a thing."
Anonymous
So, a thought crossed your mind? Must have been a long and lonely journey.
LaughFactory
I hear you are very kind to animals, so please give that face back to the gorilla.
LaughFactory
You're so ugly, your husband takes you with him everywhere he goes, so he doesn't have to kiss you goodbye.
LaughFactory