Categories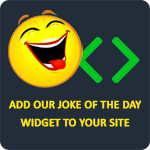 Your face looks like it caught on fire and somebody tried to put it out with a fork.
rayrayrawrsu
Your Halloween costume came in the mail today. I opened it. It was a rooster mask and a bag of lollipops. Going as a c*ck sucker again!?
jewelzee86
My psychiatrist told me I was crazy, so I said, "I want a second opinion." He said, "Okay, you're ugly too."
Cutifulone
If you call one of those psychic hotlines and they don't greet you by your name, you should hang up!
Micahskatt2
Hold still, I'm trying to imagine you with a personality.
LaughFactory