Categories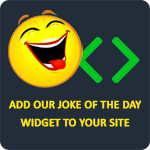 Bob: "Why did the chicken cross the road?"
Joe: "To get to the idiot's house."
Bob: "Knock knock."
Joe: "Who's there?"
Bob: "The chicken."
Anonymous
I hear you are very kind to animals, so please give that face back to the gorilla.
LaughFactory
You should do some soul-searching. Maybe you'll find one.
LaughFactory
Tell me, as an outsider, what do you think of the human race?
LaughFactory
Your face looks like it caught on fire and somebody tried to put it out with a fork.
rayrayrawrsu