Categories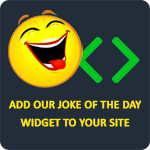 Q: Why are blonde jokes so short?
A: So brunettes can remember them.
Anonymous
I hear you are very kind to animals, so please give that face back to the gorilla.
LaughFactory
You're so ugly, your husband takes you with him everywhere he goes, so he doesn't have to kiss you goodbye.
LaughFactory
How did giraffes come to be? Chuck Norris uppercut a horse.
greatlover16
When somebody calls you gay, say, "I'm straighter than the pole your mom dances on."
Anonymous