Categories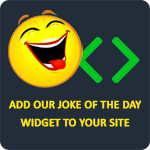 I hear you are very kind to animals, so please give that face back to the gorilla.
LaughFactory
You're so ugly, your husband takes you with him everywhere he goes, so he doesn't have to kiss you goodbye.
LaughFactory
You're so ugly that when you were born they didn't slap you they slapped your mom.
Anonymous
I don't mind that you are talking, so long as you don't mind that I'm not listening.
LaughFactory
Your Halloween costume came in the mail today. I opened it. It was a rooster mask and a bag of lollipops. Going as a c*ck sucker again!?
jewelzee86