Categories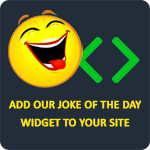 Q: Can a kangaroo jump higher than the Empire State Building?
A: Of course. The Empire State Building can't jump.
Today's Joke
bobby
A bride tells her husband, "Honey, you know I'm a virgin and I don't know anything about sex. Can you explain it to me first?" "Okay, sweetheart. Putting it simply, we will call your private place 'the prison' and call my private thing 'the prisoner'. So what we do is put the prisoner in the prison." And they made love for the first time and the husband was smiling with satisfaction. Nudging him, his bride giggles, "Honey the prisoner seems to have escaped." Turning on his side, he smiles and says, "Then we will have to re-imprison him." After the second time, the bride says, "Honey, the prisoner is out again!" The husband rises to the occasion and they made love again. The bride again says, "Honey, the prisoner escaped again," to which the husband yelled, "Hey, it's not a life sentence!!!"
Featured on January 30, 2015
MrsChinchilla
Dylan was practicing his golf swing in his front yard when he swung a little too hard and sent the ball through his neighbors window. Dylan ran over and rang the doorbell three times. After no one answered for a few minutes, he opened the door to see broken glass everywhere, a lamp lying on the ground, and a huge fat Arabian man wearing a turban sitting on the couch. Dylan asked, "Who are you?" The fat man replied, "I am a genie you have freed from that lamp." Dylan questioned, "Oh man, do I get three wishes?" The genie replied, "Since you freed me by accident you only get two and I get one." Dylan thought about it and realized what he wanted, "I want to be the best golfer ever." The surprised genie said, "You sure? Most people wish for money, but okay. Now your wife gets one wish." Dylan brought over his wife who wished right away, "I want a million dollars every week of my life." The genie said, "Granted. And now for my wish, I have been cramped up in that lamp for many years so its been a while since I've been with a woman. I want one day of wild, crazy sex with your wife, Dylan." Dylan said, "No way!" The genie replied, "Not even for a million dollars a week?" Dylan turned to his wife, who said, "I guess for all that, I should. Well, not until Dylan leaves." Dylan said, "Okay, have fun, I guess," and left. Dylan's wife then proceeded to have wild sex for the rest of the day with the genie. When they were finished, the genie asked how old her husband was. She said, "Forty-five." The Genie laughed and said, "Isn't he a little old to be believing in genies?"
Featured on January 29, 2015
Joseph Emberson
A mother is in the kitchen making dinner for her family when her daughter walks in. "Mother, where do babies come from?" The mother thinks for a few seconds and says, "Well dear, Mommy and Daddy fall in love and get married. One night they go into their bedroom, they kiss and hug, and have sex." The daughter looks puzzled so the mother continues, "That means the daddy puts his penis in the mommy's vagina. That's how you get a baby, honey." The child seems to comprehend. "Oh, I see, but the other night when I came into your room you had daddy's penis in your mouth. What do you get when you do that?" "Jewelry, my dear. Jewelry."
Featured on January 28, 2015
Tatauaje13
After picking her son up from school one day, the mother asks him what he did at school. The kid replies, "I had sex with my teacher." She gets so mad that when they get home, she orders him to go straight to his room. When the father returns home that evening, the mother angrily tells him the news of what their son had done. As the father hears the news, a huge grin spreads across his face. He walks to his son's room and asks him what happened at school, the son tells him, "I had sex with my teacher." The father tells the boy that he is so proud of him, and he is going to reward him with the bike he has been asking for. On the way to the store, the dad asks his son if he would like to ride his new bike home. His son responds, "No thanks Dad, my butt still hurts."
Featured on January 27, 2015
MISSDIONE02
A blonde, a redhead, and a brunette were all lost in the desert. They found a lamp and rubbed it. A genie popped out and granted them each one wish. The redhead wished to be back home. Poof! She was back home. The brunette wished to be at home with her family. Poof! She was back home with her family. The blonde said, "Awwww, I wish my friends were here."
Featured on January 26, 2015
Donovan
Teacher: "If I gave you 2 cats and another 2 cats and another 2, how many would you have?"
Johnny: "Seven."
Teacher: "No, listen carefully... If I gave you two cats, and another two cats and another two, how many would you have?"
Johnny: "Seven."
Teacher: "Let me put it to you differently. If I gave you two apples, and another two apples and another two, how many would you have?"
Johnny: "Six."
Teacher: "Good. Now if I gave you two cats, and another two cats and another two, how many would you have?"
Johnny: "Seven!"
Teacher: "Johnny, where in the heck do you get seven from?!"
Johnny: "Because I've already got a freaking cat!"
Featured on January 25, 2015
Capricorn37
Do not be racist; be like Mario. He's an Italian plumber, who was made by the Japanese, speaks English, looks like a Mexican, jumps like a black man, and grabs coins like a Jew!
Featured on January 24, 2015
Andrew