Categories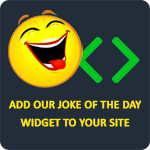 The doc told a guy that masturbating before sex often helped men last longer during the act. The man decided, "What the hell, I'll try it," He spent the rest of the day thinking about where to do it before he got home to his wife. He couldn't do it in his office. He thought about the restroom, but that was too open. He considered an alley, but figured that was too unsafe. Finally, he realized his solution. On his way home, he pulled his truck over on the side of the highway. He got out and crawled underneath as if he was examining the truck. Satisfied with the privacy, he undid his pants and started to play with his unit. He closed his eyes and thought of his lover. As he grew closer to the big finish, he felt a quick tug at the bottom of his pants. Not wanting to lose his mental fantasy or the orgasm, he kept his eyes shut and replied, "What?" He heard, "This is the police. What's going on down there?" The man replied, "I'm checking out the rear axle, it's busted." The cop replied, "Well, you might as well check your brakes too while you're down there because your truck rolled down the hill 5 minutes ago."
Today's Joke
eric4325
There were two cannibals who captured a man. They decided it would be fair if they started eating from opposite ends. After a few minutes, the one who started at the head asked the other one, "How's it going down there?" And the other one replies, "I'm having a ball!"
Featured on April 28, 2016
WhiteFang333
Have you heard the story of the magic sandwich? Never mind, it's just a bunch of bologna.
Featured on April 27, 2016
Iamsnappy4
One day in class, the teacher brought a bag full of fruit and said, "Now class, I'm going to reach into the bag and describe a piece of fruit and you tell me which fruit I'm talking about. Alright, the first one is round, plump, and red. Little Johnny raised his hand high but the teacher ignored him and picked Deborah who promptly answered, "Apple." The teacher replied, "No Deborah, it's a beet, but I like your thinking. Now the second one is soft, fuzzy and colored red and brown." Johnny is hopping up and down in his seat trying to get the teacher to call on him but she calls on Billy. "Is it a peach?" Billy asks. "No, it's a potato, but I like your thinking," the teacher replies. "Okay the next one is long, yellow, and fairly hard." Johnny is about to explode as he waves his hand frantically but the teacher calls on Sally who say, "A banana." The teacher responds, "No, it's a squash, but I like your thinking." Johnny is irritated now so he speaks up loudly, "Hey, I've got one for you teacher. Let me put my hand in my pocket. Okay, I've got it. It's round, hard, and it's got a head on it." "Johnny!" she cries, "That's disgusting!" "Nope," answers Johnny, "It's a quarter, but I like your thinking!"
Featured on April 26, 2016
jonmcginty
Yo mama's hair is so full of dandruff, when she shook her head, the principal called a snow day.
Featured on April 25, 2016
Cente
How can you tell which end of a worm is which? Tickle it in the middle and see which end smiles.
Featured on April 24, 2016
Rubym8
Q: Why did Adele cross the road?
A: To sing, "Hello from the other side!"
Featured on April 23, 2016
SOME DUDE
A man and a woman are sleeping together when suddenly there is a noise in the house, and the woman rolls over and says, "It's my husband, you have to leave!" The man jumps out of bed, jumps through the window, crawls through the bushes, and out on the street, when he realizes something. He goes back to the house and says to the woman, "Wait, I'm your husband!" She replies giving him a dirty look, "So why did you run?"
Featured on April 22, 2016
swtangie5