Categories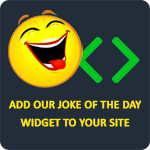 A man is angry because he has it in his head that someone stole his wallet. He walks into a church to steal someone else's wallet, but he has a change of heart during the service. He confesses to the priest afterwards about what his intentions had initially been. The priest asks, "What made you change your mind?" The man says, "In your sermon on the Ten Commandments when you got to 'Thou shall not commit adultery,' I remembered where I left my wallet!"
Today's Joke
Mark My Words
A boy asks his father, "Dad, are bugs good to eat?" "That's disgusting. Don't talk about things like that over dinner," the dad replies. After dinner the father asks, "Now, son, what did you want to ask me?" "Oh, nothing," the boy says. "There was a bug in your soup, but now it's gone."
Featured on March 29, 2015
John Ocallaghan
A woman was taking an afternoon nap. When she woke up, she told her husband, "I just dreamed that you gave me a pearl necklace. What do you think it means?" "You'll know tonight," he said. That evening, the man came home with a small package and gave it to his wife. Delighted, she opened it to find a book entitled "The Meaning of Dreams."
Featured on March 28, 2015
Hayden Thomas
A girl realized that she had grown hair between her legs. She got worried and asked her mom about that hair. Her mom calmly said, "That part where the hair has grown is called your monkey. Be proud that your monkey has grown hair." The girl smiled. At dinner, she told her sister, "My monkey has grown hair." Her sister smiled and said, "That's nothing; mine is already eating bananas."
Featured on March 27, 2015
Anna Fox
Q: How do you keep a blonde busy for 2 days?
A: Give her a piece of paper that has "Please turn over" written on both sides.
Featured on March 26, 2015
Francisco Davis
A man went to his lawyer and told him, "My neighbor owes me $500 and he won't pay up. What should I do?" "Do you have any proof he owes you the money?" asked the lawyer. "Nope," replied the man. "OK, then write him a letter asking him for the $5,000 he owed you," said the lawyer. "But it's only $500," replied the man. "Precisely. That's what he will reply and then you'll have your proof!"
Featured on March 25, 2015
Gerald H. Curcio
A teacher wanted to teach her students about self-esteem, so she asked anyone who thought they were stupid to stand up. One kid stood up and the teacher was surprised. She didn't think anyone would stand up so she asked him, "Why did you stand up?" He answered, "I didn't want to leave you standing up by yourself."
Featured on March 24, 2015
ronald34
Wife: "I look fat. Can you give me a compliment?"
Husband: "You have perfect eyesight."
Featured on March 23, 2015
coloured pencils