Categories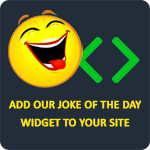 Worried about their less than exciting sex life, a young wife sends her husband to a therapist who winds up treating him with self-hypnosis. To her joy, everything gets much better. However, she can't help but notice that each night, just before their lovemaking, the husband dashes out to the bathroom for several minutes. This torments her until finally, one night, she follows him. There, in front of the mirror, she finds him applying this therapeutic technique, "She's not my wife. She's not my wife. She's not my wife."
Today's Joke
James Harris
Ralph is driving home one evening, when he suddenly realizes that it's his daughter's birthday and he hasn't bought her a present. He drives to the mall, runs to the toy store, and says to the shop assistant, "How much is that Barbie in the window?" In a condescending manner, she says, "Which Barbie?" She continues, "We have Barbie Goes to the Gym for $19.95, Barbie Goes to the Ball for $19.95, Barbie Goes Shopping for $19.95, Barbie Goes to the Beach for $19.95, Barbie Goes Nightclubbing for $19.95, and Divorced Barbie for $265.00." Ralph asks, "Why is the Divorced Barbie $265.00 when all the others are only $19.95?" "That's obvious," the saleslady says. "Divorced Barbie comes with Ken's house, Ken's car, Ken's boat, Ken's furniture..."
Featured on July 04, 2015
Andrew
A married couple, Harry and Esther, are out shopping one morning when Esther says, "Darling, it's my mother's birthday tomorrow. What shall we buy for her? She said she would like something electric." Harry replies, "How about a chair?"
Featured on July 03, 2015
Maryanne
A lady goes to the doctor and complains that her husband is losing interest in sex. The doctor gives her a pill, but warns her that it's still experimental. He tells her to slip it into his mashed potatoes at dinner, so that night, she does just that. About a week later, she's back at the doctor, where she says, "Doc, the pill worked great! I put it in the potatoes like you said! It wasn't five minutes later that he jumped up, raked all the food and dishes onto the floor, grabbed me, ripped all my clothes off, and ravaged me right there on the table!" The doctor says, "I'm sorry, we didn't realize the pill was that strong! The foundation will be glad to pay for any damages." "Nah," she says, "that's okay. We're never going back to that restaurant anyway."
Featured on July 02, 2015
Mariah
Q: Why shouldn't Facebook have paid $1 billion dollars for Instagram?
A: They could've downloaded it for free!
Featured on July 01, 2015
MATJEW
On his first visit to the zoo, a little boy stared at the caged stork for a long time and asked his dad, "Why doesn't the stork recognize me?"
Featured on June 30, 2015
Dickie
A blonde is overweight so her doctor puts her on a diet. "I want you to eat regularly for two days, then skip a day and repeat for two weeks and you'll lose at least five pounds." When the blonde returns, she's lost nearly 20 pounds. The doctor exclaims, "That's amazing! Did you follow my diet?" The blonde nods. "I thought I was going to drop dead every third day from all the skipping!"
Featured on June 29, 2015
Rhys
A lawyer is standing in a long line at the box office. Suddenly, he feels a pair of hands kneading his shoulders, back, and neck. The lawyer turns around. "What the hell do you think you're doing?" "I'm a chiropractor, and I'm just keeping in practice while I'm waiting in line." "Well, I'm a lawyer, but you don't see me screwing the guy in front of me, do you?"
Featured on June 28, 2015
iamalilqt