Categories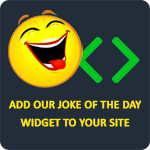 A blonde goes into a nearby store and asks a clerk if she can buy the TV in the corner. The clerk looks at her and says that he doesn't serve blondes, so she goes back home and dyes her hair black. The next day she returns to the store and asks the same thing, and again, the clerk said he doesn't serve blondes. Frustrated, the blonde goes home and dyes her hair yet again, to a shade of red. Sure that a clerk would sell her the TV this time, she returns and asks a different clerk this time. To her astonishment, this clerk also says that she doesn't serve blondes. The blonde asks the clerk, "How in the world do you know I am a blonde?" The clerk looks at her disgustedly and says,"That's not a TV, it's a microwave!"
Today's Joke
oscarbejarano
Yo momma's so fat, she got baptized at Sea World.
Featured on February 27, 2015
LaughFactory
A boy is selling fish on a corner. To get his customers' attention, he is yelling, "Dam fish for sale! Get your dam fish here!" A pastor hears this and asks, "Why are you calling them 'dam fish.'" The boy responds, "Because I caught these fish at the local dam." The pastor buys a couple fish, takes them home to his wife, and asks her to cook the dam fish. The wife responds surprised, "I didn't know it was acceptable for a preacher to speak that way." He explains to her why they are dam fish. Later at the dinner table, he asks his son to pass the dam fish. He responds, "That's the spirit, Dad! Now pass the f*cking potatoes!"
Featured on February 26, 2015
bandajoey92
A wife and husband are having money issues. One day they decide to have the wife work the corner. Later that night the husband goes to pick the wife up. He asks, "How much did you make, sweetie?" She answers, "I made $200.50." The husband says, "What asshole gave you 50 cents?" She replies, "All of them."
Featured on February 25, 2015
Colby
A man got hit in the head with a can of Coke, but he was alright because it was a soft drink.
Featured on February 24, 2015
Anonymous
Q: What do you call 10 blondes in a freezer?
A: Frosted Flakes!
Featured on February 23, 2015
Anonymous
Yo mama so poor her front door and back door are on the same hinges.
Featured on February 22, 2015
Cameron Hale
So two Irishmen are traveling to Australia. Before they leave home, one of their dads gives them both a bit of advice: "You watch them Aussie cab drivers. They'll rob you blind. Don't you go paying them what they ask. You haggle." At the Sydney airport, the Irishmen catch a cab to their hotel. When they reach their destination, the cabbie says, "That'll be twenty dollars, lads." "Oh no you don't! My dad warned me about you. You'll only be getting fifteen dollars from me," says one of the men. "And you'll only be getting fifteen from me too," adds the other.
Featured on February 21, 2015
Rústi Strønzö