Categories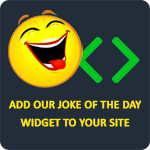 Three elderly men are taking a walk outside their nursing home. The first one says, "Windy, isn't it?" The second one says, "No, it's Thursday!" The third one says, "So am I. Let's go get a beer."
Today's Joke
Mr. Minear
How did the blonde die drinking milk? The cow fell on her.
Featured on May 25, 2015
A Redhead
A lawyer was well into a lengthy cross-examination of a witness, when he stopped and said, "I object, your honor! One of the jurors is asleep." The Judge ruled, "You put him to sleep, so you wake him up."
Featured on May 24, 2015
george
I didn't like my beard at first. Then it grew on me.
Featured on May 23, 2015
Silenxio Maximeaning Ultimious
In heaven, the angels asked God where he would spend his next holiday. God said, "Definitely not on Earth. Last time I went there, I left a girl pregnant and those people haven't stopped talking about it since!"
Featured on May 22, 2015
riley
Teacher: "I asked you to draw a cow and grass, but I only see a cow. Where is grass?"
Student: "The cow ate the grass, sir."
Featured on May 21, 2015
Ponyboy
A lawyer is standing in a long line at the box office. Suddenly, he feels a pair of hands kneading his shoulders, back, and neck. The lawyer turns around and asks, "What the hell do you think you're doing?" "I'm a chiropractor and I'm just keeping in practice while I'm waiting in line." "Well, I'm a lawyer, but you don't see me screwing the guy in front of me, do you?"
Featured on May 20, 2015
Jerome
Q: What did the big chimney say to the little chimney?
A: "You're too young to smoke."
Featured on May 19, 2015
Terence Olivier