Categories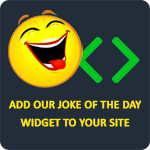 A blonde is overweight so her doctor puts her on a diet. "I want you to eat regularly for two days, then skip a day and repeat for two weeks and you'll lose at least five pounds." When the blonde returns, she's lost nearly 20 pounds. The doctor exclaims, "That's amazing! Did you follow my diet?" The blonde nods. "I thought I was going to drop dead every third day from all the skipping!"
Today's Joke
Anonymous
Yo momma so hairy Bigfoot took a picture of HER!
Featured on December 12, 2013
Hairyguy
A woman places an ad in the local newspaper. "Looking for a man with three qualifications: won't beat me up, won't run away from me, and is great in bed." Two days later her doorbell rings. "Hi, I'm Tim. I have no arms so I won't beat you, and no legs so I won't run away." "What makes you think you are great in bed?" the woman retorts. Tim replies, "I rang the doorbell, didn't I?"
Featured on December 11, 2013
Anonymous
A woman was nagging her husband to cut the grass, to which the husband answered, "What do I look like to you? A landscaper?!" Next time the sink was dripping, she asked him again, "Honey, can you fix the faucet?" The husband replied, "What do I look like to you? A Plumber?!" Two days later, a light bulb went out and she begged him again, "Honey, can you change the light bulb?" His reply was, "What am I? An electrician?!" A few days later, the husband comes home from work to find that the lawn is cut, the faucet is fixed, the light bulb is changed. Very surprised, he says, "Honey, what happened here?" The wife replies, "You know our new next door neighbor? He came over and fixed everything." The husband says, "Honey, how did you pay him?!" "Oh, you know," the wife says, "he told me that I could either bake him a cake or have sex with him." Somewhat relieved the husband asks, "Whew, so what kind of a cake did you bake for him?" The wife replies, "Who do you think I am? Betty Crocker?!"
Featured on December 10, 2013
robrob13
Why are sharks mostly salt water creatures? Because pepper would make them sneeze.
Featured on December 09, 2013
Repor9
A blind guy on a bar stool shouts to the bartender, "Wanna hear a blonde joke?" In a hushed voice, the guy next to him says, "Before you tell that joke, you should know something. Our bartender is blonde, the bouncer is blonde. I'm a six foot tall, 200 lb black belt. The guy sitting next to me is six foot two, weighs 225, and he's a rugby player. The fella to your right is six foot five, pushing 300, and he's a wrestler. Each one of us is blonde. Think about it, Mister. Do you still wanna tell that joke?" The blind guy says, "Nah, not if I'm gonna have to explain it five times."
Featured on December 08, 2013
sendmeluck
What is a Mexican's favorite sport? Cross-country.
Featured on December 07, 2013
maryochoa