Categories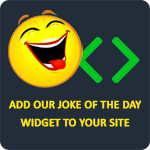 Q. What is a taxidermist's favorite part of Thanksgiving?
A. The stuffing.
Today's Joke
Cory
Why isn't the turkey hungry at Thanksgiving? Because he's already stuffed!
Featured on November 22, 2014
Anonymous
Q: Why do Jewish mothers make great parole officers?
A: They never let anyone finish a sentence!
Featured on November 21, 2014
Bookworm
Q: What did the green grape say to the purple grape?
A: "Breathe, stupid!"
Featured on November 20, 2014
saul90716
A magician worked on a cruise ship in the Caribbean. The audience would be different each week, so the magician did the same tricks each week. However, there was a problem, the captain's parrot saw the shows each week and began to understand how the magician did every trick. Once he understood, he started shouting out the secrets in the middle of the show, "Look, it's not the same hat." "Look, he is hiding the flowers under the table." "Hey, why are all the cards the Ace of Spades?" The magician was furious but couldn't do anything, it was, after all, the captain's parrot. One day, the ship had an accident and sank. The magician found himself with the parrot, adrift on a piece of wood, in the middle of the ocean. They stared at each other with hatred, but did not utter a word. This went on for a day, then another, and another. Finally, after a week, the parrot said, "Okay, I give up. Where the heck is the boat?"
Featured on November 19, 2014
Axeman
Why is it that your nose runs, but your feet smell?
Featured on November 18, 2014
Anonymous
During the wedding rehearsal, the groom approaches the pastor with an unusual offer. "Look, I'll give you $100 if you'll change the wedding vows. When you get to the part where I'm supposed to promise to 'love, honor, and obey' and 'be faithful to her forever,' I'd appreciate it if you'd just leave that out." He passes the minister a $100 bill and walks away satisfied. On the day of the wedding, when it comes time for the groom's vows, the pastor looks the young man in the eye and says, "Will you promise to prostrate yourself before her, obey her every command and wish, serve her breakfast in bed every morning of your life, and swear eternally before God and your lovely wife that you will not ever even look at another woman, as long as you both shall live?" The groom gulps, looks around, and says in a tiny voice, "Yes," then leans toward the pastor and hisses, "I thought we had a deal." The pastor puts a $100 bill into the groom's hand and whispers, "She made me a better offer."
Featured on November 17, 2014
Basala
Yo momma's so fat, when I swerved to avoid her in the street I ran outta gas.
Featured on November 16, 2014
LaughFactory