Categories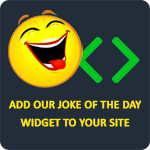 Q: Why can't an emu fly? A: It never books a flight
Anonymous
Why do hummingbirds hum? Because they don't know the words.
typical joker
Why did Hitler kill himself? Because he saw his gas bill.
Anonymous
Yo mama's armpit is so hairy it looks like she has Bigfoot in a headlock.
Anonymous
A fancy Alaskan restaurant invited a world famous chef to be a guest cook. Although the chef was renowned for his spectacular recipes, one customer asked him to prepare a local favorite: whale meat. Try as he might, everything the chef sent out just was not edible. The customer finally stormed back to the kitchen to berate the chef. The embarrassed chef offered to cook a meal of his finest recipes for the customer at no charge. After over an hour of preparation, the chef delivered to the diner the most magnificent gastronomic feast he had ever tasted. As he was leaving the restaurant, the satiated customer was overheard saying, "Well, that will teach me to never judge a cook by his blubber."
Gaddget
An Italian, a Mexican, and a redneck construction worker were sitting on top of their construction site during their lunch break. When the Italian opened his lunch, he said, "Dammit! If I get spaghetti again, I'mma gonna jump off this building anda kill myself." The Mexican opened his lunch and said, "Dammit! If I get tacos again, I'm going to jump off this building and kill myself." The redneck also opened his lunch and said, "Dammit! If I get another damn hamburger, I'm gonna jump off this building and kill myself." The next day they all got the same thing in their lunchboxes and killed themselves. At the funeral, the three widows were at the graves crying. The Italian widow said, "I'm so sad because I forgot to pack him something else!" The Mexican widow sobbed, "I did the same thing!" The redneck's wife said, "That damn idiot packed his own lunch!"
Anonymous
Your mamma so fat she uses a mattress as a maxi pad.
Dylan lanzo
Yo mama's so fat when I pictured her in my head she broke my neck.
Anonymous
Q: What did the lawyer name his daughter?
A: Sue.
cool boi
Q: Why is Cinderella still a virgin?
A: Because she runs away from all the balls.
cool boi
Yo mama is so small she committed suicide off the curb.
Anonymous
Yo mama so hairy Jane Goodall set up a base camp in her bathroom.
Zander Guimond
Q: What's the difference between a black man and Batman?
A: Batman can go inside a store without Robin.
Anonymous
Q: A cowboy left Montana to go to Texas on Friday and came back on Friday. How did he do it?
A: He named his horse Friday.
Anonymous
Q: What's the word that starts with an "N" that no one wants to call a black person?
A: Neighbor.
Anonymous
Yo mamma is so fat they had to take her baby pictures via satellite.
John Cena
Mexico doesn't win Olympic medals because all the best runners, jumpers, and swimmers are in America.
Anonymous
Yo momma so fat she fell out of the family tree.
The 7th grade ninja
Yo momma so fat she wakes up on both sides of the bed.
Tonelessgamer
Q: Why don't Batman and Robin go fishing?

A: Because Robin eats all the worms.
My English teacher