Categories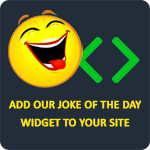 Jesus and Satan are having a competition on who can finish an essay first. 1, 2, 3, GO. Jesus starts and takes his time while Satan is typing up a storm. Satan is typing so fast that the power goes out and both computers are shut off. They start back up, and Jesus states that he is done with the essay. Riddled, Satan asks how he wrote that fast. Jesus turns to him and simply says, "Jesus saves."
Anonymous
Q: If you go into the toilet American and you come out of the toilet American, what are you while you're on the toilet?
A: European.
Anonymous
Q: What's the difference between a hooker and a drug dealer?
A: The hooker can wash her crack and resell it.
Mark My Words
Yo mama is like the sun: stare at her too long and you'll go blind.
LamisaK2005
My friend came up to me at work looking depressed. I asked him what was wrong. He said, "I think I had sex with my third cousin." I replied, "If you're that worried about it, quit counting them!"
jimmy 8585
A truck driver was driving between towns on a country road when he spotted a gorgeous blonde hitchhiking. He stopped without hesitation and she climbed into the cab showing mountains of cleavage. Two miles further down the road, he got a flat, pulled to the side of the road and got out to inspect the tire. He was fiddling around with the wheel, when the blonde opened the window and shouted down, "Do you want a screwdriver?" The driver replied, all smiles, "Might as well. I can't get this fucking hub cap off."
Peter Gadd
Q: Why were there bullet holes in the mirror?
A: A blonde tried killing herself.
My brother
Yo momma is so fat if she does jumping jacks in high heels she will strike oil!
Anonymous
Little Johnny's teacher gives the class a homework assignment, "Explain the difference between a theory and reality." Little Johnny goes home and is so stumped he asks his sisters ages 21 and 16 for help, and they can't come up with anything either. He then tries asking his father. The father thinks for a bit and replies, "Go to your older sister and ask her if she would suck a guys dick. Then ask her if she would do it for a million dollars. Then go to your younger sister and ask her the same two questions. Write down their answers and bring it back to me." Johnny says, "Okay," and runs off to find his older sister. He asks her the first question and she responds, "Maybe, if I like him." "Would you do it for a million dollars?" She replies, "Hell yes!" He finds the younger sister and asks her the same questions. Her first reply was "Eeeew, no!" but the second answer was "Yeah, sure." Johnny writes down their answers and takes them back to his father. The father looks over them and replies, "There you go." Johnny asks, "What do you mean?" The father says, "Well in theory we have two million dollars, but in reality we have two cocksuckers."
cam231
Q: Why was 6 afraid of 7?
A: Because 7 is a registered six offender.
Anonymous
Q: Why did the pig leave the costume party?
A: Because everyone thought he was a boar.
Anonymous
Q: Why did the ink pots cry?
A: Their mother was in the pen doing a long sentence.
Anonymous
Q: How do astronomers organize a party?
A: They planet.
Wenz
Q: Why didn't they hire any Puerto Ricans in the new Star Trek movie?
A: They don't work in the future either.
Anonymous
Q: What's red and bad for your teeth?
A: A brick.
Matt Rees
Three old timers at the retirement home were complaining about growing old. The first one says, "I wake up at 7:00 AM and try for a half hour to take a poop." The second one says, "Oh yeah? I spend an hour trying to pee." The third one says, "I take a nice poop at 7:00 AM and about 7:30 AM take a nice pee." The other two guys look at him and ask, "What are you complaining about?" The third man explains, "I don't wake up till 8:30 AM."
Mark My Words
Q: Why did the athlete put his steak on top of the fridge?
A: Because he was on a high protein diet.
social media
Knock, knock.
Who's there?
Yodelay hee.
Yodelay hee who?
I like your yodeling!
Anonymous
Q: What show do cows love to watch while they're eating?
A: Graze Anatomy.
Melzinger
Knock, knock.
Who's there?
Joanna.
Joanna who?
Joanna build a snowman?
Melzinger