Categories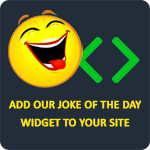 Q: Why did the dinosaur cross the road?
A: Chickens didn't exist yet.
Riki Relet
Q: What kind of car does Jesus drive?
A: A Christler.
Legend45
Q: What do you call a woman that sets her bills on fire?
A: Bernadette.
Anonymous
Yo mama is like a campfire: everybody gets to stick their wieners in.
luis
Q: How did the blonde break her leg raking leaves?
A: She fell out of the tree.
Anonymous
Yo mama so fat when stepped on a scale she said, "How does it know my credit card number?"
Anonymous
Brunette: "Where were you born?"
Blonde: "The United States."
Brunette: "Which part?"
Blonde: "My whole body."
Anonymous
When Magnesium and Oxygen started dating I was like, "O MG!"
Me
A wife comes home late one night and quietly opens the door to her bedroom. From under the blanket, she sees four legs instead of just her husband's two. She reaches for a baseball bat and starts hitting the blanket as hard as she can. Once she's done, she goes to the kitchen to have a drink. As she enters, she sees her husband there, reading a magazine. He says, "Hi darling, your parents have come to visit us, so let them stay in our bedroom. Did you say hello?"
Eddie k
Q: How do Mexicans take a family portrait?
A: They all jump in the back of a pickup truck and run a red light.
Anonymous
Q: What do you call a cheap circumcision?
A: A rip off.
BlackManBlack
Q: Why did Cinderella get kicked off the soccer team?
A: Because she ran away from the ball.
ellie pickstock
An American tourist walks out of a Mexican train station when he notices he isn't wearing his watch. A Mexican man is resting under a sombrero under a nearby tree. The American approaches the Mexican and asks, "Excuse me, do you know what time is?" The Mexican looks at the donkey, grabs its balls, and replies, "4:30." The American asks, "How do you know that?" The Mexican replies, "Well you get a handful of the donkeys balls and lift them up so you can see that clock across the street."
Gabe Neaveill
Q: What turns a fruit into a vegetable?
A: AIDS.
Anonymous
Q: Why did Captain Kirk go in to the ladies room?
A: Because he wanted to go where no man had gone before.
Anonymous
A blonde walks into a shoe store and tries on a pair of shoes. "How do they feel?" asks the salesclerk. "Well, they feel a bit tight," replies the blonde. The clerk bends down and has a look at the shoes on the blonde's feet. "Try pulling the tongue out," offers the clerk. "Nath, theyth sthill feelth a bith tighth," the blonde replies.
Anonymous
Q: Why did the blonde pee on the ground?
A: Because she saw a sign that said "Wet Floor."
Anonymous
A woman answered the doorbell with a man standing on her porch. The man said, "I'm terribly sorry. I just ran over your cat and I would like to replace it for you." The woman replied, "Well that's alright with me, but how are you at catching mice?"
Anonymous
Q: How do you get 500 old cows in a barn?
A: Put up a Bingo sign.
Chocolate Sundaes
Three women were trapped on an island. They needed to get across the water to the mainland. They came across a genie who said, "I will grant you ladies three wishes." The first woman said, "Turn me into a fish" and she swam across the water to the other island. The second woman said, "Give me a boat" and she rowed to the other side. The third woman said, "Turn me into a man" and she walked across the bridge.
minecrap2000