Categories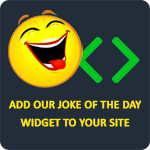 Q: Why does Humpty Dumpty love autumn?
A: Because Humpty Dumpty had a great fall.
TheLaughFactory
A blonde walks into a bar and asks the bartender, "What do you have on tap?" He replies, "Anheuser-Busch" (And-how's-your bush). She says, "Just fine. How's your penis?"
Mark My Words
Q: Why did cavemen drag their women by the hair?
A: Because they found out by dragging them by their legs that their hole would fill up with mud.
Mark My Words
Two blondes are at work when one of them gets a delivery of a dozen roses from her boyfriend. The blonde coworker notices that the blonde recipient doesn't seem too pleased about getting the roses. "You know," says the coworker, "If I got a dozen long stem roses from a man, I would be very happy." The other blonde replies, "Yeah, but now I have to spend half the night with my legs in the air." "Why?" the coworker asks, "Can't you afford a vase?"
Mark My Words
Knock, knock.
Who's there?
Chicken.
Chicken who?
Chicken your pockets. I think the keys are in there.
Anonymous
Knock, knock.
Who's there?
Abby.
Abby who?
Abby birthday!
King k
Q: Did you hear about the guy who drank 8 Cokes?
A: He burped 7Up.
Anonymous
Q: Why did they have to bury George Washington standing up?
A: Because he could never lie.
Anonymous
Yo mamma so skinny, she uses dental floss as toilet paper.
Anonymous
Q: Why do Asians women have small breasts?
A: Because their parents only allow A's.
Christian Ramos
Q: What did Saddam Hussein and Little Miss Muffit have in common?
A: They both had curds (Kurds) in their way (whey).
Mark My Words
If a man opens the car door for his wife, you can be sure of one thing: either the car is new or the wife.
Anonymous
So two Irishmen are traveling to Australia. Before they leave home, one of their dads gives them both a bit of advice: "You watch them Aussie cab drivers. They'll rob you blind. Don't you go paying them what they ask. You haggle." At the Sydney airport, the Irishmen catch a cab to their hotel. When they reach their destination, the cabbie says, "That'll be twenty dollars, lads." "Oh no you don't! My dad warned me about you. You'll only be getting fifteen dollars from me," says one of the men. "And you'll only be getting fifteen from me too," adds the other.
Rústi Strønzö
A man got hit in the head with a can of Coke, but he was alright because it was a soft drink.
Anonymous
Q: Why is the letter B very cool?
A: Because it's sitting in the AC.
Anonymous
Q: Which two letters in the alphabet are always jealous?
A: NV.
Anonymous
Q: How are blondes and beer bottles the same?
A: They're both empty from the neck up!
Anonymous
Yo mama is so stupid she came over to my house and shouted in my mailbox to leave me voicemail.
Anonymous
A sailor drops anchor in a port and heads into the nearest pub. Everyone in the pub is whispering and pointing at him because of his odd shaped body; he has a very muscular body, but a very tiny head on his shoulders. As he orders his drink, he tells the bartender, "I'll explain. I get this in every port and town I visit. I caught a mermaid and she granted me three wishes if I would release her back into the sea. So I told her I wanted a yacht and, sure enough, she came through for me. Next, I asked for a million bucks and now I am set for life. Last of all, I asked her if I could have sex with her and her response was, 'I don't know how you can make love to me with your type of body.' So I asked her, 'How about a little head?'"
Mark My Words
Yo mamma is so fat that when she showed up to watch a sumo wrestling tournament, they gave her the trophy.
Anonymous