Categories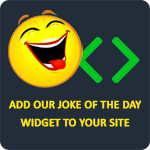 I decided to make my password "incorrect" because if I type it in wrong, my computer will remind me, "Your password is incorrect."
Iamsnappy4
A priest is sitting in a confession box and has to go to the bathroom. He calls an alter boy over and says, "I have to go pee and I need you to take over." Not knowing what to do, the alter boy asks for help. The priest says, "Just give them a few Hail Marys and send them on their way." Soon after, a blonde woman walks in the booth and says, "Forgive me father. I have committed a sin. I gave my boyfriend a blowjob." The alter boy is confused, so he asks another nearby alter boy, "What does the priest usually give for a blowjob?" The second alter boy replies, "I don't know about you, but my price is a candy bar and a Pepsi."
Hebrew Special
If I wanted to kill myself, I would climb up to your ego and jump down to your IQ level.
Anal Avenger
A brunette goes into a doctor's office and says that her body hurts wherever she touches it. "Impossible," says the doctor. "Show me." She takes her finger, presses on her elbow, and screams in agony. She pushes her knee and screams, pushes her ankle and screams, and so it goes on; everywhere she touches makes her scream with pain. The doctor says, "You're not really a brunette are you?" She says, "No, I dyed my hair. I'm naturally blonde." "I thought so," he says. "Your finger is broken."
A Blonde
Q: How can you tell a blonde has been having a bad day?
A: She has a tampon behind her ear and she can't find her pencil.
Payton sharp
Yo momma's so fat that Mount Everest tried to climb her.
Anonymous
Q: Why did the boy eat his homework?
A: Because his teacher said it was a piece of cake.
Anonymous
This man walks into a bar. He sits on a bar stool & says to the bartender, "Hey jackass, bring me a shot." The bartender brings him a shot. The man slams it down & yells again, "Hey jackass, bring me another shot," and gets up to go to the bathroom. While the man is gone, another guy sitting at the bar asks the bartender, "Why do you let him call you that?" The bartender responds, "He aw- He aw- He always calls me that."
Joni Stach
Tom was at the hospital visiting with his best friend Larry who was dying. Tom asked, "If there is baseball in heaven will you come back and tell me?" Larry nodded yes just as he passed away. That night while Tom was sleeping, he heard Larry's voice in a dream, "Tom..." "Larry! What is it?!" asked Tom. "I have good news and bad news from heaven." "What's the good news?" "There is baseball in heaven after all, but the bad news is you're pitching on Tuesday."
Anonymous
Yo mama is so hairy she shaves with a weed-whacker.
Anonymous
Q: Why does a milking stool only have 3 legs?
A: Because the cow has the utter.
Anonymous
Yo mama is so fat when Jabba's guard pushed her into the sarlacc pit, it choked to death.
Anonymous
Q: Why did the Romans build straight roads?
A: To stop the Pakistanis from building corner shops.
ynanontoat
Q: What do you call a vegan with diarrhea?
A: A salad shooter.
Mark My Words
Teacher: "Answer this math problem: if your father earns $500 a week and gives half to your mother. What will he have?"
Student: "A heart attack."
Anonymous
Q: What's the importance of capitalization?
A: You can either help your Uncle Jack off a horse or help your uncle jack off a horse.
The Fella Over There With The Hella Good Hair
Q: Why did the coach go back to the bank?
A: To get his quarterback!
jericho stevens
Q: Why are atoms Catholic?
A: Because they have mass.
Anonymous
Q: What do you call a dog with metal balls and no hind legs?
A: Sparky.
Anonymous
Q: What do you call a bulldog and shih tzu crossbreed?
A: Bullshit.
Anonymous