Categories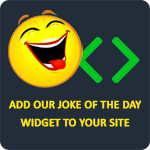 Your mum's so small she can do pull-ups on a staple.
Anonymous
Q: Where do cows go to get some culture? A: The mooseum!
animals
Yo momma is so stupid that she puts make up on her forehead just to make up her mind.
yourmom13
Q: Why didn't the toilet paper cross the road? A: It got stuck in a crack.
Jack c
Yo mom is so fat when she walked in front of the window, we lost sun light for 7 days.
Arman
Q: Why did the cow cross the street? A: To get to the udder side.
LOLLO
Why did the turkey cross the road? Because he wasn't a chicken.
bob
How do you fix a cabbage? With a cabbage patch.
Anonymous
A traveling salesman asked a farmer to spend the night. The farmer agreed, but told him he would have to sleep in the barn. The farmer, being a nice guy and knowing how horny traveling salesmen get told the man, "Look son, see that wall? It's got three holes in it. You can screw the first two but don't mess around with that third hole. Got it?" The salesman thanked him and bedded down on a pile of hay. About midnight he got real horny and decided to take a poke at the first hole. It was good but not really satisfying so he took a poke at the second hole. It was even better but he still wasn't satisfied so he thought about the third hole and reasoned to himself, "If that first hole was pretty good and the second hole was even better, I'll bet that third hole will really do the trick!" The next morning the farmer noticed the salesman was still sleeping so he went about his chores and late in the afternoon he finally saw the salesman wake up. "Damn, son! You been sleeping a long time! What happened?" "Well," the salesman replied. "I should have listened to you. I got horny last night and tried that first hole and it was pretty fair but not really satisfying so I tried the second hole. It was good but didn't do the job so I took on that third hole. Say, what's behind them holes anyway?" "Son, that first hole is my sheep, Dolly. The second hole is my mare, Sally, and that third hole is my milking machine and that thing don't quit till it gets a quart!"
Anonymous
A hippie backpacker from the Swiss Alps was tramping across a farmers field when it got dark. He asked the farmer if he could spend the night. The farmer agreed but said he would have to sleep in bed with his 18 year old daughter. The farmer told him, "If I catch you molesting my daughter I'll shoot you!" That night the hippie and the farmers daughter got it on and had a great time. The farmer could hear the goings on from the next room. In the morning he opened the door and asked the hippie, "Did you have sex with my daughter?" The hippie was a Jesus freak so he decided to be honest: "Yes, I did. Please forgive me." The farmer took the hippie out back of the house and pointed a shotgun at him. "Ya got any last words, bub?" he asked. The Swiss hippie said, "Yodelayheehoo!" Then the farmer shot him. When the Sheriff arrived, he asked the farmer why he shot the man just for having sex with his daughter. The farmer replied, "Well, I didn't really have a problem with him screwing Bonnie. I was just gonna scare him a little, but when he said, 'Yer 'ol lady too!' that's when I blew his head off."
Anonymous
Would a fly without wings be called a walk?
Eric P
Q: How do you catch a squirrel? A: Climb a tree and act like a nut.
Anonymous
Yo momma is so stupid she ate her food stamps.
Anonymous
Q: What is the difference between a teacher and a train? A: The teacher says, "Spit out your gum," but a train says, "Chew chew!"
Jake Rothenberg
Q: What do you call a T-Rex's bruise? A: A dino-sore.
I Rindfleisch
What do you call three black guys hanging from a tree? An Alabama Windchime.
R.A.
You might be a redneck if your house has more wheels then your car.
R.A.
How many tickles does it take to make an octopus laugh? Ten tickles (tentacles).
HARRYPOTTERFREAK
Where do pencils come from? Pencilvania.
Dennie Askew
Yo mama's so fat when she went on the scale she said, "How does it know my credit card number?"
13blakes