Categories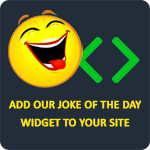 On a windy day, an old lady is standing on a street corner, holding on to her hat with both hands, even though her dress is flying up over her face. An old man across the street sees her and runs over. As he approaches her, he says, "Sister, you ought to be ashamed of yourself, standing over here in all this wind with your dress flying over your head, exposing your paraphernalia, and you're holding that damn hat with both hands. You ought to be ashamed." She looked at him and said, "Look here, fool, everything down there is 80 years old, but this hat is brand new."
Anthony J
Q: What's red and bad for your teeth?
A: A brick.
Matt Rees
A man goes to a strip club with an alligator. He says, "I bet you that I can put my dick into this alligator's mouth for 1 minute, and when I take it out, it will not be damaged. If I succeed, all of you will buy me drinks. If I fail, I will buy all of you drinks." The other men agree and he puts his dick into the alligator's mouth for 1 minute. After 1 minute, he hits the alligator on the head with a beer bottle, and he opens his mouth. To everyone's surprise, his dick is unharmed. "Now, before you buy me drinks, does anybody else want to try?" After a while, someone in the back finally raises their hand. It's a woman. "I guess I can try," she says, "but you have to promise not to hit me on the head with a beer bottle."
Anonymous
There are three friends named Mad, Brain, and Fight. One day Fight went missing and his friends Mad and Brain started searching for him. Then Brain said, "Mad, let's file a missing person report with the police." When they were about to walk into the police station, Brain said, "Mad, you go and make the report. I will wait for you here." Mad said, "Okay." Mad walked in but no police officers paid attention to him. Then he saw a policeman drinking a cup of coffee. Mad went to the officer, smacked the table, and the cup of coffee flew in the air, landing in the officer's lap. Angry, the policeman asked, "Are you looking for a fight?" Mad replied, "Yes, I am." The policeman asked, "Are you mad?" Mad replied, "Yes, I am Mad." The policeman then asked, "Don't you have a brain?" Mad replied, "Brain is outside sir."
Anonymous
When someone yawns, do deaf people think they're screaming?
Anonymous