Categories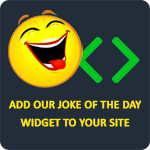 An old man goes into the Social Security Office and fills out an application. Too old to have a birth certificate, he is asked to prove he is old enough. He opens his shirt and shows them the gray hair on his chest and they accept that as proof. He goes home to his wife, shows her the check, and explains to her what has happened. She replies, "Well get back down there, pull down your pants, and see if you can get disability!"
TheLaughFactory
PMS jokes aren't funny. Period.
Silenxio Maximeaning Ultimious
Three elderly men are taking a walk outside their nursing home. The first one says, "Windy, isn't it?" The second one says, "No, it's Thursday!" The third one says, "So am I. Let's go get a beer."
Mr. Minear
Two Irishmen friends are drinking together at one of their homes. One friend takes out a bottle of Irish whiskey and asks the other, "Will you pour this bottle out on my grave if I die first?" His friend replies, "Do you mind if I pass it through my kidneys first?"
Mark My Words
Q: Why are ghosts bad liars?
A: You can see right through them.
Capricorn37