Categories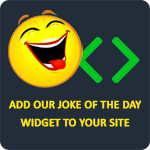 Three men were at a bar discussing coincidences. The first man said, "My wife was reading A Tale of Two Cities and she gave birth to twins." "That's funny," the second man remarked, "My wife was reading The Three Musketeers and she gave birth to triplets." The third man shouted, "Oh my, I have to rush home!" When asked what the problem was, he exclaimed, "When I left the house, my wife was reading Ali Baba and the Forty Thieves!"
Anonymous
Two hunters are out in the forest when one of them collapses. He doesn't seem to be breathing and his eyes are glazed. The other guy takes out his phone and calls 911 and gasps, "My friend is dead! What can I do?" The operator says "Calm down. I can help. First, let's make sure he's dead." There is a silence, then a gun shot is heard. Back on the phone, the guy says "OK, now what?"
Sydney Vanmeter
There are three friends named Mad, Brain, and Fight. One day Fight went missing and his friends Mad and Brain started searching for him. Then Brain said, "Mad, let's file a missing person report with the police." When they were about to walk into the police station, Brain said, "Mad, you go and make the report. I will wait for you here." Mad said, "Okay." Mad walked in but no police officers paid attention to him. Then he saw a policeman drinking a cup of coffee. Mad went to the officer, smacked the table, and the cup of coffee flew in the air, landing in the officer's lap. Angry, the policeman asked, "Are you looking for a fight?" Mad replied, "Yes, I am." The policeman asked, "Are you mad?" Mad replied, "Yes, I am Mad." The policeman then asked, "Don't you have a brain?" Mad replied, "Brain is outside sir."
Anonymous
At a wedding party recently, someone yelled, "All the married men, please stand next to the one person who has made your life worth living!" The bartender was crushed to death.
mlevin1958
A woman named Shirley was from Beverly Hills. One day, she had a heart attack and was taken to Cedars Sinai Hospital. While on the operating table, she had a near death experience. She saw God and asked, "Is this it?" God said, "No, you have another 30 to 40 years to live." Upon her recovery, she decided to stay in the hospital and have collagen shots, cheek implants, a face lift, liposuction, and breast augmentation. She even had someone dye her hair. She figured since she had another 30 to 40 years, she might as well make the most of it. She walked out of Cedars Sinai lobby after the last operation, and was killed by an ambulance speeding up to the hospital. She arrived in front of God and said, "I thought you said I had another 30 to 40 years?" God replied, "Shirley! I'm sorry but I didn't recognize you!"
raquelgallardo1