Categories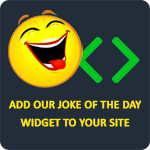 The roundest knight at King Arthur's round table was Sir Cumference. He acquired his size from eating too much pi.
TheLaughFactory
A girl says, "I'm having heart surgery today." The boy says, "I know." The girl says, "I love you!" The boy says, "I love you more, much much more!" After the surgery, when the girl woke up, only her father was next to her bed. The girl says, "Where is he?" The father responded, "You don't know who gave you the heart?" The girl says, "What???" and starts crying. The father says, "I'm just kidding, he went to the bathroom."
mred44edgar
Q: Why did the reporter rush into the ice cream shop?
A: He was looking for a scoop.
Ellie K.
An old man goes to the doctor for some tests. When he gets the results, the doctor tells him that he has bad news. The old man says, "Just give it to me straight, doc." The doctor says, "Well, you have cancer, and you have Alzheimer's." The old man says, "I guess it could be worse. I could have cancer."
TheLaughFactory
When someone yawns, do deaf people think they're screaming?
Anonymous