Categories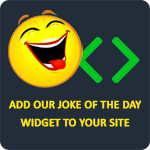 A computer once beat me at chess, but it was no match for me at kick boxing.
Anonymous
Q: What would George Washington be doing if he were alive? A: Terrified, screaming in his coffin.
Jonny B
Three men are traveling in the Amazon, a German, an American, and a Mexican. They get captured by some Amazons. The head of the tribe says to the German, "What do you want on your back for your whipping?" The German responds, "I will take oil!" They put oil on his back, and a large Amazon whips him 10 times. When he is finished, the German has huge welts on his back, and he can hardly move. The Amazons haul the German away, and say to the Mexican, "What do you want on your back?" "I will take nothing!" says the Mexican, and he stands there straight and takes his 10 lashings without a single flinch. "What will you take on your back?" the Amazons ask the American. "I'll take the Mexican."
gossen
On a public holiday, a doctor has some trouble with his kitchen sink. He calls the local plumber, only to be told that it's his day off. "But I get called out on my days off too!" says the doctor, somewhat exasperated. So the plumber relents. The plumber arrives, and glances over the sink, looking preoccupied. He mumbles something about golf, then hands the doctor a couple of aspirin and walks out, saying, "Put these in. If it doesn't clear up in 24 hours, call me tomorrow."
TheLaughFactory
Q: What's Barney's favorite movie?
A: The Color Purple.
Anonymous