Categories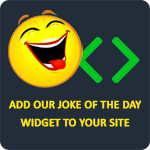 There are three friends named Mad, Brain, and Fight. One day Fight went missing and his friends Mad and Brain started searching for him. Then Brain said, "Mad, let's file a missing person report with the police." When they were about to walk into the police station, Brain said, "Mad, you go and make the report. I will wait for you here." Mad said, "Okay." Mad walked in but no police officers paid attention to him. Then he saw a policeman drinking a cup of coffee. Mad went to the officer, smacked the table, and the cup of coffee flew in the air, landing in the officer's lap. Angry, the policeman asked, "Are you looking for a fight?" Mad replied, "Yes, I am." The policeman asked, "Are you mad?" Mad replied, "Yes, I am Mad." The policeman then asked, "Don't you have a brain?" Mad replied, "Brain is outside sir."
Anonymous
When someone yawns, do deaf people think they're screaming?
Anonymous
One day a man was walking in the woods when he got lost. For two days he roamed around trying to find a way out. He had not eaten anything during this period and was famished. Over on a rock ledge he spotted a bald eagle. He killed it, and started to eat it. Surprisingly, a couple of park rangers happen to find him at that moment, and arrested him for killing an endangered species. In court, he pleads innocent to the charges against him, claiming that if he didn't eat the bald eagle he would have died from starvation. The judge ruled in his favor. In the judge's closing statement he asked the man, "I would like you to tell me something before I let you go. I have never eaten a bald eagle, nor ever plan on it, but what did it taste like?" The man answered, "Well, it tasted like a cross between a whooping crane and a spotted owl!"
Judith McGrane
Q: Why did the skeleton cross the road?
A: To get to the body shop.
Lucyfaith16
The old couple had been married for 50 years. They were sitting at the breakfast table one morning when the wife says, 'Just think, fifty years ago we were sitting at this same breakfast table together.' 'I know,' the old man said. 'We were probably sitting here naked as a jaybird, too .' 'Well,' Granny snickered. 'Let's relive some old times.' Where upon, the two stripped to the buff and sat back down at the table. 'You know, honey,' the little old lady breathlessly replied, 'My nipples are as hot for you today as they were fifty years ago.' 'I wouldn't be surprised,' replied Gramps. 'One's in your coffee and the other is in your oatmeal.'
Eagle145