Categories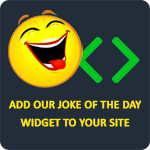 Late one night, a preacher was driving on a country road and had a wreck. A farmer stopped and said, "Sir, are you okay?" The preacher said, "Yes, I had the Lord riding with me." The farmer said, "Well, you better let him ride with me, because you're gonna kill him."
Anonymous
Chuck Norris got shot. We are now in the hospital, where the bullet is in critical condition.
Anonymous
Q: What do you get when you put 50 lawyers in a room with 50 lesbians? A: 100 people who don't do dick.
TheLaughFactory
Q: What do you call a doll on fire?
A: A Barbie-Q.
TheLaughFactory
There once was a man named McCrass.
His balls were made out of brass.
When he clanged them together,
They made stormy weather,
And lightning shot out of his ass.
bigdee