Categories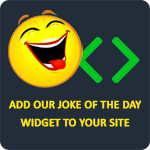 One day in class, the teacher brought a bag full of fruit and said, "Now class, I'm going to reach into the bag and describe a piece of fruit and you tell me which fruit I'm talking about. Alright, the first one is round, plump, and red. Little Johnny raised his hand high but the teacher ignored him and picked Deborah who promptly answered, "Apple." The teacher replied, "No Deborah, it's a beet, but I like your thinking. Now the second one is soft, fuzzy and colored red and brown." Johnny is hopping up and down in his seat trying to get the teacher to call on him but she calls on Billy. "Is it a peach?" Billy asks. "No, it's a potato, but I like your thinking," the teacher replies. "Okay the next one is long, yellow, and fairly hard." Johnny is about to explode as he waves his hand frantically but the teacher calls on Sally who say, "A banana." The teacher responds, "No, it's a squash, but I like your thinking." Johnny is irritated now so he speaks up loudly, "Hey, I've got one for you teacher. Let me put my hand in my pocket. Okay, I've got it. It's round, hard, and it's got a head on it." "Johnny!" she cries, "That's disgusting!" "Nope," answers Johnny, "It's a quarter, but I like your thinking!"
jonmcginty
There are three friends named Mad, Brain, and Fight. One day Fight went missing and his friends Mad and Brain started searching for him. Then Brain said, "Mad, let's file a missing person report with the police." When they were about to walk into the police station, Brain said, "Mad, you go and make the report. I will wait for you here." Mad said, "Okay." Mad walked in but no police officers paid attention to him. Then he saw a policeman drinking a cup of coffee. Mad went to the officer, smacked the table, and the cup of coffee flew in the air, landing in the officer's lap. Angry, the policeman asked, "Are you looking for a fight?" Mad replied, "Yes, I am." The policeman asked, "Are you mad?" Mad replied, "Yes, I am Mad." The policeman then asked, "Don't you have a brain?" Mad replied, "Brain is outside sir."
Anonymous
A guy walks into a bathroom, sits down, and notices three buttons in front of him marked, WW, WA, and ATR. Curiosity gets the better of him so he decides to press WW. Suddenly, warm water sprays up his rear. "Mmmm," he says to himself. "That was good." So he presses WA and a jet of warm air dries his backside. "Mmmm. Nice!" So finally he can't resist pressing the ATR button. The next thing he knows, he is waking up in a hospital ward just as the nurse is entering the room. "Nurse, Nurse! Where am I? What happened?" The nurse replies, "You must have missed the sign to not press the ATR button." "What does ATR mean exactly?" says the guy. "Automatic Tampon Remover. Your testicles are under your pillow."
Anonymous
Two hunters are out in the forest when one of them collapses. He doesn't seem to be breathing and his eyes are glazed. The other guy takes out his phone and calls 911 and gasps, "My friend is dead! What can I do?" The operator says "Calm down. I can help. First, let's make sure he's dead." There is a silence, then a gun shot is heard. Back on the phone, the guy says "OK, now what?"
Sydney Vanmeter
A man goes to a strip club with an alligator. He says, "I bet you that I can put my dick into this alligator's mouth for 1 minute, and when I take it out, it will not be damaged. If I succeed, all of you will buy me drinks. If I fail, I will buy all of you drinks." The other men agree and he puts his dick into the alligator's mouth for 1 minute. After 1 minute, he hits the alligator on the head with a beer bottle, and he opens his mouth. To everyone's surprise, his dick is unharmed. "Now, before you buy me drinks, does anybody else want to try?" After a while, someone in the back finally raises their hand. It's a woman. "I guess I can try," she says, "but you have to promise not to hit me on the head with a beer bottle."
Anonymous