Categories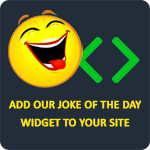 A girl says, "I'm having heart surgery today." The boy says, "I know." The girl says, "I love you!" The boy says, "I love you more, much much more!" After the surgery, when the girl woke up, only her father was next to her bed. The girl says, "Where is he?" The father responded, "You don't know who gave you the heart?" The girl says, "What???" and starts crying. The father says, "I'm just kidding, he went to the bathroom."
mred44edgar
A guy in a bar pukes on his shirt. His mate says, "No worries, just stick a $10 bill in your pocket, and tell your wife some guy puked on you and gave you the money for the cleaning bill!" So, he explains this to his wife who then asks, "So why are there two $10 bills in your pocket?" He replies, "Oh, because the guy pissed in my pants as well!"
jp6121
A mentally challenged man walks up to this guy and asks, "Can you help me? I'm trying to spell the word 'orange.'" The guy responds, "What a retard, didn't your mom teach you?" The man answers, "No." "Ever?" says the guy. "No," responds the mentally challenged man. The guy responds, "Okay, which one are you trying to spell, the color or the fruit?"
nadia23
I'm on a whiskey diet. I have lost three days already.
TheLaughFactory
Q: What does a vegan zombie eat?
A: Graaaiiiiinnnssss.
TheLaughFactory