Categories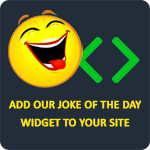 On a public holiday, a doctor has some trouble with his kitchen sink. He calls the local plumber, only to be told that it's his day off. "But I get called out on my days off too!" says the doctor, somewhat exasperated. So the plumber relents. The plumber arrives, and glances over the sink, looking preoccupied. He mumbles something about golf, then hands the doctor a couple of aspirin and walks out, saying, "Put these in. If it doesn't clear up in 24 hours, call me tomorrow."
TheLaughFactory
Q: What's Barney's favorite movie?
A: The Color Purple.
Anonymous
Teacher: Maria please point to America on the map. Maria: This is it. Teacher: Well done. Now class, who found America? Class: Maria did.
haaz69
A woman gave birth at a hospital and the doctor asked, "What will you name her?" The woman thought and said, "I think I'll name her Sarah!" The doctor said, "I'm sorry to inform you miss, but Sarah is not available. But you can try Sarah_2045 or 99_Sarah!"
adrinshojaie
Two men walk beside each other down the street, one of them sees a broken piece of mirror on the ground, grabs it, looks at it and says, "This guy looks so familiar, but I can't remember where I know him from." The other guy grabs it from his hand, takes a look at it, and says, "It's me you idiot!"
alice10