Categories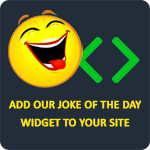 How I learned to mind my own business: I was walking past the mental hospital the other day, and I could hear all the patients shouting, "13! 13! 13!" The fence was too high to see over, but I saw a little gap in the planks, so I looked through to see what was going on. Someone poked me in the eye with a stick! Then they all started shouting, "14! 14! 14!"
archie
There are three friends named Mad, Brain, and Fight. One day Fight went missing and his friends Mad and Brain started searching for him. Then Brain said, "Mad, let's file a missing person report with the police." When they were about to walk into the police station, Brain said, "Mad, you go and make the report. I will wait for you here." Mad said, "Okay." Mad walked in but no police officers paid attention to him. Then he saw a policeman drinking a cup of coffee. Mad went to the officer, smacked the table, and the cup of coffee flew in the air, landing in the officer's lap. Angry, the policeman asked, "Are you looking for a fight?" Mad replied, "Yes, I am." The policeman asked, "Are you mad?" Mad replied, "Yes, I am Mad." The policeman then asked, "Don't you have a brain?" Mad replied, "Brain is outside sir."
Anonymous
Q: Why do pilgrims pants fall down?
A: Because their belts are on their hats.
Anonymous
If money doesn't grow on trees, why do banks have branches?
chris
One day in class, the teacher brought a bag full of fruit and said, "Now class, I'm going to reach into the bag and describe a piece of fruit and you tell me which fruit I'm talking about. Alright, the first one is round, plump, and red. Little Johnny raised his hand high but the teacher ignored him and picked Deborah who promptly answered, "Apple." The teacher replied, "No Deborah, it's a beet, but I like your thinking. Now the second one is soft, fuzzy and colored red and brown." Johnny is hopping up and down in his seat trying to get the teacher to call on him but she calls on Billy. "Is it a peach?" Billy asks. "No, it's a potato, but I like your thinking," the teacher replies. "Okay the next one is long, yellow, and fairly hard." Johnny is about to explode as he waves his hand frantically but the teacher calls on Sally who say, "A banana." The teacher responds, "No, it's a squash, but I like your thinking." Johnny is irritated now so he speaks up loudly, "Hey, I've got one for you teacher. Let me put my hand in my pocket. Okay, I've got it. It's round, hard, and it's got a head on it." "Johnny!" she cries, "That's disgusting!" "Nope," answers Johnny, "It's a quarter, but I like your thinking!"
jonmcginty