Categories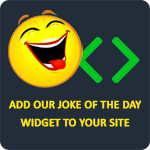 On a windy day, an old lady is standing on a street corner, holding on to her hat with both hands, even though her dress is flying up over her face. An old man across the street sees her and runs over. As he approaches her, he says, "Sister, you ought to be ashamed of yourself, standing over here in all this wind with your dress flying over your head, exposing your paraphernalia, and you're holding that damn hat with both hands. You ought to be ashamed." She looked at him and said, "Look here, fool, everything down there is 80 years old, but this hat is brand new."
Anthony J
A man goes to a strip club with an alligator. He says, "I bet you that I can put my dick into this alligator's mouth for 1 minute, and when I take it out, it will not be damaged. If I succeed, all of you will buy me drinks. If I fail, I will buy all of you drinks." The other men agree and he puts his dick into the alligator's mouth for 1 minute. After 1 minute, he hits the alligator on the head with a beer bottle, and he opens his mouth. To everyone's surprise, his dick is unharmed. "Now, before you buy me drinks, does anybody else want to try?" After a while, someone in the back finally raises their hand. It's a woman. "I guess I can try," she says, "but you have to promise not to hit me on the head with a beer bottle."
Anonymous
When someone yawns, do deaf people think they're screaming?
Anonymous
Q: Why did the skeleton cross the road?
A: To get to the body shop.
Lucyfaith16
One day a man was walking in the woods when he got lost. For two days he roamed around trying to find a way out. He had not eaten anything during this period and was famished. Over on a rock ledge he spotted a bald eagle. He killed it, and started to eat it. Surprisingly, a couple of park rangers happen to find him at that moment, and arrested him for killing an endangered species. In court, he pleads innocent to the charges against him, claiming that if he didn't eat the bald eagle he would have died from starvation. The judge ruled in his favor. In the judge's closing statement he asked the man, "I would like you to tell me something before I let you go. I have never eaten a bald eagle, nor ever plan on it, but what did it taste like?" The man answered, "Well, it tasted like a cross between a whooping crane and a spotted owl!"
Judith McGrane