Categories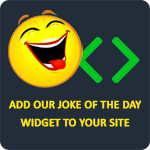 A guy was at a bar and needed to fart. He decided the music was so loud that he just went for it and timed his farts to the beat of the music. After he relieved himself he looked up to see everyone staring at him. Than he realized that he was listening to his iPod.
noely
A man got in a car accident with a dwarf, who got out of his car and said, "I'm not happy!" The man replied, "Well, which one are you?"
thor
A clear conscience is usually the sign of a bad memory.
Anonymous
Three men are traveling in the Amazon, a German, an American, and a Mexican. They get captured by some Amazons. The head of the tribe says to the German, "What do you want on your back for your whipping?" The German responds, "I will take oil!" They put oil on his back, and a large Amazon whips him 10 times. When he is finished, the German has huge welts on his back, and he can hardly move. The Amazons haul the German away, and say to the Mexican, "What do you want on your back?" "I will take nothing!" says the Mexican, and he stands there straight and takes his 10 lashings without a single flinch. "What will you take on your back?" the Amazons ask the American. "I'll take the Mexican."
gossen
Two boys were arguing when the teacher entered the room. The teacher says, "Why are you arguing?" One boy answers, "We found a ten dollor bill and decided to give it to whoever tells the biggest lie." "You should be ashamed of yourselves," said the teacher, "When I was your age I didn't even know what a lie was." The boys gave the ten dollars to the teacher.
SaeedNich