Categories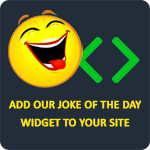 A girl says, "I'm having heart surgery today." The boy says, "I know." The girl says, "I love you!" The boy says, "I love you more, much much more!" After the surgery, when the girl woke up, only her father was next to her bed. The girl says, "Where is he?" The father responded, "You don't know who gave you the heart?" The girl says, "What???" and starts crying. The father says, "I'm just kidding, he went to the bathroom."
mred44edgar
Two rednecks were walking along when they saw a dog licking its balls. The first redneck said, "I wish I could do that." The other redneck said, "You dumbass, he would bite you."
TheLaughFactory
I'm on a whiskey diet. I have lost three days already.
TheLaughFactory
Q: What does a vegan zombie eat?
A: Graaaiiiiinnnssss.
TheLaughFactory
The roundest knight at King Arthur's round table was Sir Cumference. He acquired his size from eating too much pi.
TheLaughFactory