Categories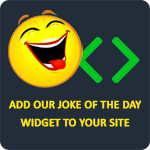 Three ladies were discussing the travails of getting older. One said, "Sometimes I catch myself with a jar of mayonnaise in my hand, while standing in front of the refrigerator, and I can't remember whether I need to put it away or start making a sandwich." The second lady chimed in with, "Yes, sometimes I find myself on the landing of the stairs and can't remember whether I was on my way up or on my way down." The third one responded, " Well ladies, I'm glad I don't have that problem. Knock on wood," as she rapped her knuckles on the table, and then said, "That must be the door, I'll get it!"
TheLaughFactory
An old woman is sitting in a rocking chair on her porch, petting her cat Foo Foo. A fairy appears and says, "I'm here to grant you three wishes." The old woman says, "I wish I was twenty years old and beautiful again." Poof! She is. "Now I wish I had a million dollars and this old house was a mansion." Poof! Done. "And now I wish that Foo Foo was the handsomest man ever and deeply in love with me." Poof! Suddenly she's in the arms of a gorgeous man. He kisses her and says, "Darling, aren't you sorry you had me fixed?"
TheLaughFactory
A guy was at a bar and needed to fart. He decided the music was so loud that he just went for it and timed his farts to the beat of the music. After he relieved himself he looked up to see everyone staring at him. Than he realized that he was listening to his iPod.
noely
Three old timers at the retirement home were complaining about growing old. The first one says, "I wake up at 7:00 AM and try for a half hour to take a poop." The second one says, "Oh yeah? I spend an hour trying to pee." The third one says, "I take a nice poop at 7:00 AM and about 7:30 AM take a nice pee." The other two guys look at him and ask, "What are you complaining about?" The third man explains, "I don't wake up till 8:30 AM."
Mark My Words
A man got in a car accident with a dwarf, who got out of his car and said, "I'm not happy!" The man replied, "Well, which one are you?"
thor