Categories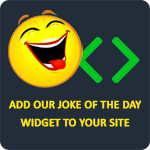 For some time, many of us have wondered who is Jack Sh*t? We find ourselves at a loss when someone says, "You dont know Jack Sh*t." Well, thanks to my efforts, you can now respond in an intellectual way. Jack Sh*t is the only son of Awe Sh*t, who married O Sh*t, the owners of Knee Deep 'N Sh*t, Inc. In turn, Jack Sh*t married No Sh*t. The couple had six children, Holy Sh*t, Giva Sh*t, Fulla Sh*t, Bull Sh*t, and the twins Deep Sh*t and Dip Sh*t. Deep Sh*t married Dumb Sh*t, a high school dropout. After 15 years, Jack and Noe Sh*t got divorced, and she married Ted Sherlock and became Noe Sh*t Sherlock. Meanwhile, Dip Sh*t married Lotta Sh*t and had a rather nervous disposition named Chicken Sh*t. Fulla Sh*t and Giva Sh*t married the Happens brothers, and had a double wedding. The newspaper invited everyone to the Sh*t-Happens wedding. Bull Sh*t traveled the world and returned home with an Italian bride, Pisa Sh*t. So from now on, no one can tell you that you don't know Jack Sh*t!
santos4
A guy walks into a bar with a piece of asphalt under his arm. He asks the bartender for a beer, and one for the road.
eflynn1016
A man is at the bar, blind drunk. Some of the customers decide to be good Samaritans and get him home. They pick him up off the floor and drag him out of the door. On the way to the car, he falls down three times. When they get to his house, they help him out of the car, and he falls down four more times. They ring the doorbell and a woman answers. "Here's your husband!" "Thanks," says the man's wife. "What did you do with his wheelchair?"
Anonymous
What did the zero say to the eight? I like your belt!
tawnya
A doctor reaches into his smock to get a pen to write a prescription and pulls out a rectal thermometer. "Oh, damn it," he proclaims, "Some asshole has my pen!"
Mark My Words