Categories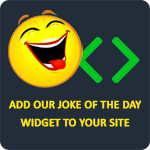 Q: Why did the chicken cross the möbius strip?
A: To get to the same side.
square boy
Q: What do you call a doll on fire?
A: A Barbie-Q.
TheLaughFactory
Q: What do you get when you put 50 lawyers in a room with 50 lesbians? A: 100 people who don't do dick.
TheLaughFactory
There once was a man named McCrass.
His balls were made out of brass.
When he clanged them together,
They made stormy weather,
And lightning shot out of his ass.
bigdee
Q: Why is a river rich? A: Because it has two banks.
ISHA KHANNA