Categories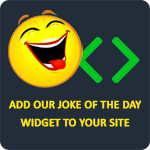 One day a man was walking in the woods when he got lost. For two days he roamed around trying to find a way out. He had not eaten anything during this period and was famished. Over on a rock ledge he spotted a bald eagle. He killed it, and started to eat it. Surprisingly, a couple of park rangers happen to find him at that moment, and arrested him for killing an endangered species. In court, he pleads innocent to the charges against him, claiming that if he didn't eat the bald eagle he would have died from starvation. The judge ruled in his favor. In the judge's closing statement he asked the man, "I would like you to tell me something before I let you go. I have never eaten a bald eagle, nor ever plan on it, but what did it taste like?" The man answered, "Well, it tasted like a cross between a whooping crane and a spotted owl!"
Judith McGrane
A completely inebriated man was stumbling down the street with one foot on the curb and one foot in the gutter. A cop pulled up and said, "I've got to take you in pal. You're obviously drunk." The wasted man asked, "Officer, are ya absolutely sure I'm drunk?" "Yeah buddy, I'm sure," said the cop, "Let's go." Breathing a sigh of relief, the wino said, "Thank goodness. I thought I was crippled."
laughflava
Step 1: Name your iPhone "Titanic."
Step 2: Plug it into your computer.
Step 3: When iTunes says "Titanic is syncing," press cancel.
Step 4: Feel like a hero.
Anonymous
The old couple had been married for 50 years. They were sitting at the breakfast table one morning when the wife says, 'Just think, fifty years ago we were sitting at this same breakfast table together.' 'I know,' the old man said. 'We were probably sitting here naked as a jaybird, too .' 'Well,' Granny snickered. 'Let's relive some old times.' Where upon, the two stripped to the buff and sat back down at the table. 'You know, honey,' the little old lady breathlessly replied, 'My nipples are as hot for you today as they were fifty years ago.' 'I wouldn't be surprised,' replied Gramps. 'One's in your coffee and the other is in your oatmeal.'
Eagle145
A guy goes to see his doctor, and the doctor says, "Well, I'm afraid you have six weeks to live." The guy says, "Oh damn, well what should I do doctor?" The doctor tells him, "You should take a mud bath once a day for the next six weeks," and the guy asks, "Why? Is that supposed to help?" and the doctor says, "No, but it'll get you used to being in the ground."
hollow1030