Categories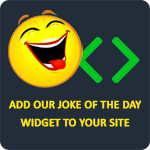 Two guys are standing in line to enter heaven. One turned around and asked the other how he died. "I froze to death. How about you?" "I had a heart attack." "How did that happen?" "Well, I suspected my wife was cheating on me. So after work I went straight home. I ran upstairs to find my wife sleeping by herself. Then I ran back downstairs and looked in all the hiding spots. When I was running back up the stairs, I had a heart attack." "That's ironic." "Why?" "If you would've looked in the fridge, we'd both be alive."
Anonymous
Q: Why are ghosts bad liars?
A: You can see right through them.
Capricorn37
Three elderly men are taking a walk outside their nursing home. The first one says, "Windy, isn't it?" The second one says, "No, it's Thursday!" The third one says, "So am I. Let's go get a beer."
Mr. Minear
Two Irishmen friends are drinking together at one of their homes. One friend takes out a bottle of Irish whiskey and asks the other, "Will you pour this bottle out on my grave if I die first?" His friend replies, "Do you mind if I pass it through my kidneys first?"
Mark My Words
How I learned to mind my own business: I was walking past the mental hospital the other day, and I could hear all the patients shouting, "13! 13! 13!" The fence was too high to see over, but I saw a little gap in the planks, so I looked through to see what was going on. Someone poked me in the eye with a stick! Then they all started shouting, "14! 14! 14!"
archie