Categories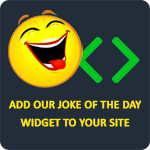 Helen Keller walks into a bar, then a table, then a chair.
Kirbeh Master
Q: What's the difference between a guitar and a fish?
A: You can tune a guitar, but you can't tuna fish.
Lauren P.
Knock, knock.
Who's there?
Ach.
Ach who?
Bless you! Need a tissue?
Anonymous
Innkeeper: "The room is $15 a night. It's $5 if you make your own bed."
Guest: "I'll make my own bed."
Innkeeper: "Good. I'll get you some nails and wood."
Fabio
Two guys are standing in line to enter heaven. One turned around and asked the other how he died. "I froze to death. How about you?" "I had a heart attack." "How did that happen?" "Well, I suspected my wife was cheating on me. So after work I went straight home. I ran upstairs to find my wife sleeping by herself. Then I ran back downstairs and looked in all the hiding spots. When I was running back up the stairs, I had a heart attack." "That's ironic." "Why?" "If you would've looked in the fridge, we'd both be alive."
fast freddy