Categories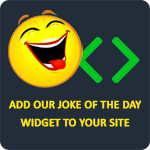 A doctor tells an old couple at his office he needs to get a stool sample, a urine sample, and a blood test from the old man. Hard of hearing, the old man asks his wife what the doctor said. The wife replies, "He needs a pair of your underwear."
Mark My Words
Three old timers at the retirement home were complaining about growing old. The first one says, "I wake up at 7:00 AM and try for a half hour to take a poop." The second one says, "Oh yeah? I spend an hour trying to pee." The third one says, "I take a nice poop at 7:00 AM and about 7:30 AM take a nice pee." The other two guys look at him and ask, "What are you complaining about?" The third man explains, "I don't wake up till 8:30 AM."
Mark My Words
Knock, knock.
Who's there?
Ach.
Ach who?
Bless you! Need a tissue?
Anonymous
Two guys are standing in line to enter heaven. One turned around and asked the other how he died. "I froze to death. How about you?" "I had a heart attack." "How did that happen?" "Well, I suspected my wife was cheating on me. So after work I went straight home. I ran upstairs to find my wife sleeping by herself. Then I ran back downstairs and looked in all the hiding spots. When I was running back up the stairs, I had a heart attack." "That's ironic." "Why?" "If you would've looked in the fridge, we'd both be alive."
fast freddy
Innkeeper: "The room is $15 a night. It's $5 if you make your own bed."
Guest: "I'll make my own bed."
Innkeeper: "Good. I'll get you some nails and wood."
Fabio