Categories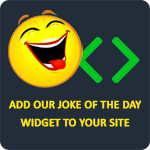 Two guys are standing in line to enter heaven. One turned around and asked the other how he died. "I froze to death. How about you?" "I had a heart attack." "How did that happen?" "Well, I suspected my wife was cheating on me. So after work I went straight home. I ran upstairs to find my wife sleeping by herself. Then I ran back downstairs and looked in all the hiding spots. When I was running back up the stairs, I had a heart attack." "That's ironic." "Why?" "If you would've looked in the fridge, we'd both be alive."
fast freddy
Innkeeper: "The room is $15 a night. It's $5 if you make your own bed."
Guest: "I'll make my own bed."
Innkeeper: "Good. I'll get you some nails and wood."
Fabio
Officer: "Madam, swimming is prohibited in this lake."
Lady: "Why didn't you tell me when I was removing my clothes?"
Officer: "Well, that's not prohibited."
MUHAMAD UMAIR
Knowledge is knowing a tomato is a fruit; wisdom is not putting it in a fruit salad.
Anonymous
An old man goes into the Social Security Office and fills out an application. Too old to have a birth certificate, he is asked to prove he is old enough. He opens his shirt and shows them the gray hair on his chest and they accept that as proof. He goes home to his wife, shows her the check, and explains to her what has happened. She replies, "Well get back down there, pull down your pants, and see if you can get disability!"
TheLaughFactory