Categories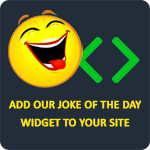 Knock, knock.
Who's there?
I eat mop
I eat mop who?
Hah! You said, "I eat ma poo!"
Anonymous
"Give it to me! Give it to me!" she yelled, "I'm so wet, give it to me now!" She could scream all she wanted to. I was keeping the umbrella.
Kaziah
Knowledge is knowing a tomato is a fruit; wisdom is not putting it in a fruit salad.
Anonymous
An old man goes into the Social Security Office and fills out an application. Too old to have a birth certificate, he is asked to prove he is old enough. He opens his shirt and shows them the gray hair on his chest and they accept that as proof. He goes home to his wife, shows her the check, and explains to her what has happened. She replies, "Well get back down there, pull down your pants, and see if you can get disability!"
TheLaughFactory
Officer: "Madam, swimming is prohibited in this lake."
Lady: "Why didn't you tell me when I was removing my clothes?"
Officer: "Well, that's not prohibited."
MUHAMAD UMAIR