Categories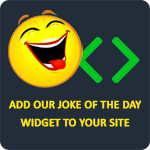 At a wedding party recently, someone yelled, "All the married men, please stand next to the one person who has made your life worth living!" The bartender was crushed to death.
mlevin1958
Knock, knock.
Who's there?
I eat mop
I eat mop who?
Hah! You said, "I eat ma poo!"
Anonymous
A woman named Shirley was from Beverly Hills. One day, she had a heart attack and was taken to Cedars Sinai Hospital. While on the operating table, she had a near death experience. She saw God and asked, "Is this it?" God said, "No, you have another 30 to 40 years to live." Upon her recovery, she decided to stay in the hospital and have collagen shots, cheek implants, a face lift, liposuction, and breast augmentation. She even had someone dye her hair. She figured since she had another 30 to 40 years, she might as well make the most of it. She walked out of Cedars Sinai lobby after the last operation, and was killed by an ambulance speeding up to the hospital. She arrived in front of God and said, "I thought you said I had another 30 to 40 years?" God replied, "Shirley! I'm sorry but I didn't recognize you!"
raquelgallardo1
On a windy day, an old lady is standing on a street corner, holding on to her hat with both hands, even though her dress is flying up over her face. An old man across the street sees her and runs over. As he approaches her, he says, "Sister, you ought to be ashamed of yourself, standing over here in all this wind with your dress flying over your head, exposing your paraphernalia, and you're holding that damn hat with both hands. You ought to be ashamed." She looked at him and said, "Look here, fool, everything down there is 80 years old, but this hat is brand new."
Anthony J
What is so great about being a test tube baby? You get a womb with a view.
Anonymous