Categories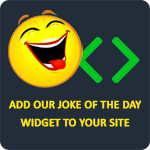 Two flies sit on a pile of poop. One fly passes gas. The other fly looks at him and says, "Hey do you mind? I'm eating here."
TheLaughFactory
A mentally challenged man walks up to this guy and asks, "Can you help me? I'm trying to spell the word 'orange.'" The guy responds, "What a retard, didn't your mom teach you?" The man answers, "No." "Ever?" says the guy. "No," responds the mentally challenged man. The guy responds, "Okay, which one are you trying to spell, the color or the fruit?"
nadia23
Knock knock.
Who's there?
Cow goes.
Cow goes who?
No, cow goes "Moo!"
sexybeast3345
When someone yawns, do deaf people think they're screaming?
Anonymous
A guy in a bar pukes on his shirt. His mate says, "No worries, just stick a $10 bill in your pocket, and tell your wife some guy puked on you and gave you the money for the cleaning bill!" So, he explains this to his wife who then asks, "So why are there two $10 bills in your pocket?" He replies, "Oh, because the guy pissed in my pants as well!"
jp6121