Categories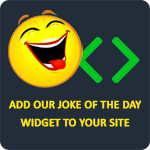 Q: Why did the reporter rush into the ice cream shop?
A: He was looking for a scoop.
Ellie K.
Chuck Norris got shot. We are now in the hospital, where the bullet is in critical condition.
Anonymous
My new thesaurus is terrible. It's also terrible.
TheLaughFactory
Q: Did you hear about that mathematician with constipation? A: He worked it out with a pencil.
Laura Ryan
Q: What's the last thing each Tickle Me Elmo doll gets before leaving the factory? A: Two test tickles.
TheLaughFactory