Categories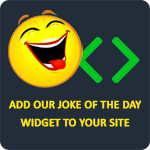 A small boy swallowed some coins and was taken to a hospital. When his grandmother telephoned to ask how he was, the nurse said, "No change yet."
TheLaughFactory
A young boy was walking along the docks one day admiring the ships, when a man walked up behind him and said, "Thinking of becoming a sailor?" "Yes, I am!" replied the boy. "Well," the man said, "I have sailed many years and have had many adventures." The boy looked the man up and down, and saw that he had an eye patch, a peg leg, and a hook. "I would love to hear of your adventures," said the boy. "Well," the man said, "I was sailing around the Cape of Good Hope when I encountered pirates. They boarded my boat and I fought them 'til there was only one left. But before he got away he cut off my leg!" "That sounds terrible!" exclaimed the boy. "Aye lad, it was, but I got over it and continued sailing the seas." "How did you get the hook?" inquired the boy. "I was once again sailing around the Cape of Good Hope on my way home when I encountered the same pirate with a whole new crew. They boarded me again and I fought down to the last man, only this time as he got away, he cut of my hand!" "That is awful!" the boy once again exclaimed. "Aye lad, but again I got over it and continued sailing the seas." "Tell me how you got the eye patch! Was it the pirates again?" "No lad, this time I was just out finishing one day, I heard the cry of a gull, and when I looked up it sh*t in me eye!" "Pardon me sir, but I didn't know you could lose an eye from gull sh*t." "Well lad, 'twas the first day with the hook!!!"
Yanni26
The "Buffolo Theory" of beer. A herd of buffalo can move only as fast as the slowest buffalo. When the herd is hunted, it is the slowest and weakest ones at the back that are killed first. This natural selection is good for the herd as a whole, because the general speed and health of the whole group keeps improving by the regular killing of the weakest members. In much the same way the human brain can only operate as fast as the slowest brain cells. Excessive intake of alcohol, we all know, kills brain cells, but naturally it attacks the slowest and weakest brain cells first. In this way regular consumption of beer eliminates the weaker brain cells, making the brain a faster and more efficient machine. That's why you always feel smarter after a few beers, and that's why beer is so good for you!
lego121984
A clear conscience is usually the sign of a bad memory.
Anonymous
Q: What did the triangle say to the circle? A: "You're pointless!"
Andrea