Categories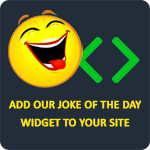 Two guys are at a bar on the roof of a hotel. One guy says to the other guy, "I'll bet you a beer that I can jump off this building, let this wind take me all the way around this building, and I'll land back up here." The other guy says, "You're on." The first guy jumps and, sure enough, he goes around the building and lands back on the roof. "You owe me a beer," he says. He goes on to perform the trick several more times, collecting free beers, until the second guy decides he's going to try it too. He stands on the edge, looking forward to a free beer from the first man, and jumps off, dying when he slams into the pavement below. The bartender says to the first man, "You sure are an asshole when you're drunk, Superman."
Cory
If 4 out of 5 people suffer from diarrhea, does that mean that one enjoys it?
Anonymous
A carpet layer had just finished installing carpet for a lady. He stepped out for a smoke, only to realize he'd lost his cigarettes. In the middle the room, under the carpet, was a bump. "No sense pulling up the entire floor for one pack smokes," he said to himself. He proceeded to get out his hammer and flattened the hump. As he was cleaning up, the lady came in. "Here," she said, handing him his cigarette pack. "I found them in the hallway. Now, if only I could find my sweet little hamster."
TheLaughFactory
Two young men sneak on to a blind man's property in order to steal something of vaule. The blind man hears them and goes to the door with his shot gun. The two young men, seeing the blind man, stand motionless. The blind calls out, "Marco!". Silence. He tries once more, "Marco!" More silence. One more time, "Marco!" One of the young men, tired of the game, yells out, "We aren't going to fall for that..." *BANG!
coreyjohnson193
Doctor: "I am not exactly sure of the cause. I think it could be due to alcohol."
Patient: "That's okay. I'll come back when you are sober."
TheLaughFactory