Categories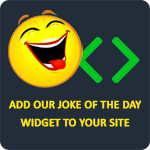 Teacher: Maria please point to America on the map. Maria: This is it. Teacher: Well done. Now class, who found America? Class: Maria did.
haaz69
There once was a man named McCrass.
His balls were made out of brass.
When he clanged them together,
They made stormy weather,
And lightning shot out of his ass.
bigdee
A computer once beat me at chess, but it was no match for me at kick boxing.
Anonymous
Police arrested two kids yesterday, one was drinking battery acid, the other was eating fireworks. They charged one, and let the other one off.
SusuM
A drunk appears in front of a judge. The judge says, "You've been brought here for drinking." The drunk says, "Okay, let's get started!"
Cpumper