Categories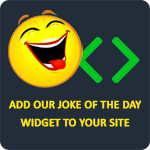 An elderly woman went to her local doctor's office and asked to speak with her doctor. When the receptionist asked why she was there, she replied, I'd like to have some birth control pills. Taken back, the doctor thought for a minute and then said, "Excuse me, Mrs. Glenwood, but you're 80 years old. What would you possibly need birth control pills for?" The woman replied, "They help me sleep better." The doctor considered this for a second, and continued, "How in the world do birth control pills help you sleep?" The woman said, "I put them in my granddaughter's orange juice, and I sleep better at night."
Brightcomet
Police arrested two kids yesterday, one was drinking battery acid, the other was eating fireworks. They charged one, and let the other one off.
SusuM
Q: What do you call a woman that sets her bills on fire?
A: Bernadette.
Anonymous
The teacher asked little Johnny to use the word "definitely" in a sentence. Little Johnny replies, "Teacher, do farts have lumps in them?" The teacher says, "Of course not Johnny." To which Johnny replies, "Then I have definitely s**t my pants."
lglaugh
Q: What is the difference between a dead skunk in the middle of the road and a dead lawyer in the middle of the road?
A: The skid marks in front of the skunk.
Mark My Words