Categories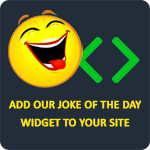 Q: What did the curtain say to the floor?
A: Stop looking under my skirt!
Anonymous
It's not the fall that kills you; it's the sudden stop at the end.
Anonymous
Patient: Doctor,will I be able to play the piano after the operation? Doctor: Yes,of course. Patient: Great, I never could before.
mohammadhajian
What did the zero say to the eight? I like your belt!
tawnya
Little Johhnny asked his teacher if he could go to the bathroom and she told him if he could recite the the alphabet he could go. So, he began, "A B C D E F G H I J K L M N O Q R S T U V W X Y Z." She asked, "What happened to the P?" He cried, "It's running down my legs!"
rockroller1