Categories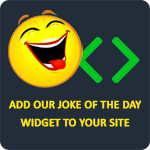 One day at school, little Jimmy needed to go to the restroom so he raised his hand. The strict substitute teacher asked him to say the full alphabet before she would let him go. "But Miss, I am bursting to go," said Jimmy. "You may go, but after you say the full alphabet." "A-B-C-D-E-F-G-H-I-J-K-L-M-N-O-Q-R-S-T-U-V-W-X-Y-Z," he said. Catching his mistake, the substitute asked, "Jimmy, where is the 'P?'" He answered, "Halfway down my legs, Miss."
Anonymous
Give a man a fish and he will eat for a day. Teach him how to fish and he will sit in a boat and drink beer all day.
TheLaughFactory
Two flies sit on a pile of poop. One fly passes gas. The other fly looks at him and says, "Hey do you mind? I'm eating here."
TheLaughFactory
A mentally challenged man walks up to this guy and asks, "Can you help me? I'm trying to spell the word 'orange.'" The guy responds, "What a retard, didn't your mom teach you?" The man answers, "No." "Ever?" says the guy. "No," responds the mentally challenged man. The guy responds, "Okay, which one are you trying to spell, the color or the fruit?"
nadia23
Knock knock.
Who's there?
Cow goes.
Cow goes who?
No, cow goes "Moo!"
sexybeast3345