Categories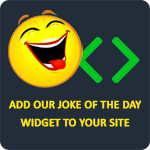 Chuck Norris got shot. We are now in the hospital, where the bullet is in critical condition.
Anonymous
Two guys are at a bar on the roof of a hotel. One guy says to the other guy, "I'll bet you a beer that I can jump off this building, let this wind take me all the way around this building, and I'll land back up here." The other guy says, "You're on." The first guy jumps and, sure enough, he goes around the building and lands back on the roof. "You owe me a beer," he says. He goes on to perform the trick several more times, collecting free beers, until the second guy decides he's going to try it too. He stands on the edge, looking forward to a free beer from the first man, and jumps off, dying when he slams into the pavement below. The bartender says to the first man, "You sure are an asshole when you're drunk, Superman."
Cory
Q: What do you get when you put 50 lawyers in a room with 50 lesbians? A: 100 people who don't do dick.
TheLaughFactory
Q: What do you call a doll on fire?
A: A Barbie-Q.
TheLaughFactory
There once was a man named McCrass.
His balls were made out of brass.
When he clanged them together,
They made stormy weather,
And lightning shot out of his ass.
bigdee