Categories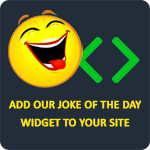 Q: Why did the skeleton cross the road?
A: To get to the body shop.
Lucyfaith16
If you ever fart in public, just yell, "Turbo power!" and walk faster.
craftyhippiechick
Late one night, a preacher was driving on a country road and had a wreck. A farmer stopped and said, "Sir, are you okay?" The preacher said, "Yes, I had the Lord riding with me." The farmer said, "Well, you better let him ride with me, because you're gonna kill him."
Anonymous
When someone yawns, do deaf people think they're screaming?
Anonymous
A completely inebriated man was stumbling down the street with one foot on the curb and one foot in the gutter. A cop pulled up and said, "I've got to take you in pal. You're obviously drunk." The wasted man asked, "Officer, are ya absolutely sure I'm drunk?" "Yeah buddy, I'm sure," said the cop, "Let's go." Breathing a sigh of relief, the wino said, "Thank goodness. I thought I was crippled."
laughflava