Categories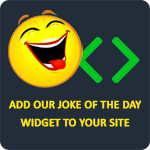 In a tiny village lived an old maid. In spite of her old age, she was still a virgin. She was very proud of it. She knew her last days were getting closer, so she told the local undertaker that she wanted the following inscription on her tombstone: "Born as a virgin, lived as a virgin, died as a virgin." Not long after, the old maid died peacefully, and the undertaker told his men what the lady had said. The men went to carve it in, but the lazy no-goods they were, they thought the inscription to be unnecessarily long. They simply wrote: "Returned unopened."
Frank C.
An old man goes to the doctor for some tests. When he gets the results, the doctor tells him that he has bad news. The old man says, "Just give it to me straight, doc." The doctor says, "Well, you have cancer, and you have Alzheimer's." The old man says, "I guess it could be worse. I could have cancer."
TheLaughFactory
A guy walks into a bathroom, sits down, and notices three buttons in front of him marked, WW, WA, and ATR. Curiosity gets the better of him so he decides to press WW. Suddenly, warm water sprays up his rear. "Mmmm," he says to himself. "That was good." So he presses WA and a jet of warm air dries his backside. "Mmmm. Nice!" So finally he can't resist pressing the ATR button. The next thing he knows, he is waking up in a hospital ward just as the nurse is entering the room. "Nurse, Nurse! Where am I? What happened?" The nurse replies, "You must have missed the sign to not press the ATR button." "What does ATR mean exactly?" says the guy. "Automatic Tampon Remover. Your testicles are under your pillow."
Anonymous
Q: What's red and bad for your teeth?
A: A brick.
Matt Rees
Q: What is the difference between a teacher and a train?
A: One says, "Spit out your gum," and the other says, "Choo choo choo!"
Capricorn37