Categories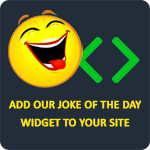 Doctor: "I am not exactly sure of the cause. I think it could be due to alcohol."
Patient: "That's okay. I'll come back when you are sober."
TheLaughFactory
A psychiatrist was conducting a group therapy session with three young mothers and their small children. "You all have obsessions," he observed. To the first mother he said, "You are obsessed with eating. You've even named your daughter Candy." He turned to the second mom. "Your obsession is money. Again, it manifests itself in your child's name, Penny." At this point, the third mother got up, took her little boy by the hand and whispered, "Come on, Dick, let's go."
Gamer2210
Molecule 1: I just lost an electron.
Molecule 2: Are you sure?
Molecule 1: I'm positive.
Anonymous
I got pulled over by a police officer and his dog sniffs for drugs. He comes over and says to me, "My dog says you have weed in the car." I responded, "Well I don't know about that, but I want whatever got you talking to the dog!"
marcus3660
Little Johnny traveled North to visit his friend during winter time. His friend's mother saw Johnny shivering, so she said, "Come here and put your hands between my thighs to warm them up." Johnny said, "My ears are cold too."
Lantanna Littlon