Categories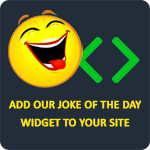 Q: What did the astronaut say when he wanted to be alone? A: "Give me some space!"
Anonymous
After hearing that one of the patients in a mental hospital had saved another from a suicide attempt by pulling him out of a bathtub, the hospital director reviewed the rescuer's file and called him into his office and said, "Kevin, your records and your heroic behavior indicate that you're ready to go home. I'm sorry to tell you that the man you saved later hung himself." "He didn't hang himself," Kevin replied, "I hung him up to dry."
JamesVilly
The teacher of the earth science class was lecturing on map reading. After explaining about latitude, longitude, degrees, and minutes, the teacher asked, "Suppose I asked you to meet me for lunch at 23 degrees, four minutes north latitude and 45 degrees, 15 minutes east longitude?" After a confused silence, a voice volunteered, "I guess you'd be eating alone."
mermaid0923
Two men walk beside each other down the street, one of them sees a broken piece of mirror on the ground, grabs it, looks at it and says, "This guy looks so familiar, but I can't remember where I know him from." The other guy grabs it from his hand, takes a look at it, and says, "It's me you idiot!"
alice10
A cowboy goes down to the stable, lifts his horse's tail, and plants a kiss smack dab on the horses butthole. Another cowboy sees this and yells, "What the hell are you doing?" He replies, "I've got chapped lips." The other cowboy asks, "Does that help?" "Nope," he answers, "It just keeps me from licking them."
Anonymous