Categories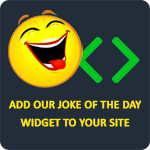 Q: Why is a river rich? A: Because it has two banks.
ISHA KHANNA
The following is a courtroom exchange between a defense attorney and a farmer with a bodily injury claim. It came from a Houston, Texas insurance agent.

Attorney: "At the scene of the accident, did you tell the constable you had never felt better in your life?"

Farmer: "That's right."

Attorney: "Well, then, how is it that you are now claiming you were seriously injured when my client's auto hit your wagon?"

Farmer: "When the constable arrived, he went over to my horse, who had a broken leg, and shot him. Then he went over to Rover, my dog, who was all banged up, and shot him. When he asked me how I felt, I just thought under the circumstances, it was a wise choice of words to say."
TheLaughFactory
A drunk staggers out of a bar and lets go of a loud belch just as a couple are walking in the door. The man yells at the drunk, "How dare you belch before this woman!" The drunk says, "I'm sorry! I didn't know she wanted to go first."
Mark My Words
Q: Where's the best view of falling stars in Los Angeles?
A: A rehab center.
noahlot2
Knock, knock.
Who's there?
I eat mop
I eat mop who?
Hah! You said, "I eat ma poo!"
Anonymous