Categories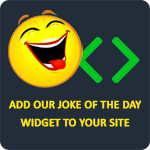 A man is at the bar, blind drunk. Some of the customers decide to be good Samaritans and get him home. They pick him up off the floor and drag him out of the door. On the way to the car, he falls down three times. When they get to his house, they help him out of the car, and he falls down four more times. They ring the doorbell and a woman answers. "Here's your husband!" "Thanks," says the man's wife. "What did you do with his wheelchair?"
Anonymous
A guy walks into a bar with a piece of asphalt under his arm. He asks the bartender for a beer, and one for the road.
eflynn1016
On top of a hill area, there are three draculas bragging about their powers to each other. The first one, points at a large house in the village underneath them, and quickly fly towards it. In about five minutes, he's back with a hint of blood dripping from his lip. Proudly, he says that all the humans living in that house died from his attack. The second dracula laughs as he's pointing to a small village area. After that, the second dracula jumps and flies in a quicker manner than the first one, in not more than a minute, he's already back with his mouth covered in blood. He says that all the people in the village that he pointed at died from his quick and brutal attack. The first dracula felt beaten, while the third one didn't say anything, but he gave one cold stare to a direction with small city lights at the end of it. Without any word, he flashed into that direction, and in more of a shock, he's back in around five seconds of time with face all covered in blood. Both previous draculas are surprised, and asked him if had he slaughtered the people in that small city. The third dracula shouts, "Did you two see that electrical pole in front of us?" they replied, "Of course we did, why?" still shouting, the third dracula says, "Goddammit, I didn't!"
darthgautama
What did the zero say to the eight? I like your belt!
tawnya
The Lone Ranger and Tonto were hunting buffalo one day to no avail. Tonto jumps off his horse, puts his ear to ground and says, "Buffalo come." The Lone Ranger asks, "How do you know that?" Tonto replies, "Ear sticky."
Shawn Bates