Categories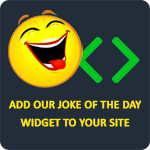 Doctor: "You'll live to be 60!"
Patient: "I am 60!"
Doctor: "See! What did I tell you?"
Bookworm
Two Irishmen friends are drinking together at one of their homes. One friend takes out a bottle of Irish whiskey and asks the other, "Will you pour this bottle out on my grave if I die first?" His friend replies, "Do you mind if I pass it through my kidneys first?"
Mark My Words
How I learned to mind my own business: I was walking past the mental hospital the other day, and I could hear all the patients shouting, "13! 13! 13!" The fence was too high to see over, but I saw a little gap in the planks, so I looked through to see what was going on. Someone poked me in the eye with a stick! Then they all started shouting, "14! 14! 14!"
archie
An American Indian boy goes to his mother one day with a puzzled look on his face. "Mom, why is my big brother named Mighty Storm?" "Because he was conceived during a mighty storm." "Why is my sister named Cornflower?" "Well, your father and I were in a cornfield when we made her." "And why is my other sister called Moonchild?" "We were watching the moon landing while she was conceived. Tell me, Torn Rubber, why are you so curious?"
Tenderoni
Three elderly men are taking a walk outside their nursing home. The first one says, "Windy, isn't it?" The second one says, "No, it's Thursday!" The third one says, "So am I. Let's go get a beer."
Mr. Minear