Categories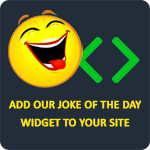 Q: What does a vegan zombie eat?
A: Graaaiiiiinnnssss.
TheLaughFactory
Q: Why did the reporter rush into the ice cream shop?
A: He was looking for a scoop.
Ellie K.
Chuck Norris got shot. We are now in the hospital, where the bullet is in critical condition.
Anonymous
My new thesaurus is terrible. It's also terrible.
TheLaughFactory
An old man goes to the doctor for some tests. When he gets the results, the doctor tells him that he has bad news. The old man says, "Just give it to me straight, doc." The doctor says, "Well, you have cancer, and you have Alzheimer's." The old man says, "I guess it could be worse. I could have cancer."
TheLaughFactory