Categories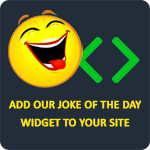 The toilet at my local police station has been stolen. The cops have nothing to go on.
Anonymous
Q: Why don't witches wear underwear?
A: So they can get a better grip on the broom.
Anonymous
When tempted to fight fire with fire, remember that the Fire Department usually uses water.
Anonymous
I like escalators because they can never break, they can only become stairs. You should never see a sign next to an escalator that says, "Escaltor Temporarily Out of Service." Just a sign that says, "Escalator Temporarily Stairs, Sorry for the Inconvenience."
Nebikinezer
How many ADHD kids does it take to screw in a lightbulb? Wanna ride a bike?
samiedrew