Categories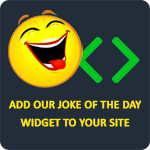 Little Johnny traveled North to visit his friend during winter time. His friend's mother saw Johnny shivering, so she said, "Come here and put your hands between my thighs to warm them up." Johnny said, "My ears are cold too."
Lantanna Littlon
I got pulled over by a police officer and his dog sniffs for drugs. He comes over and says to me, "My dog says you have weed in the car." I responded, "Well I don't know about that, but I want whatever got you talking to the dog!"
marcus3660
A guy at a bar says to the bartender, "I bet you $1,000 I can pee in that cup all the way over there at the end of the bar." The bartender agrees, so the guy whips it out and he pees all over the bar. Having just won $1,000, the bartender starts smiling. The guy goes over to a table where his friends are seating and collects a bunch of money from them. He walks back to the bar, gives the bartender his $1,000, and then starts laughing. The bartender asks, "Why are you laughing? You just lost the bet." The guy says, "Before I bet you, I bet all of my friends over there $2,000 dollars that I could pee all over your bar and you would be happy about it!"
thor
An old woman is sitting in a rocking chair on her porch, petting her cat Foo Foo. A fairy appears and says, "I'm here to grant you three wishes." The old woman says, "I wish I was twenty years old and beautiful again." Poof! She is. "Now I wish I had a million dollars and this old house was a mansion." Poof! Done. "And now I wish that Foo Foo was the handsomest man ever and deeply in love with me." Poof! Suddenly she's in the arms of a gorgeous man. He kisses her and says, "Darling, aren't you sorry you had me fixed?"
TheLaughFactory
A guy was at a bar and needed to fart. He decided the music was so loud that he just went for it and timed his farts to the beat of the music. After he relieved himself he looked up to see everyone staring at him. Than he realized that he was listening to his iPod.
noely