Categories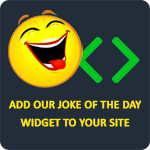 If 4 out of 5 people suffer from diarrhea, does that mean that one enjoys it?
Anonymous
A carpet layer had just finished installing carpet for a lady. He stepped out for a smoke, only to realize he'd lost his cigarettes. In the middle the room, under the carpet, was a bump. "No sense pulling up the entire floor for one pack smokes," he said to himself. He proceeded to get out his hammer and flattened the hump. As he was cleaning up, the lady came in. "Here," she said, handing him his cigarette pack. "I found them in the hallway. Now, if only I could find my sweet little hamster."
TheLaughFactory
Q: Why shouldn't you write with a broken pencil?
A: Because it's pointless!
Anonymous
Brunette: "Where were you born?"
Blonde: "California."
Brunette: "Which part?"
Blonde: "All of me."
Laughat28
Two young men sneak on to a blind man's property in order to steal something of vaule. The blind man hears them and goes to the door with his shot gun. The two young men, seeing the blind man, stand motionless. The blind calls out, "Marco!". Silence. He tries once more, "Marco!" More silence. One more time, "Marco!" One of the young men, tired of the game, yells out, "We aren't going to fall for that..." *BANG!
coreyjohnson193