Categories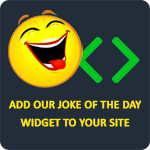 A guy was at a bar and needed to fart. He decided the music was so loud that he just went for it and timed his farts to the beat of the music. After he relieved himself he looked up to see everyone staring at him. Than he realized that he was listening to his iPod.
noely
Q: Why is diarrhea hereditary?
A: It runs in your genes.
Hamid
Three ladies were discussing the travails of getting older. One said, "Sometimes I catch myself with a jar of mayonnaise in my hand, while standing in front of the refrigerator, and I can't remember whether I need to put it away or start making a sandwich." The second lady chimed in with, "Yes, sometimes I find myself on the landing of the stairs and can't remember whether I was on my way up or on my way down." The third one responded, " Well ladies, I'm glad I don't have that problem. Knock on wood," as she rapped her knuckles on the table, and then said, "That must be the door, I'll get it!"
TheLaughFactory
A pirate walks into a bar with a steering wheel on the front of his pants. The bartender asks, "What's with the wheel?" The pirate says, "Arrrr! It drives me nuts!"
goorfa1
Q: What did the janitor yell when he jumped out of the closet?
A: "Supplies!"
LAMEGIRL23