Categories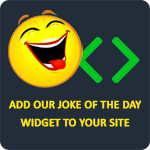 If you ever fart in public, just yell, "Turbo power!" and walk faster.
craftyhippiechick
PMS jokes aren't funny. Period.
Silenxio Maximeaning Ultimious
Two drunks are sitting in a bar when one of them turns to the other one and asks, "Hey, isn't that Hortense?" The other drunk chimes in and says, "No, she looks pretty relaxed to me."
Mark My Words
Q: Why did the chicken cross the möbius strip?
A: To get to the same side.
square boy
Q: What is the difference between a teacher and a train?
A: One says, "Spit out your gum," and the other says, "Choo choo choo!"
Capricorn37