Categories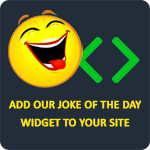 Helen Keller walks into a bar, then a table, then a chair.
Kirbeh Master
PMS jokes aren't funny. Period.
Silenxio Maximeaning Ultimious
A guy goes to see his doctor, and the doctor says, "Well, I'm afraid you have six weeks to live." The guy says, "Oh damn, well what should I do doctor?" The doctor tells him, "You should take a mud bath once a day for the next six weeks," and the guy asks, "Why? Is that supposed to help?" and the doctor says, "No, but it'll get you used to being in the ground."
hollow1030
Q: What is the difference between a teacher and a train?
A: One says, "Spit out your gum," and the other says, "Choo choo choo!"
Capricorn37
The old couple had been married for 50 years. They were sitting at the breakfast table one morning when the wife says, 'Just think, fifty years ago we were sitting at this same breakfast table together.' 'I know,' the old man said. 'We were probably sitting here naked as a jaybird, too .' 'Well,' Granny snickered. 'Let's relive some old times.' Where upon, the two stripped to the buff and sat back down at the table. 'You know, honey,' the little old lady breathlessly replied, 'My nipples are as hot for you today as they were fifty years ago.' 'I wouldn't be surprised,' replied Gramps. 'One's in your coffee and the other is in your oatmeal.'
Eagle145