Categories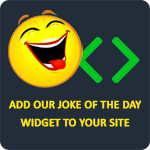 Q: What's the difference between a lawyer and a leech?
A: After you die, a leech stops sucking your blood.
TheLaughFactory
A computer once beat me at chess, but it was no match for me at kick boxing.
Anonymous
Teacher: Maria please point to America on the map. Maria: This is it. Teacher: Well done. Now class, who found America? Class: Maria did.
haaz69
Q: What would George Washington be doing if he were alive? A: Terrified, screaming in his coffin.
Jonny B
There once was a man named McCrass.
His balls were made out of brass.
When he clanged them together,
They made stormy weather,
And lightning shot out of his ass.
bigdee