Categories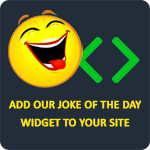 A man is standing at a urinal when he notices that he's being watched by a midget. The midget drags a small stepladder over, and climbs up to admire the man's private parts close up. "Wow," comments the midget, "those are the nicest balls I have ever seen!" Freaked out, but flattered, the man thanks the midget and starts to move away. "I know this is a strange request," says the little guy, "but would you mind if I touched them?" Again, the man is taken aback, but seeing no real harm in it, consents. The midget reaches out, gets a tight grip on the man's balls, and says loudly, "Okay, hand over your wallet or I'll jump."
michael007
For some time, many of us have wondered who is Jack Sh*t? We find ourselves at a loss when someone says, "You dont know Jack Sh*t." Well, thanks to my efforts, you can now respond in an intellectual way. Jack Sh*t is the only son of Awe Sh*t, who married O Sh*t, the owners of Knee Deep 'N Sh*t, Inc. In turn, Jack Sh*t married No Sh*t. The couple had six children, Holy Sh*t, Giva Sh*t, Fulla Sh*t, Bull Sh*t, and the twins Deep Sh*t and Dip Sh*t. Deep Sh*t married Dumb Sh*t, a high school dropout. After 15 years, Jack and Noe Sh*t got divorced, and she married Ted Sherlock and became Noe Sh*t Sherlock. Meanwhile, Dip Sh*t married Lotta Sh*t and had a rather nervous disposition named Chicken Sh*t. Fulla Sh*t and Giva Sh*t married the Happens brothers, and had a double wedding. The newspaper invited everyone to the Sh*t-Happens wedding. Bull Sh*t traveled the world and returned home with an Italian bride, Pisa Sh*t. So from now on, no one can tell you that you don't know Jack Sh*t!
santos4
Two boys were arguing when the teacher entered the room. The teacher says, "Why are you arguing?" One boy answers, "We found a ten dollor bill and decided to give it to whoever tells the biggest lie." "You should be ashamed of yourselves," said the teacher, "When I was your age I didn't even know what a lie was." The boys gave the ten dollars to the teacher.
SaeedNich
A man got in a car accident with a dwarf, who got out of his car and said, "I'm not happy!" The man replied, "Well, which one are you?"
thor
A clear conscience is usually the sign of a bad memory.
Anonymous