Categories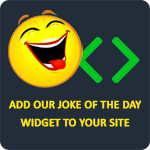 Late one night, a preacher was driving on a country road and had a wreck. A farmer stopped and said, "Sir, are you okay?" The preacher said, "Yes, I had the Lord riding with me." The farmer said, "Well, you better let him ride with me, because you're gonna kill him."
Anonymous
Three elderly men are taking a walk outside their nursing home. The first one says, "Windy, isn't it?" The second one says, "No, it's Thursday!" The third one says, "So am I. Let's go get a beer."
Mr. Minear
Q: Why do pilgrims pants fall down?
A: Because their belts are on their hats.
Anonymous
If money doesn't grow on trees, why do banks have branches?
chris
You know you're getting old when your wife says, "Honey, lets run upstairs and make love," and you answer, "I can't do both."
Rimmothy