Categories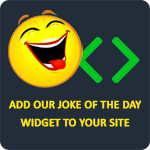 Q: Why did the skeleton cross the road?
A: To get to the body shop.
Lucyfaith16
Q: Did you hear about that mathematician with constipation? A: He worked it out with a pencil.
Laura Ryan
Teacher: Maria please point to America on the map. Maria: This is it. Teacher: Well done. Now class, who found America? Class: Maria did.
haaz69
Q: Why don't cannibals eat comedians?
A: They taste funny.
HaHaHa
Q: Why didn't the toilet paper cross the road? A: It got stuck in a crack.
Jack c