Categories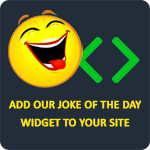 Q: What's Barney's favorite movie?
A: The Color Purple.
Anonymous
I got in a fight one time with a really big tough guy who said, "I'm going to mop the floor with your face." I said, "You'll be sorry." He said, "Oh, yeah? Why?" I said, "Well, you won't be able to get into the corners very well."
Anonymous
Q: What's the last thing each Tickle Me Elmo doll gets before leaving the factory? A: Two test tickles.
TheLaughFactory
It's not the fall that kills you; it's the sudden stop at the end.
Anonymous
If beauty was a drop of water, then you would be the Atlantic Ocean.
BigDaddyCat