Categories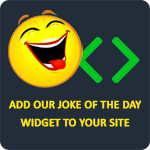 A man called his child's doctor, "Hello! My son just snatched my pen when I was writing and swallowed it. What should I do?" The doctor replied, "Until I can come over, write with another pen."
Gerri
Late one night, a preacher was driving on a country road and had a wreck. A farmer stopped and said, "Sir, are you okay?" The preacher said, "Yes, I had the Lord riding with me." The farmer said, "Well, you better let him ride with me, because you're gonna kill him."
Anonymous
Q: What do you call a woman that sets her bills on fire?
A: Bernadette.
Anonymous
A man goes to a strip club with an alligator. He says, "I bet you that I can put my dick into this alligator's mouth for 1 minute, and when I take it out, it will not be damaged. If I succeed, all of you will buy me drinks. If I fail, I will buy all of you drinks." The other men agree and he puts his dick into the alligator's mouth for 1 minute. After 1 minute, he hits the alligator on the head with a beer bottle, and he opens his mouth. To everyone's surprise, his dick is unharmed. "Now, before you buy me drinks, does anybody else want to try?" After a while, someone in the back finally raises their hand. It's a woman. "I guess I can try," she says, "but you have to promise not to hit me on the head with a beer bottle."
Anonymous
An old man goes to the doctor for some tests. When he gets the results, the doctor tells him that he has bad news. The old man says, "Just give it to me straight, doc." The doctor says, "Well, you have cancer, and you have Alzheimer's." The old man says, "I guess it could be worse. I could have cancer."
TheLaughFactory