Categories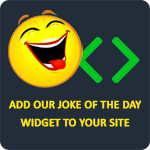 The teacher asked little Johnny to use the word "definitely" in a sentence. Little Johnny replies, "Teacher, do farts have lumps in them?" The teacher says, "Of course not Johnny." To which Johnny replies, "Then I have definitely s**t my pants."
lglaugh
Q: Why are there no knock knock jokes about America?
A: Because freedom rings!
h_crumbs
Q: Why is a river rich? A: Because it has two banks.
ISHA KHANNA
Tom was at the hospital visiting with his best friend Larry who was dying. Tom asked, "If there is baseball in heaven will you come back and tell me?" Larry nodded yes just as he passed away. That night while Tom was sleeping, he heard Larry's voice in a dream, "Tom..." "Larry! What is it?!" asked Tom. "I have good news and bad news from heaven." "What's the good news?" "There is baseball in heaven after all, but the bad news is you're pitching on Tuesday."
Anonymous
A drunk staggers out of a bar and lets go of a loud belch just as a couple are walking in the door. The man yells at the drunk, "How dare you belch before this woman!" The drunk says, "I'm sorry! I didn't know she wanted to go first."
Mark My Words