Categories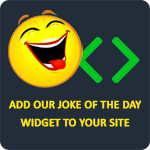 A guy in a bar pukes on his shirt. His mate says, "No worries, just stick a $10 bill in your pocket, and tell your wife some guy puked on you and gave you the money for the cleaning bill!" So, he explains this to his wife who then asks, "So why are there two $10 bills in your pocket?" He replies, "Oh, because the guy pissed in my pants as well!"
jp6121
The roundest knight at King Arthur's round table was Sir Cumference. He acquired his size from eating too much pi.
TheLaughFactory
A doctor walks into a room full of patients at a mental institution, takes out a pen, and draws a door on the wall. He then tells all the patients that whoever wants to escape, should use that door. Immediately they all rush towards it, but of course cannot go through. However, one patient sits still in the back with a smile on his face. He has not moved at all. The doctor thinks he must be cured. He then asks the patient why he did not rush to the door, and the patient whispers, "They don't know that I'm the one who has the key."
tmmolawa
Your lips are so chapped, I can hear you smile.
NorthTime
The Lone Ranger and Tonto were hunting buffalo one day to no avail. Tonto jumps off his horse, puts his ear to ground and says, "Buffalo come." The Lone Ranger asks, "How do you know that?" Tonto replies, "Ear sticky."
Shawn Bates