Categories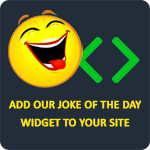 Q: What did the astronaut say when he wanted to be alone? A: "Give me some space!"
Anonymous
There was a man who sent ten different puns to friends, in hope that at least one of the puns would make them laugh. Unfortunately, no pun in ten did.
TheLaughFactory
After hearing that one of the patients in a mental hospital had saved another from a suicide attempt by pulling him out of a bathtub, the hospital director reviewed the rescuer's file and called him into his office and said, "Kevin, your records and your heroic behavior indicate that you're ready to go home. I'm sorry to tell you that the man you saved later hung himself." "He didn't hang himself," Kevin replied, "I hung him up to dry."
JamesVilly
The teacher of the earth science class was lecturing on map reading. After explaining about latitude, longitude, degrees, and minutes, the teacher asked, "Suppose I asked you to meet me for lunch at 23 degrees, four minutes north latitude and 45 degrees, 15 minutes east longitude?" After a confused silence, a voice volunteered, "I guess you'd be eating alone."
mermaid0923
A drunk appears in front of a judge. The judge says, "You've been brought here for drinking." The drunk says, "Okay, let's get started!"
Cpumper