Categories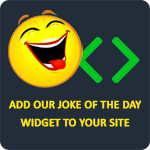 A guy goes to see his doctor, and the doctor says, "Well, I'm afraid you have six weeks to live." The guy says, "Oh damn, well what should I do doctor?" The doctor tells him, "You should take a mud bath once a day for the next six weeks," and the guy asks, "Why? Is that supposed to help?" and the doctor says, "No, but it'll get you used to being in the ground."
hollow1030
Two women friends had gone out for a girls night out, and had been overenthusiastic on the cocktails. Incredibly drunk and walking home, they suddenly realized they both needed to pee. They were very close to a graveyard, and one of them suggested they do their business behind a headstone or something. The first woman had nothing to wipe with, so she took off her panties, used them, and threw them away. Her friend however, was wearing an expensive underwear set and didn't want to ruin hers, but was lucky enough to salvage a large ribbon from a wreath that was on a grave and proceeded to wipe herself with it. After finishing, they made their way home. The next day, the first woman's husband phones the other husband and says, "These girls' nights out have got to stop. My wife came home last night without her panties." "That's nothing," said the other. "Mine came back with a sympathy card stuck between the cheeks of her butt that said, "From all of us at the fire station, we'll never forget you!"
Bianca723
A child goes to his father and asks, "Father, how do parents think of names for their children?" The father answers, "Well, son, the night before the mother gives birth, the father goes into the woods and camps for the night. When he wakes the following morning, the first thing he sees is what he names his child, which is why your sister is named Soaring Eagle. Why do you ask, Bear Poop?"
SaltyDog01
The old couple had been married for 50 years. They were sitting at the breakfast table one morning when the wife says, 'Just think, fifty years ago we were sitting at this same breakfast table together.' 'I know,' the old man said. 'We were probably sitting here naked as a jaybird, too .' 'Well,' Granny snickered. 'Let's relive some old times.' Where upon, the two stripped to the buff and sat back down at the table. 'You know, honey,' the little old lady breathlessly replied, 'My nipples are as hot for you today as they were fifty years ago.' 'I wouldn't be surprised,' replied Gramps. 'One's in your coffee and the other is in your oatmeal.'
Eagle145
Q: You're trapped in a room with a tiger, a rattlesnake and a lawyer. You have a gun with two bullets. What should you do?
A: Shoot the lawyer. Twice.
Ahnoyink