Categories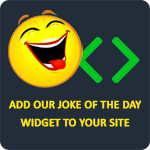 Late one night, a preacher was driving on a country road and had a wreck. A farmer stopped and said, "Sir, are you okay?" The preacher said, "Yes, I had the Lord riding with me." The farmer said, "Well, you better let him ride with me, because you're gonna kill him."
Anonymous
If money doesn't grow on trees, why do banks have branches?
chris
In a tiny village lived an old maid. In spite of her old age, she was still a virgin. She was very proud of it. She knew her last days were getting closer, so she told the local undertaker that she wanted the following inscription on her tombstone: "Born as a virgin, lived as a virgin, died as a virgin." Not long after, the old maid died peacefully, and the undertaker told his men what the lady had said. The men went to carve it in, but the lazy no-goods they were, they thought the inscription to be unnecessarily long. They simply wrote: "Returned unopened."
Frank C.
A couple are rushing into the hospital because the wife is going into labor. As they walk, a doctor says to them that he has invented a machine that splits the pain between the mother and father. They agree to it and are led into a room where they get hooked up to the machine. The doctor starts it off at 20% split towards the father. The wife says, "Oh, that's actually better." The husband says he can't feel anything. Then the doctor turns it to 50% and the wife says that it doesn't hurt nearly as much. The husband says he sill can't feel anything. The Doctor, now encouraged, turns it up to 100%. The husband still can't feel anything, and the wife is really happy, because there is now no pain for her. The baby is born. The couple go home and find the postman groaning in pain on the doorstep.
MikeyBoi
You know you're getting old when your wife says, "Honey, lets run upstairs and make love," and you answer, "I can't do both."
Rimmothy