Categories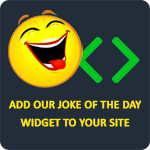 If beauty was a drop of water, then you would be the Atlantic Ocean.
BigDaddyCat
I used to be indecisive. Now I'm not sure.
Anonymous
He who smiles in a crisis has found someone to blame.
Anonymous
Two sausages are frying in a pan. One sausage turns to the other sausage and says, "Boy, it's hot in here." The other sausage turns and says, "Holy sh*t, a talking sausage!"
ChuckLindsey
A wife saw her husband weight himself on the scale trying to pull in the stomach. The wife thought he was trying to reduce his weight on the scale. So she said, "You know, I don't think that will help you." The husband replies, "Of course it helps. It is the only way I can see the number on the scale."
Alavi