Categories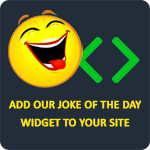 Q: What did the janitor yell when he jumped out of the closet?
A: "Supplies!"
LAMEGIRL23
Brunette: "Where were you born?"
Blonde: "California."
Brunette: "Which part?"
Blonde: "All of me."
Laughat28
Three ladies were discussing the travails of getting older. One said, "Sometimes I catch myself with a jar of mayonnaise in my hand, while standing in front of the refrigerator, and I can't remember whether I need to put it away or start making a sandwich." The second lady chimed in with, "Yes, sometimes I find myself on the landing of the stairs and can't remember whether I was on my way up or on my way down." The third one responded, " Well ladies, I'm glad I don't have that problem. Knock on wood," as she rapped her knuckles on the table, and then said, "That must be the door, I'll get it!"
TheLaughFactory
Q: Why is diarrhea hereditary?
A: It runs in your genes.
Hamid
A man is standing at a urinal when he notices that he's being watched by a midget. The midget drags a small stepladder over, and climbs up to admire the man's private parts close up. "Wow," comments the midget, "those are the nicest balls I have ever seen!" Freaked out, but flattered, the man thanks the midget and starts to move away. "I know this is a strange request," says the little guy, "but would you mind if I touched them?" Again, the man is taken aback, but seeing no real harm in it, consents. The midget reaches out, gets a tight grip on the man's balls, and says loudly, "Okay, hand over your wallet or I'll jump."
michael007