Categories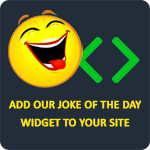 Q: Why is diarrhea hereditary?
A: It runs in your genes.
Hamid
A pirate walks into a bar with a steering wheel on the front of his pants. The bartender asks, "What's with the wheel?" The pirate says, "Arrrr! It drives me nuts!"
goorfa1
A man is standing at a urinal when he notices that he's being watched by a midget. The midget drags a small stepladder over, and climbs up to admire the man's private parts close up. "Wow," comments the midget, "those are the nicest balls I have ever seen!" Freaked out, but flattered, the man thanks the midget and starts to move away. "I know this is a strange request," says the little guy, "but would you mind if I touched them?" Again, the man is taken aback, but seeing no real harm in it, consents. The midget reaches out, gets a tight grip on the man's balls, and says loudly, "Okay, hand over your wallet or I'll jump."
michael007
Two boys were arguing when the teacher entered the room. The teacher says, "Why are you arguing?" One boy answers, "We found a ten dollor bill and decided to give it to whoever tells the biggest lie." "You should be ashamed of yourselves," said the teacher, "When I was your age I didn't even know what a lie was." The boys gave the ten dollars to the teacher.
SaeedNich
For some time, many of us have wondered who is Jack Sh*t? We find ourselves at a loss when someone says, "You dont know Jack Sh*t." Well, thanks to my efforts, you can now respond in an intellectual way. Jack Sh*t is the only son of Awe Sh*t, who married O Sh*t, the owners of Knee Deep 'N Sh*t, Inc. In turn, Jack Sh*t married No Sh*t. The couple had six children, Holy Sh*t, Giva Sh*t, Fulla Sh*t, Bull Sh*t, and the twins Deep Sh*t and Dip Sh*t. Deep Sh*t married Dumb Sh*t, a high school dropout. After 15 years, Jack and Noe Sh*t got divorced, and she married Ted Sherlock and became Noe Sh*t Sherlock. Meanwhile, Dip Sh*t married Lotta Sh*t and had a rather nervous disposition named Chicken Sh*t. Fulla Sh*t and Giva Sh*t married the Happens brothers, and had a double wedding. The newspaper invited everyone to the Sh*t-Happens wedding. Bull Sh*t traveled the world and returned home with an Italian bride, Pisa Sh*t. So from now on, no one can tell you that you don't know Jack Sh*t!
santos4