Categories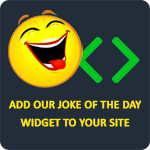 A taxi passenger taps the driver on the shoulder to ask him a question. The driver screams, loses control of the car, nearly hits a bus, goes up on the footpath, and stops centimeters from a shop window. For a second, everything goes quiet in the cab, then the driver says, "Look mate, don't ever do that again. You scared the daylights out of me!" The passenger apologizes and says, "I didn't realize that a little tap would scare you so much." The driver replies, "Sorry, it's not really your fault. Today is my first day as a cab driver. I've been driving a funeral van for the last 25 years."
Anonymous
On their way to get married, a young Catholic couple is involved in a fatal car accident. The couple found themselves sitting outside the Pearly Gates waiting for St. Peter to process them into Heaven. While waiting, they began to wonder: Could they possibly get married in Heaven? When St. Peter showed up, they asked him. St. Peter said, "I don't know. This is the first time anyone has asked. Let me go find out,'" and he left. The couple sat and waited, and waited. Two months passed and the couple were still waiting. While waiting, they began to wonder what would happen if it didn't work out; could you get a divorce in heaven? After yet another month, St. Peter finally returned, looking somewhat bedraggled. "Yes," he informed the couple, "You can get married in Heaven." "Great!" said the couple, "But we were just wondering, what if things don't work out? Could we also get a divorce in Heaven?" St. Peter, red-faced with anger, slammed his clipboard onto the ground. "What's wrong?" asked the frightened couple. "OH, COME ON!," St. Peter shouted, "It took me three months to find a priest up here! Do you have any idea how long it'll take me to find a lawyer?"
E
Three men were at a bar discussing coincidences. The first man said, "My wife was reading A Tale of Two Cities and she gave birth to twins." "That's funny," the second man remarked, "My wife was reading The Three Musketeers and she gave birth to triplets." The third man shouted, "Oh my, I have to rush home!" When asked what the problem was, he exclaimed, "When I left the house, my wife was reading Ali Baba and the Forty Thieves!"
Anonymous
At a wedding party recently, someone yelled, "All the married men, please stand next to the one person who has made your life worth living!" The bartender was crushed to death.
mlevin1958
Two hunters are out in the forest when one of them collapses. He doesn't seem to be breathing and his eyes are glazed. The other guy takes out his phone and calls 911 and gasps, "My friend is dead! What can I do?" The operator says "Calm down. I can help. First, let's make sure he's dead." There is a silence, then a gun shot is heard. Back on the phone, the guy says "OK, now what?"
Sydney Vanmeter