Categories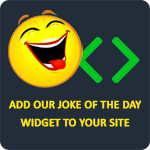 Q: Where's the best view of falling stars in Los Angeles?
A: A rehab center.
noahlot2
The teacher asked little Johnny to use the word "definitely" in a sentence. Little Johnny replies, "Teacher, do farts have lumps in them?" The teacher says, "Of course not Johnny." To which Johnny replies, "Then I have definitely s**t my pants."
lglaugh
A guy walks into a bar with a 10 foot long alligator. The bartender flips out and says, "Hey buddy, you gotta get that animal outta here. It's going to bite one of my customers and I'll get sued." The guy says, "No no, it's a tame alligator. I'll prove it to you." He picks up the alligator and puts it on the bar. Then he unzips his pants, pulls out his package and sticks it in the alligator's mouth. The alligator just keeps his mouth open. After about 5 minutes, he pulls it out of the alligator's mouth, zips up his pants, and says, "See, I told you it was a tame alligator. Anybody else want to try it?" The drunk at the end of the bar says, "Yah, I'd like to try it but I don't think I can hold my mouth open that long!"
TheLaughFactory
Q: What do you get when you put 50 lawyers in a room with 50 lesbians? A: 100 people who don't do dick.
TheLaughFactory
Step 1: Name your iPhone "Titanic."
Step 2: Plug it into your computer.
Step 3: When iTunes says "Titanic is syncing," press cancel.
Step 4: Feel like a hero.
Anonymous