Categories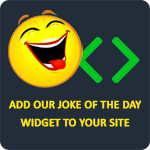 Step 1: Name your iPhone "Titanic."
Step 2: Plug it into your computer.
Step 3: When iTunes says "Titanic is syncing," press cancel.
Step 4: Feel like a hero.
Anonymous
An old woman is sitting in a rocking chair on her porch, petting her cat Foo Foo. A fairy appears and says, "I'm here to grant you three wishes." The old woman says, "I wish I was twenty years old and beautiful again." Poof! She is. "Now I wish I had a million dollars and this old house was a mansion." Poof! Done. "And now I wish that Foo Foo was the handsomest man ever and deeply in love with me." Poof! Suddenly she's in the arms of a gorgeous man. He kisses her and says, "Darling, aren't you sorry you had me fixed?"
TheLaughFactory
If 4 out of 5 people suffer from diarrhea, does that mean that one enjoys it?
Anonymous
A carpet layer had just finished installing carpet for a lady. He stepped out for a smoke, only to realize he'd lost his cigarettes. In the middle the room, under the carpet, was a bump. "No sense pulling up the entire floor for one pack smokes," he said to himself. He proceeded to get out his hammer and flattened the hump. As he was cleaning up, the lady came in. "Here," she said, handing him his cigarette pack. "I found them in the hallway. Now, if only I could find my sweet little hamster."
TheLaughFactory
A small boy swallowed some coins and was taken to a hospital. When his grandmother telephoned to ask how he was, the nurse said, "No change yet."
TheLaughFactory