Categories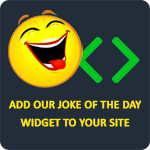 Step 1: Name your iPhone "Titanic."
Step 2: Plug it into your computer.
Step 3: When iTunes says "Titanic is syncing," press cancel.
Step 4: Feel like a hero.
Anonymous
The following is a courtroom exchange between a defense attorney and a farmer with a bodily injury claim. It came from a Houston, Texas insurance agent.

Attorney: "At the scene of the accident, did you tell the constable you had never felt better in your life?"

Farmer: "That's right."

Attorney: "Well, then, how is it that you are now claiming you were seriously injured when my client's auto hit your wagon?"

Farmer: "When the constable arrived, he went over to my horse, who had a broken leg, and shot him. Then he went over to Rover, my dog, who was all banged up, and shot him. When he asked me how I felt, I just thought under the circumstances, it was a wise choice of words to say."
TheLaughFactory
Q: What do you call a doll on fire?
A: A Barbie-Q.
TheLaughFactory
Doctor: "I am not exactly sure of the cause. I think it could be due to alcohol."
Patient: "That's okay. I'll come back when you are sober."
TheLaughFactory
Two guys are at a bar on the roof of a hotel. One guy says to the other guy, "I'll bet you a beer that I can jump off this building, let this wind take me all the way around this building, and I'll land back up here." The other guy says, "You're on." The first guy jumps and, sure enough, he goes around the building and lands back on the roof. "You owe me a beer," he says. He goes on to perform the trick several more times, collecting free beers, until the second guy decides he's going to try it too. He stands on the edge, looking forward to a free beer from the first man, and jumps off, dying when he slams into the pavement below. The bartender says to the first man, "You sure are an asshole when you're drunk, Superman."
Cory