Categories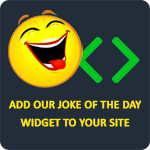 A 3 years old boy sits near a pregnant woman.
Boy: Why do you look so fat?
Pregnant woman: I have a baby inside me.
Boy: Is it a good baby?
Pregnant woman: Yes, it is a very good baby.
Boy: Then why did you eat it?!
Mo
A doctor reaches into his smock to get a pen to write a prescription and pulls out a rectal thermometer. "Oh, damn it," he proclaims, "Some asshole has my pen!"
Mark My Words
A policeman sees a little girl riding her bike and says, "Did Santa get you that?" "Yes," replies the little girl. "Well," says the policeman, "tell Santa to put a reflector light on it next year," and fines her $5. The girl looks up at the policeman and says, "Nice horse you've got there, did Santa bring you that?" The policeman chuckles and replies, "He sure did!" "Well," says the little girl, "next year, tell Santa the ass goes on the back of the horse and not on top of it."
ohninaa
Dad: "Say 'daddy.'"
Baby: "Mommy!"
Dad: "Come on, say 'daddy!'"
Baby: "Mommy!"
Dad: "F*ck you. Say 'daddy!'"
Baby: "F*ck you. Mommy!"
Mom: "Honey, I'm home!"
Baby: "F*ck you!"
Mom: "Who taught you to say that?"
Baby: "Daddy!"
Dad: "Son of a b*tch."
Joe Montoya
A wealthy man was having an affair with an Italian woman for a few years. One night, during one of their rendezvous, she confided in him that she was pregnant. Not wanting to ruin his reputation or his marriage, he paid her a large sum of money if she would go to Italy to have the child. If she stayed in Italy, he would also provide child support until the child turned 18. She agreed, but wondered how he would know when the baby was born. To keep it discrete, he told her to mail him a postcard, and write "Spaghetti" on the back. He would then arrange for child support. One day, about 9 months later, he came home to his confused wife. "Honey," she said, "you received a very strange postcard today." "Oh, just give it to me and I'll explain it later," he said. The wife handed the card over and watched as her husband read the card, turned white, and fainted. On the card was written "Spaghetti, Spaghetti, Spaghetti. Two with meatballs, one without."
89321117