Categories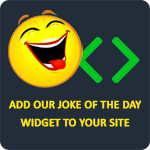 You are on a horse, galloping at a constant speed. On your right side is a sharp drop off, and on your left side is an elephant traveling at the same speed as you. Directly in front of you is another galloping horse but your horse is unable to overtake it. Behind you is a lion running at the same speed as you and the horse in front of you. What must you do to safely get out of this highly dangerous situation? Get your drunk ass off the merry-go-round!
Anonymous
Two flies sit on a pile of poop. One fly passes gas. The other fly looks at him and says, "Hey do you mind? I'm eating here."
TheLaughFactory
One day in the forest, 3 guys were just hiking along a trail when all of a sudden, a huge pack of Indians attaked them and knocked them out. When they woke up, they were at the leader of the tribe's throne. The chief then said, "All of your lives may be spared if you can find ten of one fruit and bring them back to me." So after a while the first man returned with 10 apples. The cheif then ordered him to stick all ten of them up his butt without making any expression at all on his face. He had a little bit of trouble with the first one and started crying while trying to put the next one in. He was soon killed. Later, the next guy came in with 10 grapes. The cheif soon ordered him to do the same as the first guy. After to the 9th grape, the man started laughing so hard for no apperant reason, and was killed. The first two guys soon met in heaven and the first guy ask the second, "Why did you start laughing? You only needed one more grape and you'd have gotten away!" The second guy answered while still laughing, "I couldn't help it. I saw the third guy walking in with pineapples."
bella37181
I'm on a whiskey diet. I have lost three days already.
TheLaughFactory
A taxi passenger taps the driver on the shoulder to ask him a question. The driver screams, loses control of the car, nearly hits a bus, goes up on the footpath, and stops centimeters from a shop window. For a second, everything goes quiet in the cab, then the driver says, "Look mate, don't ever do that again. You scared the daylights out of me!" The passenger apologizes and says, "I didn't realize that a little tap would scare you so much." The driver replies, "Sorry, it's not really your fault. Today is my first day as a cab driver. I've been driving a funeral van for the last 25 years."
Anonymous