Categories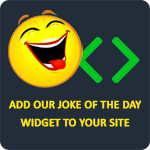 A pirate walks into a bar with a steering wheel on the front of his pants. The bartender asks, "What's with the wheel?" The pirate says, "Arrrr! It drives me nuts!"
goorfa1
A psychiatrist was conducting a group therapy session with three young mothers and their small children. "You all have obsessions," he observed. To the first mother he said, "You are obsessed with eating. You've even named your daughter Candy." He turned to the second mom. "Your obsession is money. Again, it manifests itself in your child's name, Penny." At this point, the third mother got up, took her little boy by the hand and whispered, "Come on, Dick, let's go."
Gamer2210
An old woman is sitting in a rocking chair on her porch, petting her cat Foo Foo. A fairy appears and says, "I'm here to grant you three wishes." The old woman says, "I wish I was twenty years old and beautiful again." Poof! She is. "Now I wish I had a million dollars and this old house was a mansion." Poof! Done. "And now I wish that Foo Foo was the handsomest man ever and deeply in love with me." Poof! Suddenly she's in the arms of a gorgeous man. He kisses her and says, "Darling, aren't you sorry you had me fixed?"
TheLaughFactory
A carpet layer had just finished installing carpet for a lady. He stepped out for a smoke, only to realize he'd lost his cigarettes. In the middle the room, under the carpet, was a bump. "No sense pulling up the entire floor for one pack smokes," he said to himself. He proceeded to get out his hammer and flattened the hump. As he was cleaning up, the lady came in. "Here," she said, handing him his cigarette pack. "I found them in the hallway. Now, if only I could find my sweet little hamster."
TheLaughFactory
One day in the forest, 3 guys were just hiking along a trail when all of a sudden, a huge pack of Indians attaked them and knocked them out. When they woke up, they were at the leader of the tribe's throne. The chief then said, "All of your lives may be spared if you can find ten of one fruit and bring them back to me." So after a while the first man returned with 10 apples. The cheif then ordered him to stick all ten of them up his butt without making any expression at all on his face. He had a little bit of trouble with the first one and started crying while trying to put the next one in. He was soon killed. Later, the next guy came in with 10 grapes. The cheif soon ordered him to do the same as the first guy. After to the 9th grape, the man started laughing so hard for no apperant reason, and was killed. The first two guys soon met in heaven and the first guy ask the second, "Why did you start laughing? You only needed one more grape and you'd have gotten away!" The second guy answered while still laughing, "I couldn't help it. I saw the third guy walking in with pineapples."
bella37181