Categories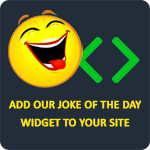 A mother tells her little boy, "Johnny, you mustn't eat too many lollies or I'll hide the lolly jar." Johnny asks, "Why?" His mother says, "Because something bad will happen! Your tummy will blow up big like a balloon and then pop!" The next day at church, the boy is sitting next to a pregnant woman. He points to her belly smiling and says, "I know what you've been doing!"

JJR Rob
A boss said to his secretary, "I want to have sex with you, but I will make it very fast. I'll throw $1,000 on the floor and by the time you bend down to pick it up, I'll be done." She thought for a moment then called her boyfriend and told him the story. Her boyfriend said, "Do it but ask him for $2,000. Then pick up the money so fast, he won't even have enough time to undress himself." She agrees. After half an hour passes, the boyfriend calls the girlfriend and asks, "So what happened?" She responds, "The bastard used coins, so I'm still picking it up and he is still having sex with me!"
Bertha Kee
Three old timers at the retirement home were complaining about growing old. The first one says, "I wake up at 7:00 AM and try for a half hour to take a poop." The second one says, "Oh yeah? I spend an hour trying to pee." The third one says, "I take a nice poop at 7:00 AM and about 7:30 AM take a nice pee." The other two guys look at him and ask, "What are you complaining about?" The third man explains, "I don't wake up till 8:30 AM."
Mark My Words
At the doctor's office, Tom was getting a check up. "I have good news and bad news," says the doctor. "The good news is you have 24 hours left to live." Tom replies, "That's the good news?!" Then the doctor says, "The bad news is I should have told you that yesterday."
Anonymous
A taxi passenger taps the driver on the shoulder to ask him a question. The driver screams, loses control of the car, nearly hits a bus, goes up on the footpath, and stops centimeters from a shop window. For a second, everything goes quiet in the cab, then the driver says, "Look mate, don't ever do that again. You scared the daylights out of me!" The passenger apologizes and says, "I didn't realize that a little tap would scare you so much." The driver replies, "Sorry, it's not really your fault. Today is my first day as a cab driver. I've been driving a funeral van for the last 25 years."
Anonymous