Categories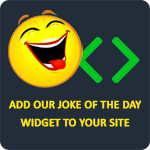 There are three friends named Mad, Brain, and Fight. One day Fight went missing and his friends Mad and Brain started searching for him. Then Brain said, "Mad, let's file a missing person report with the police." When they were about to walk into the police station, Brain said, "Mad, you go and make the report. I will wait for you here." Mad said, "Okay." Mad walked in but no police officers paid attention to him. Then he saw a policeman drinking a cup of coffee. Mad went to the officer, smacked the table, and the cup of coffee flew in the air, landing in the officer's lap. Angry, the policeman asked, "Are you looking for a fight?" Mad replied, "Yes, I am." The policeman asked, "Are you mad?" Mad replied, "Yes, I am Mad." The policeman then asked, "Don't you have a brain?" Mad replied, "Brain is outside sir."
Anonymous
A woman goes to her boyfriend's parents' house for dinner. This is her first time meeting the family and she is very nervous. They all sit down and begin eating a fine meal. The woman is beginning to feel a little discomfort, thanks to her nervousness and the broccoli casserole. The gas pains are almost making her eyes water. Left with no other choice, she decides to relieve herself a bit and lets out a dainty little fart. It wasn't loud, but everyone at the table heard the poot. Before she even had a chance to be embarrassed, her boyfriend's father looked over at the dog that had been snoozing at the women's feet, and said in a rather stern voice, "Ginger!" The woman thought, "This is great!" and a big smile came across her face. A couple minutes later, she was beginning to feel the pain again. This time, she didn't hesitate. She let a much louder and longer fart rip. The father again looked at the dog and yelled, "Dammit, Ginger!" Once again the woman smiled and thought, "Yes!" A few minutes later the woman had to let another one rip. This time she didn't even think about it. She let rip a fart that rivaled a train whistle blowing. Again, the father looked at the dog with disgust and yelled, "Dammit, Ginger, get away from her before she shits on you!"
Legolas
There once was a man named McCrass.
His balls were made out of brass.
When he clanged them together,
They made stormy weather,
And lightning shot out of his ass.
bigdee
Q: What do you call a doll on fire?
A: A Barbie-Q.
TheLaughFactory
Two guys are at a bar on the roof of a hotel. One guy says to the other guy, "I'll bet you a beer that I can jump off this building, let this wind take me all the way around this building, and I'll land back up here." The other guy says, "You're on." The first guy jumps and, sure enough, he goes around the building and lands back on the roof. "You owe me a beer," he says. He goes on to perform the trick several more times, collecting free beers, until the second guy decides he's going to try it too. He stands on the edge, looking forward to a free beer from the first man, and jumps off, dying when he slams into the pavement below. The bartender says to the first man, "You sure are an asshole when you're drunk, Superman."
Cory