Categories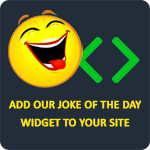 Knowledge is knowing a tomato is a fruit; wisdom is not putting it in a fruit salad.
Anonymous
A doctor tells an old couple at his office he needs to get a stool sample, a urine sample, and a blood test from the old man. Hard of hearing, the old man asks his wife what the doctor said. The wife replies, "He needs a pair of your underwear."
Mark My Words
Doctor: "You'll live to be 60!"
Patient: "I am 60!"
Doctor: "See! What did I tell you?"
Bookworm
Q: Why are ghosts bad liars?
A: You can see right through them.
Capricorn37
Knock, knock.
Who's there?
Ach.
Ach who?
Bless you! Need a tissue?
Anonymous