Categories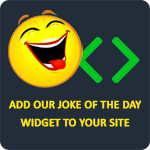 Two boys were arguing when the teacher entered the room. The teacher says, "Why are you arguing?" One boy answers, "We found a ten dollor bill and decided to give it to whoever tells the biggest lie." "You should be ashamed of yourselves," said the teacher, "When I was your age I didn't even know what a lie was." The boys gave the ten dollars to the teacher.
SaeedNich
A small boy swallowed some coins and was taken to a hospital. When his grandmother telephoned to ask how he was, the nurse said, "No change yet."
TheLaughFactory
Q: What did the triangle say to the circle? A: "You're pointless!"
Andrea
A taxi passenger taps the driver on the shoulder to ask him a question. The driver screams, loses control of the car, nearly hits a bus, goes up on the footpath, and stops centimeters from a shop window. For a second, everything goes quiet in the cab, then the driver says, "Look mate, don't ever do that again. You scared the daylights out of me!" The passenger apologizes and says, "I didn't realize that a little tap would scare you so much." The driver replies, "Sorry, it's not really your fault. Today is my first day as a cab driver. I've been driving a funeral van for the last 25 years."
Anonymous
If a midget comes up to you and says your hair smells good, is that considered sexual harassment?
Anonymous