Categories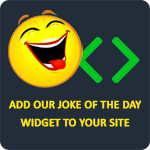 An old man goes to the doctor for some tests. When he gets the results, the doctor tells him that he has bad news. The old man says, "Just give it to me straight, doc." The doctor says, "Well, you have cancer, and you have Alzheimer's." The old man says, "I guess it could be worse. I could have cancer."
TheLaughFactory
Two boys were arguing when the teacher entered the room. The teacher says, "Why are you arguing?" One boy answers, "We found a ten dollor bill and decided to give it to whoever tells the biggest lie." "You should be ashamed of yourselves," said the teacher, "When I was your age I didn't even know what a lie was." The boys gave the ten dollars to the teacher.
SaeedNich
A mentally challenged man walks up to this guy and asks, "Can you help me? I'm trying to spell the word 'orange.'" The guy responds, "What a retard, didn't your mom teach you?" The man answers, "No." "Ever?" says the guy. "No," responds the mentally challenged man. The guy responds, "Okay, which one are you trying to spell, the color or the fruit?"
nadia23
Q: Did you hear about the flasher who was thinking of retiring?
A: He decided to stick it out for one more year!
TheLaughFactory
The roundest knight at King Arthur's round table was Sir Cumference. He acquired his size from eating too much pi.
TheLaughFactory