Categories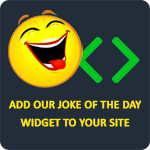 Q: Why do pilgrims pants fall down?
A: Because their belts are on their hats.
Anonymous
An old man goes into the Social Security Office and fills out an application. Too old to have a birth certificate, he is asked to prove he is old enough. He opens his shirt and shows them the gray hair on his chest and they accept that as proof. He goes home to his wife, shows her the check, and explains to her what has happened. She replies, "Well get back down there, pull down your pants, and see if you can get disability!"
TheLaughFactory
A guy walks into a bathroom, sits down, and notices three buttons in front of him marked, WW, WA, and ATR. Curiosity gets the better of him so he decides to press WW. Suddenly, warm water sprays up his rear. "Mmmm," he says to himself. "That was good." So he presses WA and a jet of warm air dries his backside. "Mmmm. Nice!" So finally he can't resist pressing the ATR button. The next thing he knows, he is waking up in a hospital ward just as the nurse is entering the room. "Nurse, Nurse! Where am I? What happened?" The nurse replies, "You must have missed the sign to not press the ATR button." "What does ATR mean exactly?" says the guy. "Automatic Tampon Remover. Your testicles are under your pillow."
Anonymous
A woman named Shirley was from Beverly Hills. One day, she had a heart attack and was taken to Cedars Sinai Hospital. While on the operating table, she had a near death experience. She saw God and asked, "Is this it?" God said, "No, you have another 30 to 40 years to live." Upon her recovery, she decided to stay in the hospital and have collagen shots, cheek implants, a face lift, liposuction, and breast augmentation. She even had someone dye her hair. She figured since she had another 30 to 40 years, she might as well make the most of it. She walked out of Cedars Sinai lobby after the last operation, and was killed by an ambulance speeding up to the hospital. She arrived in front of God and said, "I thought you said I had another 30 to 40 years?" God replied, "Shirley! I'm sorry but I didn't recognize you!"
raquelgallardo1
Q: Have you heard about the new restaurant called Karma?
A: There's no menu; you get what you deserve.
TheLaughFactory