Categories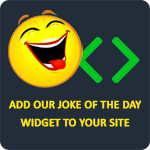 Kid 1: "Hey, I bet you're still a virgin."
Kid 2: "Yeah, I was a virgin until last night ."
Kid 1: "As if."
Kid 2: "Yeah, just ask your sister."
Kid 1: "I don't have a sister."
Kid 2: "You will in about nine months."
Achtung
So two Irishmen are traveling to Australia. Before they leave home, one of their dads gives them both a bit of advice: "You watch them Aussie cab drivers. They'll rob you blind. Don't you go paying them what they ask. You haggle." At the Sydney airport, the Irishmen catch a cab to their hotel. When they reach their destination, the cabbie says, "That'll be twenty dollars, lads." "Oh no you don't! My dad warned me about you. You'll only be getting fifteen dollars from me," says one of the men. "And you'll only be getting fifteen from me too," adds the other.
Rústi Strønzö
Two guys are walking through a game park & they come across a lion that has not eaten for days. The lion starts chasing the two men. They run as fast as they can and the one guy starts getting tired and decides to say a prayer, "Please turn this lion into a Christian, Lord." He looks to see if the lion is still chasing and he sees the lion on its knees. Happy to see his prayer answered, he turns around and heads towards the lion. As he comes closer to the lion, he hears the it saying a prayer: "Thank you Lord for the food I am about to receive."
Cee
Two men visit a prostitute. The first man goes into the bedroom. He comes out ten minutes later and says, "Heck. My wife is better than that." The second man goes in. He comes out ten minutes later and says, "You know? Your wife IS better."
Kevin Slack
Student: "Should I get in trouble for something I didn't do?"
Teacher: "No."
Student: "Good, because I didn't do my homework."
Anonymous