Categories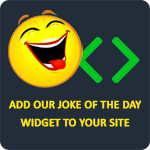 The roundest knight at King Arthur's round table was Sir Cumference. He acquired his size from eating too much pi.
TheLaughFactory
A guy was at a bar and needed to fart. He decided the music was so loud that he just went for it and timed his farts to the beat of the music. After he relieved himself he looked up to see everyone staring at him. Than he realized that he was listening to his iPod.
noely
Q: What's the difference between a lawyer and a leech?
A: After you die, a leech stops sucking your blood.
TheLaughFactory
When someone yawns, do deaf people think they're screaming?
Anonymous
It's hard to explain puns to kleptomaniacs because they always take things literally.
TheLaughFactory