Categories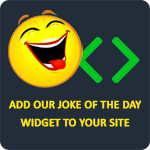 Q: Have you heard about the new restaurant called Karma?
A: There's no menu; you get what you deserve.
TheLaughFactory
A guy walks into a bathroom, sits down, and notices three buttons in front of him marked, WW, WA, and ATR. Curiosity gets the better of him so he decides to press WW. Suddenly, warm water sprays up his rear. "Mmmm," he says to himself. "That was good." So he presses WA and a jet of warm air dries his backside. "Mmmm. Nice!" So finally he can't resist pressing the ATR button. The next thing he knows, he is waking up in a hospital ward just as the nurse is entering the room. "Nurse, Nurse! Where am I? What happened?" The nurse replies, "You must have missed the sign to not press the ATR button." "What does ATR mean exactly?" says the guy. "Automatic Tampon Remover. Your testicles are under your pillow."
Anonymous
Two hunters are out in the forest when one of them collapses. He doesn't seem to be breathing and his eyes are glazed. The other guy takes out his phone and calls 911 and gasps, "My friend is dead! What can I do?" The operator says "Calm down. I can help. First, let's make sure he's dead." There is a silence, then a gun shot is heard. Back on the phone, the guy says "OK, now what?"
Sydney Vanmeter
One day in class, the teacher brought a bag full of fruit and said, "Now class, I'm going to reach into the bag and describe a piece of fruit and you tell me which fruit I'm talking about. Alright, the first one is round, plump, and red. Little Johnny raised his hand high but the teacher ignored him and picked Deborah who promptly answered, "Apple." The teacher replied, "No Deborah, it's a beet, but I like your thinking. Now the second one is soft, fuzzy and colored red and brown." Johnny is hopping up and down in his seat trying to get the teacher to call on him but she calls on Billy. "Is it a peach?" Billy asks. "No, it's a potato, but I like your thinking," the teacher replies. "Okay the next one is long, yellow, and fairly hard." Johnny is about to explode as he waves his hand frantically but the teacher calls on Sally who say, "A banana." The teacher responds, "No, it's a squash, but I like your thinking." Johnny is irritated now so he speaks up loudly, "Hey, I've got one for you teacher. Let me put my hand in my pocket. Okay, I've got it. It's round, hard, and it's got a head on it." "Johnny!" she cries, "That's disgusting!" "Nope," answers Johnny, "It's a quarter, but I like your thinking!"
jonmcginty
A woman named Shirley was from Beverly Hills. One day, she had a heart attack and was taken to Cedars Sinai Hospital. While on the operating table, she had a near death experience. She saw God and asked, "Is this it?" God said, "No, you have another 30 to 40 years to live." Upon her recovery, she decided to stay in the hospital and have collagen shots, cheek implants, a face lift, liposuction, and breast augmentation. She even had someone dye her hair. She figured since she had another 30 to 40 years, she might as well make the most of it. She walked out of Cedars Sinai lobby after the last operation, and was killed by an ambulance speeding up to the hospital. She arrived in front of God and said, "I thought you said I had another 30 to 40 years?" God replied, "Shirley! I'm sorry but I didn't recognize you!"
raquelgallardo1