Categories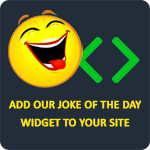 Two flies sit on a pile of poop. One fly passes gas. The other fly looks at him and says, "Hey do you mind? I'm eating here."
TheLaughFactory
Give a man a fish and he will eat for a day. Teach him how to fish and he will sit in a boat and drink beer all day.
TheLaughFactory
A guy was at a bar and needed to fart. He decided the music was so loud that he just went for it and timed his farts to the beat of the music. After he relieved himself he looked up to see everyone staring at him. Than he realized that he was listening to his iPod.
noely
A man was driving down a local street one day and approached a stop sign. He barely slowed down, and ran right through the stop sign after glancing for traffic. What the driver didn't know was that a policeman was watching the intersection. The policeman pulled out after him and stopped the car two blocks away. The policeman says, "License, registration, and proof of insurance please." "Before I give it to you, tell me what the hell you stopped me for, man," responds the driver. The policeman says, "Watch your tone sir, you ran the stop sign back there!" "Man, I slowed down, what the hell is the difference!?!" responds the driver. The police officer pulled out his night stick and began smashing it over the man's head and shoulders. "Now, do you want me to just slow down or stop!?!"
nikkisupastar
Knock knock.
Who's there?
Cow goes.
Cow goes who?
No, cow goes "Moo!"
sexybeast3345