Categories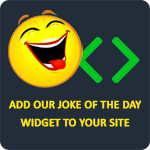 Doctor: "I am not exactly sure of the cause. I think it could be due to alcohol."
Patient: "That's okay. I'll come back when you are sober."
TheLaughFactory
Two young men sneak on to a blind man's property in order to steal something of vaule. The blind man hears them and goes to the door with his shot gun. The two young men, seeing the blind man, stand motionless. The blind calls out, "Marco!". Silence. He tries once more, "Marco!" More silence. One more time, "Marco!" One of the young men, tired of the game, yells out, "We aren't going to fall for that..." *BANG!
coreyjohnson193
I got pulled over by a police officer and his dog sniffs for drugs. He comes over and says to me, "My dog says you have weed in the car." I responded, "Well I don't know about that, but I want whatever got you talking to the dog!"
marcus3660
A guy at a bar says to the bartender, "I bet you $1,000 I can pee in that cup all the way over there at the end of the bar." The bartender agrees, so the guy whips it out and he pees all over the bar. Having just won $1,000, the bartender starts smiling. The guy goes over to a table where his friends are seating and collects a bunch of money from them. He walks back to the bar, gives the bartender his $1,000, and then starts laughing. The bartender asks, "Why are you laughing? You just lost the bet." The guy says, "Before I bet you, I bet all of my friends over there $2,000 dollars that I could pee all over your bar and you would be happy about it!"
thor
Molecule 1: I just lost an electron.
Molecule 2: Are you sure?
Molecule 1: I'm positive.
Anonymous