Categories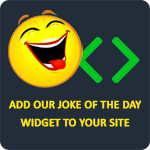 Two rednecks were walking along when they saw a dog licking its balls. The first redneck said, "I wish I could do that." The other redneck said, "You dumbass, he would bite you."
TheLaughFactory
Police arrested two kids yesterday, one was drinking battery acid, the other was eating fireworks. They charged one, and let the other one off.
SusuM
Q: What's red and bad for your teeth?
A: A brick.
Matt Rees
The teacher asked little Johnny to use the word "definitely" in a sentence. Little Johnny replies, "Teacher, do farts have lumps in them?" The teacher says, "Of course not Johnny." To which Johnny replies, "Then I have definitely s**t my pants."
lglaugh
Q: Where's the best view of falling stars in Los Angeles?
A: A rehab center.
noahlot2