Categories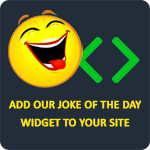 Got tasered picking up my friend from the airport today. Apparently security doesn't like it when you shout, "Hi Jack!"
TheLaughFactory
A mother tells her little boy, "Johnny, you mustn't eat too many lollies or I'll hide the lolly jar." Johnny asks, "Why?" His mother says, "Because something bad will happen! Your tummy will blow up big like a balloon and then pop!" The next day at church, the boy is sitting next to a pregnant woman. He points to her belly smiling and says, "I know what you've been doing!"

JJR Rob
At the doctor's office, Tom was getting a check up. "I have good news and bad news," says the doctor. "The good news is you have 24 hours left to live." Tom replies, "That's the good news?!" Then the doctor says, "The bad news is I should have told you that yesterday."
Anonymous
Q: What did the big chimney say to the little chimney?
A: "You're too young to smoke."
Terence Olivier
If you ever fart in public, just yell, "Turbo power!" and walk faster.
craftyhippiechick