Categories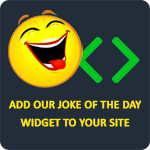 Q: Have you heard about the new restaurant called Karma?
A: There's no menu; you get what you deserve.
TheLaughFactory
Knock, knock.
Who's there?
Ach.
Ach who?
Bless you! Need a tissue?
Anonymous
A woman was taking an afternoon nap. When she woke up, she told her husband, "I just dreamed that you gave me a pearl necklace. What do you think it means?" "You'll know tonight," he said. That evening, the man came home with a small package and gave it to his wife. Delighted, she opened it to find a book entitled "The Meaning of Dreams."
Hayden Thomas
Two Irishmen friends are drinking together at one of their homes. One friend takes out a bottle of Irish whiskey and asks the other, "Will you pour this bottle out on my grave if I die first?" His friend replies, "Do you mind if I pass it through my kidneys first?"
Mark My Words
Q: Why are ghosts bad liars?
A: You can see right through them.
Capricorn37