Categories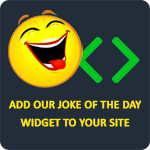 A small boy swallowed some coins and was taken to a hospital. When his grandmother telephoned to ask how he was, the nurse said, "No change yet."
TheLaughFactory
Q: What did the triangle say to the circle? A: "You're pointless!"
Andrea
A man was driving down a local street one day and approached a stop sign. He barely slowed down, and ran right through the stop sign after glancing for traffic. What the driver didn't know was that a policeman was watching the intersection. The policeman pulled out after him and stopped the car two blocks away. The policeman says, "License, registration, and proof of insurance please." "Before I give it to you, tell me what the hell you stopped me for, man," responds the driver. The policeman says, "Watch your tone sir, you ran the stop sign back there!" "Man, I slowed down, what the hell is the difference!?!" responds the driver. The police officer pulled out his night stick and began smashing it over the man's head and shoulders. "Now, do you want me to just slow down or stop!?!"
nikkisupastar
For some time, many of us have wondered who is Jack Sh*t? We find ourselves at a loss when someone says, "You dont know Jack Sh*t." Well, thanks to my efforts, you can now respond in an intellectual way. Jack Sh*t is the only son of Awe Sh*t, who married O Sh*t, the owners of Knee Deep 'N Sh*t, Inc. In turn, Jack Sh*t married No Sh*t. The couple had six children, Holy Sh*t, Giva Sh*t, Fulla Sh*t, Bull Sh*t, and the twins Deep Sh*t and Dip Sh*t. Deep Sh*t married Dumb Sh*t, a high school dropout. After 15 years, Jack and Noe Sh*t got divorced, and she married Ted Sherlock and became Noe Sh*t Sherlock. Meanwhile, Dip Sh*t married Lotta Sh*t and had a rather nervous disposition named Chicken Sh*t. Fulla Sh*t and Giva Sh*t married the Happens brothers, and had a double wedding. The newspaper invited everyone to the Sh*t-Happens wedding. Bull Sh*t traveled the world and returned home with an Italian bride, Pisa Sh*t. So from now on, no one can tell you that you don't know Jack Sh*t!
santos4
Give a man a fish and he will eat for a day. Teach him how to fish and he will sit in a boat and drink beer all day.
TheLaughFactory