Categories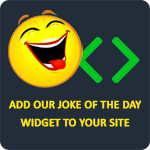 I'm on a whiskey diet. I have lost three days already.
TheLaughFactory
A mentally challenged man walks up to this guy and asks, "Can you help me? I'm trying to spell the word 'orange.'" The guy responds, "What a retard, didn't your mom teach you?" The man answers, "No." "Ever?" says the guy. "No," responds the mentally challenged man. The guy responds, "Okay, which one are you trying to spell, the color or the fruit?"
nadia23
One day at school, little Jimmy needed to go to the restroom so he raised his hand. The strict substitute teacher asked him to say the full alphabet before she would let him go. "But Miss, I am bursting to go," said Jimmy. "You may go, but after you say the full alphabet." "A-B-C-D-E-F-G-H-I-J-K-L-M-N-O-Q-R-S-T-U-V-W-X-Y-Z," he said. Catching his mistake, the substitute asked, "Jimmy, where is the 'P?'" He answered, "Halfway down my legs, Miss."
Anonymous
Q: What does a vegan zombie eat?
A: Graaaiiiiinnnssss.
TheLaughFactory
For some time, many of us have wondered who is Jack Sh*t? We find ourselves at a loss when someone says, "You dont know Jack Sh*t." Well, thanks to my efforts, you can now respond in an intellectual way. Jack Sh*t is the only son of Awe Sh*t, who married O Sh*t, the owners of Knee Deep 'N Sh*t, Inc. In turn, Jack Sh*t married No Sh*t. The couple had six children, Holy Sh*t, Giva Sh*t, Fulla Sh*t, Bull Sh*t, and the twins Deep Sh*t and Dip Sh*t. Deep Sh*t married Dumb Sh*t, a high school dropout. After 15 years, Jack and Noe Sh*t got divorced, and she married Ted Sherlock and became Noe Sh*t Sherlock. Meanwhile, Dip Sh*t married Lotta Sh*t and had a rather nervous disposition named Chicken Sh*t. Fulla Sh*t and Giva Sh*t married the Happens brothers, and had a double wedding. The newspaper invited everyone to the Sh*t-Happens wedding. Bull Sh*t traveled the world and returned home with an Italian bride, Pisa Sh*t. So from now on, no one can tell you that you don't know Jack Sh*t!
santos4