Categories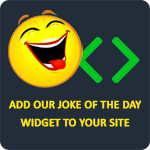 Q: What do you call a doll on fire?
A: A Barbie-Q.
TheLaughFactory
Two guys are at a bar on the roof of a hotel. One guy says to the other guy, "I'll bet you a beer that I can jump off this building, let this wind take me all the way around this building, and I'll land back up here." The other guy says, "You're on." The first guy jumps and, sure enough, he goes around the building and lands back on the roof. "You owe me a beer," he says. He goes on to perform the trick several more times, collecting free beers, until the second guy decides he's going to try it too. He stands on the edge, looking forward to a free beer from the first man, and jumps off, dying when he slams into the pavement below. The bartender says to the first man, "You sure are an asshole when you're drunk, Superman."
Cory
If 4 out of 5 people suffer from diarrhea, does that mean that one enjoys it?
Anonymous
Mother superior tells two new nuns that they have to paint their room without getting any paint on their clothes. One nun suggests to the other, "Hey, let's take all our clothes off, fold them up, and lock the door." So they do this, and begin painting their room. Soon they hear a knock at the door. They ask, "Who is it?" "Blind man!" The nuns look at each other and one nun says, "He's blind, so he can't see. What could it hurt?" They let him in. The blind man walks in and says, "Hey, nice tits. Where do you want me to hang the blinds?"
Anonymous
Two young men sneak on to a blind man's property in order to steal something of vaule. The blind man hears them and goes to the door with his shot gun. The two young men, seeing the blind man, stand motionless. The blind calls out, "Marco!". Silence. He tries once more, "Marco!" More silence. One more time, "Marco!" One of the young men, tired of the game, yells out, "We aren't going to fall for that..." *BANG!
coreyjohnson193