Categories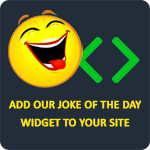 Two drunks are sitting in a bar when one of them turns to the other one and asks, "Hey, isn't that Hortense?" The other drunk chimes in and says, "No, she looks pretty relaxed to me."
Mark My Words
Q: Where's the best view of falling stars in Los Angeles?
A: A rehab center.
noahlot2
Late one night, a preacher was driving on a country road and had a wreck. A farmer stopped and said, "Sir, are you okay?" The preacher said, "Yes, I had the Lord riding with me." The farmer said, "Well, you better let him ride with me, because you're gonna kill him."
Anonymous
Mother superior tells two new nuns that they have to paint their room without getting any paint on their clothes. One nun suggests to the other, "Hey, let's take all our clothes off, fold them up, and lock the door." So they do this, and begin painting their room. Soon they hear a knock at the door. They ask, "Who is it?" "Blind man!" The nuns look at each other and one nun says, "He's blind, so he can't see. What could it hurt?" They let him in. The blind man walks in and says, "Hey, nice tits. Where do you want me to hang the blinds?"
Anonymous
The following is a courtroom exchange between a defense attorney and a farmer with a bodily injury claim. It came from a Houston, Texas insurance agent.

Attorney: "At the scene of the accident, did you tell the constable you had never felt better in your life?"

Farmer: "That's right."

Attorney: "Well, then, how is it that you are now claiming you were seriously injured when my client's auto hit your wagon?"

Farmer: "When the constable arrived, he went over to my horse, who had a broken leg, and shot him. Then he went over to Rover, my dog, who was all banged up, and shot him. When he asked me how I felt, I just thought under the circumstances, it was a wise choice of words to say."
TheLaughFactory