Categories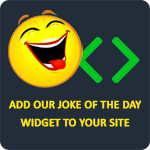 Knowledge is knowing a tomato is a fruit; wisdom is not putting it in a fruit salad.
Anonymous
Brunette: "Where were you born?"
Blonde: "California."
Brunette: "Which part?"
Blonde: "All of me."
Laughat28
Knock, knock.
Who's there?
Ach.
Ach who?
Bless you! Need a tissue?
Anonymous
Innkeeper: "The room is $15 a night. It's $5 if you make your own bed."
Guest: "I'll make my own bed."
Innkeeper: "Good. I'll get you some nails and wood."
Fabio
Doctor: "You'll live to be 60!"
Patient: "I am 60!"
Doctor: "See! What did I tell you?"
Bookworm