Categories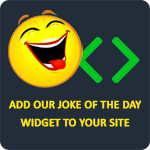 Molecule 1: I just lost an electron.
Molecule 2: Are you sure?
Molecule 1: I'm positive.
Anonymous
A psychiatrist was conducting a group therapy session with three young mothers and their small children. "You all have obsessions," he observed. To the first mother he said, "You are obsessed with eating. You've even named your daughter Candy." He turned to the second mom. "Your obsession is money. Again, it manifests itself in your child's name, Penny." At this point, the third mother got up, took her little boy by the hand and whispered, "Come on, Dick, let's go."
Gamer2210
A carpet layer had just finished installing carpet for a lady. He stepped out for a smoke, only to realize he'd lost his cigarettes. In the middle the room, under the carpet, was a bump. "No sense pulling up the entire floor for one pack smokes," he said to himself. He proceeded to get out his hammer and flattened the hump. As he was cleaning up, the lady came in. "Here," she said, handing him his cigarette pack. "I found them in the hallway. Now, if only I could find my sweet little hamster."
TheLaughFactory
Q: Why is a river rich? A: Because it has two banks.
ISHA KHANNA
A pirate walks into a bar with a steering wheel on the front of his pants. The bartender asks, "What's with the wheel?" The pirate says, "Arrrr! It drives me nuts!"
goorfa1