Categories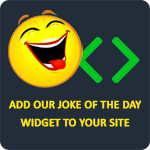 Got tasered picking up my friend from the airport today. Apparently security doesn't like it when you shout, "Hi Jack!"
TheLaughFactory
A mother tells her little boy, "Johnny, you mustn't eat too many lollies or I'll hide the lolly jar." Johnny asks, "Why?" His mother says, "Because something bad will happen! Your tummy will blow up big like a balloon and then pop!" The next day at church, the boy is sitting next to a pregnant woman. He points to her belly smiling and says, "I know what you've been doing!"

JJR Rob
Kid 1: "Hey, I bet you're still a virgin."
Kid 2: "Yeah, I was a virgin until last night ."
Kid 1: "As if."
Kid 2: "Yeah, just ask your sister."
Kid 1: "I don't have a sister."
Kid 2: "You will in about nine months."
Achtung
PMS jokes aren't funny. Period.
Silenxio Maximeaning Ultimious
A woman was taking an afternoon nap. When she woke up, she told her husband, "I just dreamed that you gave me a pearl necklace. What do you think it means?" "You'll know tonight," he said. That evening, the man came home with a small package and gave it to his wife. Delighted, she opened it to find a book entitled "The Meaning of Dreams."
Hayden Thomas