Categories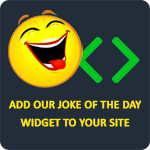 One day in the forest, 3 guys were just hiking along a trail when all of a sudden, a huge pack of Indians attaked them and knocked them out. When they woke up, they were at the leader of the tribe's throne. The chief then said, "All of your lives may be spared if you can find ten of one fruit and bring them back to me." So after a while the first man returned with 10 apples. The cheif then ordered him to stick all ten of them up his butt without making any expression at all on his face. He had a little bit of trouble with the first one and started crying while trying to put the next one in. He was soon killed. Later, the next guy came in with 10 grapes. The cheif soon ordered him to do the same as the first guy. After to the 9th grape, the man started laughing so hard for no apperant reason, and was killed. The first two guys soon met in heaven and the first guy ask the second, "Why did you start laughing? You only needed one more grape and you'd have gotten away!" The second guy answered while still laughing, "I couldn't help it. I saw the third guy walking in with pineapples."
bella37181
A guy walks into a bar with a 10 foot long alligator. The bartender flips out and says, "Hey buddy, you gotta get that animal outta here. It's going to bite one of my customers and I'll get sued." The guy says, "No no, it's a tame alligator. I'll prove it to you." He picks up the alligator and puts it on the bar. Then he unzips his pants, pulls out his package and sticks it in the alligator's mouth. The alligator just keeps his mouth open. After about 5 minutes, he pulls it out of the alligator's mouth, zips up his pants, and says, "See, I told you it was a tame alligator. Anybody else want to try it?" The drunk at the end of the bar says, "Yah, I'd like to try it but I don't think I can hold my mouth open that long!"
TheLaughFactory
Q: What's red and bad for your teeth?
A: A brick.
Matt Rees
Chuck Norris got shot. We are now in the hospital, where the bullet is in critical condition.
Anonymous
There was an elderly couple who in their old age noticed that they were getting a lot more forgetful, so they decided to go to the doctor. The doctor told them that they should start writing things down so they don't forget. They went home and the old lady told her husband to get her a bowl of ice cream. "You might want to write it down," she said. The husband said, "No, I can remember that you want a bowl of ice cream." She then told her husband she wanted a bowl of ice cream with whipped cream. "Write it down," she told him, and again he said, "No, no, I can remember: you want a bowl of ice cream with whipped cream." Then the old lady said she wants a bowl of ice cream with whipped cream and a cherry on top. "Write it down," she told her husband and again he said, "No, I got it. You want a bowl of ice cream with whipped cream and a cherry on top." So he goes to get the ice cream and spends an unusually long time in the kitchen, over 30 minutes. He comes out to his wife and hands her a plate of eggs and bacon. The old wife stares at the plate for a moment, then looks at her husband and asks, "Where's the toast?"
Donald Fredrickson