Categories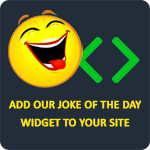 Mother superior tells two new nuns that they have to paint their room without getting any paint on their clothes. One nun suggests to the other, "Hey, let's take all our clothes off, fold them up, and lock the door." So they do this, and begin painting their room. Soon they hear a knock at the door. They ask, "Who is it?" "Blind man!" The nuns look at each other and one nun says, "He's blind, so he can't see. What could it hurt?" They let him in. The blind man walks in and says, "Hey, nice tits. Where do you want me to hang the blinds?"
Anonymous
Q: Why did the skeleton cross the road?
A: To get to the body shop.
Lucyfaith16
Two rednecks were walking along when they saw a dog licking its balls. The first redneck said, "I wish I could do that." The other redneck said, "You dumbass, he would bite you."
TheLaughFactory
An elderly woman went to her local doctor's office and asked to speak with her doctor. When the receptionist asked why she was there, she replied, I'd like to have some birth control pills. Taken back, the doctor thought for a minute and then said, "Excuse me, Mrs. Glenwood, but you're 80 years old. What would you possibly need birth control pills for?" The woman replied, "They help me sleep better." The doctor considered this for a second, and continued, "How in the world do birth control pills help you sleep?" The woman said, "I put them in my granddaughter's orange juice, and I sleep better at night."
Brightcomet
Late one night, a preacher was driving on a country road and had a wreck. A farmer stopped and said, "Sir, are you okay?" The preacher said, "Yes, I had the Lord riding with me." The farmer said, "Well, you better let him ride with me, because you're gonna kill him."
Anonymous