Categories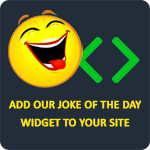 Reaching the end of a job interview, the Human Resources Officer asks a young engineer fresh out of the Massachusetts Institute of Technology, "And what starting salary are you looking for?" The engineer replies, "In the region of $125,000 a year, depending on the benefits package." The interviewer inquires, "Well, what would you say to a package of five weeks vacation, 14 paid holidays, full medical and dental, company matching retirement fund to 50% of salary, and a company car leased every two years, say, a red Corvette?" The engineer sits up straight and says, "Wow! Are you kidding?" The interviewer replies, "Yeah, but you started it."
lauren
An organization is like a tree full of monkeys, all on different limbs at different levels. The monkeys on top look down and see a tree full of smiling faces. The monkeys on the bottom look up and see nothing but assholes.
faranak67
A lawyer runs a stop sign and gets pulled over by a sheriff. He thinks he's smarter being a big shot lawyer from New York and has a better education than an sheriff from West Virginia. The sheriff asks for license and registration. The lawyer asks, "What for?" The sheriff responds, "You didn't come to a complete stop at the stop sign." The lawyer says, "I slowed down and no one was coming." "You still didn't come to a complete stop. License and registration please," say the sheriff impatiently. The lawyer says, "If you can show me the legal difference between slow down and stop, I'll give you my license and registration and you can give me the ticket. If not, you let me go and don't give me the ticket." The sheriff says, "That sounds fair, please exit your vehicle." The lawyer steps out and the sheriff takes out his nightstick and starts beating the lawyer with it. The sheriff says, "Do you want me to stop or just slow down?"
texasvenom101
A lawyer is standing in a long line at the box office. Suddenly, he feels a pair of hands kneading his shoulders, back, and neck. The lawyer turns around. "What the hell do you think you're doing?" "I'm a chiropractor, and I'm just keeping in practice while I'm waiting in line." "Well, I'm a lawyer, but you don't see me screwing the guy in front of me, do you?"
iamalilqt
What did the psychiatrist say when a man wearing nothing but saran wrap walked in to the office? I can clearly see "you're" nuts....
yadypink69