Categories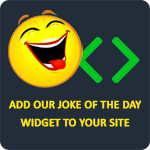 What do your boss and a slinky have in common? They're both fun to watch tumble down the stairs.
Anonymous
How can you tell when an engineer is an extrovert. He stares at YOUR shoes while he talks to you.
dustinc
What can a goose do that a duck can't, but a lawyer should? Shove its bill up its ass!
Anonymous
Why won't sharks attack lawyers? Professional courtesy.
Anonymous
What do lawyers use as contraceptives? Their personalities.
Anonymous