Categories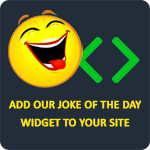 When asked if they would have sex with Bill Clinton, 86% of women in D.C. said, "Not again."
hardball
Q: Why is England the wettest country?
A: Because so many kings and queens have been reigning there.
Joke maker
Q: How many politicians does it take to change a light bulb?
A: Two: one to change it and another one to change it back again.
TheLaughFactory
We used to have Reagan, Jonny Cash, and Bob Hope. Now we have Obama, no cash, and no hope.
Peyton Manning
George W. Bush and his VP running mate, Dick Cheney, were talking, when George W. said, "I hate all the dumb jokes people tell about me." Wise Old Cheney, feeling sorry for his old boss, said sage-like, "Oh, they are only jokes. There are a lot of stupid people out there. Here, I'll prove it to you." Cheney took George W. outside and hailed a taxi driver. "Please take me to 29 Nickel Street to see if I'm home," said Cheney. The cab driver, without saying a word, drove them to Nickel Street, and when they finally got out, Cheney looked at George W. and said, "See! That guy was really stupid!" "No kidding," replied George W., "There was a pay phone just around the corner. You could have called instead."
bcontreras