Categories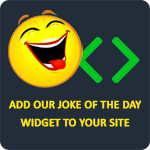 When asked if they would have sex with Bill Clinton, 86% of women in D.C. said, "Not again."
hardball
Q: Why is England the wettest country?
A: Because so many kings and queens have been reigning there.
Joke maker
Q: How many politicians does it take to change a light bulb?
A: Two: one to change it and another one to change it back again.
TheLaughFactory
We used to have Reagan, Jonny Cash, and Bob Hope. Now we have Obama, no cash, and no hope.
Peyton Manning
A Scotsman who was driving home one night, ran into a car driven by an Englishman. The Scotsman got out of the car to apologize and offered the Englishman a drink from a bottle of whisky. The Englishman was glad to have a drink. "Go on," said the Scot, "have another drink." The Englishman drank gratefully. "But don't you want one, too?" he asked the Scotsman. "Perhaps," replied the Scotsman, "after the police have gone."
RaoYasir