Categories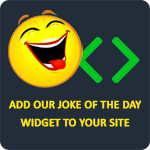 Have you heard about McDonald's new Obama Value Meal? Order anything you like and the guy behind you has to pay for it.
chobee143
George W. Bush and his VP running mate, Dick Cheney, were talking, when George W. said, "I hate all the dumb George W. jokes people tell about me." Wise Old Cheney, feeling sorry for his old boss kid, said sage-like, "Oh, they are only jokes. There are a lot of stupid people out there. Here, I'll prove it to you." Now Cheney, to patronize George W., took him outside and hailed a taxi driver. "Please take me to 29 Nickel Street to see if I'm home," said Cheney. The cab driver without saying a word drove them to Nickel Street, and when they finally got out, Cheney looked at George W. and said, "See! That guy was really stupid!" "No kidding," replied George W., "there was a pay phone just around the corner. You could have called instead?"
bcontreras
We used to have Reagan, Jonny Cash, and Bob Hope. Now we have Obama, no cash, and no hope.
Peyton Manning
The recession is getting so bad, the bank sent me a new type of credit card. It was pre-declined.
shedpal
I was playing UNO with a bunch of Mexicans, and they were cheating because they kept stealing all the green cards.
ituvalu