Categories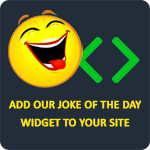 Bill Clinton and the Pope both died on the same day. Due to a minor clerical error, the Pope went to Hell, while Clinton went to Heaven. When the Pope arrived in Hell, everyone realized the mistake. Due to an issue with the union, they couldn't swap the two until the next day, and the Pope had to spend the night in Hell, while Clinton spent the night in Heaven. The next day the paperwork got worked out. On his way up to Heaven, the Pope ran into Clinton. Clinton asked the Pope, "How was your night in Hell?" "Very educational," responded the Pope. "I've learned a lot from the experience, but now I'm glad I'm going to Heaven. I've been waiting all my life to meet the Virgin Mary." "Ooh, sorry," said Clinton, "you should have been there yesterday."
Bmoney
Congress does some strange things. They put a high tax on liquor and then raises the other taxes that drive people to drink.
TheLaughFactory
George W. Bush and his VP running mate, Dick Cheney, were talking, when George W. said, "I hate all the dumb George W. jokes people tell about me." Wise Old Cheney, feeling sorry for his old boss kid, said sage-like, "Oh, they are only jokes. There are a lot of stupid people out there. Here, I'll prove it to you." Now Cheney, to patronize George W., took him outside and hailed a taxi driver. "Please take me to 29 Nickel Street to see if I'm home," said Cheney. The cab driver without saying a word drove them to Nickel Street, and when they finally got out, Cheney looked at George W. and said, "See! That guy was really stupid!" "No kidding," replied George W., "there was a pay phone just around the corner. You could have called instead?"
bcontreras
Have you heard about McDonald's new Obama Value Meal? Order anything you like and the guy behind you has to pay for it.
chobee143
The recession is getting so bad, the bank sent me a new type of credit card. It was pre-declined.
shedpal