Categories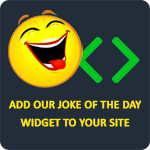 Have you heard about McDonald's new Obama Value Meal? Order anything you like and the guy behind you has to pay for it.
chobee143
Congress does some strange things. They put a high tax on liquor and then raises the other taxes that drive people to drink.
TheLaughFactory
I was playing UNO with a bunch of Mexicans, and they were cheating because they kept stealing all the green cards.
ituvalu
Monica Lewinsky walks into the dry cleaners. The old man behind the counter is hard of hearing and doesn't understand her request, so he says, "Come again." Monica responds, "No, this time it's mustard."
Mark My Words
Q: What's the difference between 9/11 and a cow?
A: You can't milk a cow for over 10 years.
M@mm1