Categories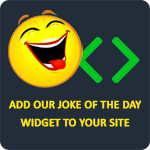 So a man dies, goes to Heaven, and sees St. Peter. There are many clocks surrounding him so the man asks, "What are these clocks for?" St. Peter replies, "These are lie clocks, they tick once for every lie you tell. Here we have Mother Teresa's clock. She has never lied so the clock has not moved. Honest Abe has only lied twice in his life, so it has only ticked twice." The man then asks, "So where is George Bush's clock?" St. Peter replies, "Oh, that is in Jesus' office, he is using it as a ceiling fan!"
Shady
Yo mama so ugly she made Justin Bieber say, "Never."
group of friends
I don't really like watching basketball, I just watch it to find out who the next member of the Kardashian family will be.
KNVanLeuven
Q: What did Obi-Wan say to Luke at the breakfast table?
A: "Use the fork, Luke."
The master
Why did LaBron James skip college? Because he would never make it to the finals!
idol2680