Categories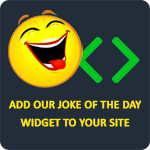 Yo momma's so fat, the Hogwarts Sorting Hat put her in all 4 houses!
Me!
Q: What did the Black Eyed Peas do at Wiz Khalifa's costume party?
A: They dressed up in black and yellow, black and yellow, and said, "I'm a bee, I'm a bee, I'm a I'm a I'm a bee!"
Anonymous
Q: What do you call an ocean voyage where everyone stays in the closet?
A: A Tom Cruise.
Anonymous
Yo mama so ugly the Walking Dead wouldn't walk with her.
Anonymous
How much coke has Charlie Sheen snorted? Enough to kill two and a half men.
yseidy