Categories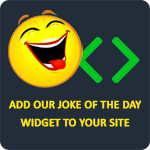 Why did Tigger stick his head down the toilet? He was looking for Pooh.
Repor9
Q: Why did Barbie never get pregnant?
A: Ken always came in another box.
TheLaughFactory
Elton John used to work at the sperm bank, but he was fired for drinking on the job.
Anonymous
Chuck Norris once ate a whole cake before his friends could tell him there was a stripper in it.
vinhx408
Q: Why did Miley and Liam break up?
A: It just wasn't twerking.
Anonymous