Categories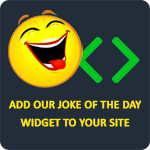 The Little Rascal's class were having a spelling test. The teacher asks if anyone can use the word "admire" in a sentence. Spanky raises his hand and says, "I admire my dog." "Good job," the teacher replies, "Now, who can use 'respect' in a sentence?" Alfalfa raises his hand and says, "I respect Spanky for admiring his dog." "Ok, " replies the teacher, "now who can use the word 'dictate' in a sentence?" There is silence in the class, then all of a sudden Buckwheat says, "Darla how did my dictate !?!"
Anonymous
Chuck Norris once ate a whole cake before his friends could tell him there was a stripper in it.
vinhx408
Tiger Woods plays 18 holes. Both on and off the golf course.
jdg62
Q: Why did Miley and Liam break up?
A: It just wasn't twerking.
Anonymous
It's a little unfair that Mike Vick is looked down upon for dog fighting, and The Mario Bros. are celebrated from taking mushrooms and turtle bashing.
sosofino