Categories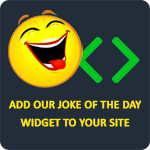 The energizer bunny was arrested on a charge of battery.
Silenxio Maximeaning Ultimious
Q: What did Obi-Wan say to Luke at the breakfast table?
A: "Use the fork, Luke."
The master
Q: Why did Adele cross the road?
A: To sing, "Hello from the other side!"
SOME DUDE
Q: What computer sings the best?
A: A Dell.
Iko
Did you hear about Monica Lewinsky becoming a Republican? The Democrats left a bad taste in her mouth.
NERO