Categories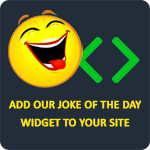 I asked my three year old grandson Malachi what his name was, he replied, "Spiderman." I said, "Malachi, what is your real name?" He replied, "Peter Parker."
dwaynereed32
Dear NASA, Your mom thought I was big enough. - Pluto
Anonymous
Why did the rapper carry an umbrella?



Fo' drizzle.
damngoditpizza
How do you wake up Lady Gaga? Poke'r Face.
alzada
I wonder what Edward Scissorhands thinks of touchscreen technology.
latinopunk91