Categories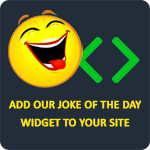 I had a broken vacuum, then I put a One Direction sticker on it and it suddenly sucked again.
Alana
Yo mama so ugly the Terminator said, "I won't be back."
tonyswag
When my girlfriend said she was leaving because of my obsession with The Monkees, I thought she was joking. And then I saw her face.
Derryk
Why did LaBron James skip college? Because he would never make it to the finals!
idol2680
Q: What's the difference between Tom Cruise and a tuxedo?
A: One comes out of the closet on special occasions and the other is a tuxedo.
Anonymous