Categories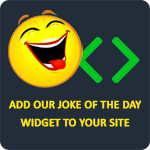 The New Jersey 'Tanning Mom' has recently create a doll and called it the 'Tanorexia' doll. The doll was so ugly, it turned Ken gay.
aperkins
How do you wake up Lady Gaga? Poke'r Face.
alzada
What do Michael Jackson and caviar have in common? They both come on little white crackers.
chefawkes
I wonder what Edward Scissorhands thinks of touchscreen technology.
latinopunk91
I hear OJ Simpson is working on a stand up act in jail, apparently he kills everytime.
TrentMabry