Categories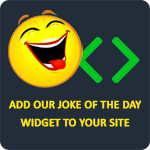 Q: How do you find Will Smith in the snow?
A: Look for the fresh prints.
mum
Q: What do you call an ocean voyage where everyone stays in the closet?
A: A Tom Cruise.
Anonymous
I left my Adderall in my Ford Fiesta, now it's a Ford Focus.
Bob
Yo mama so ugly the Terminator said, "I won't be back."
tonyswag
When my girlfriend said she was leaving because of my obsession with The Monkees, I thought she was joking. And then I saw her face.
Derryk