Categories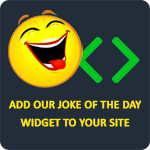 Q: What's the difference between Tom Cruise and a tuxedo?
A: One comes out of the closet on special occasions and the other is a tuxedo.
Anonymous
The energizer bunny was arrested on a charge of battery.
Silenxio Maximeaning Ultimious
Yo mama is so fat when Jabba's guard pushed her into the sarlacc pit, it choked to death.
Anonymous
What kind of sushi does Lady Gaga eat? Raw, raw, raw, raw, rawwww!
hill4ever
Q: Why did Captain Kirk go in to the ladies room?
A: Because he wanted to go where no man had gone before.
Anonymous