Categories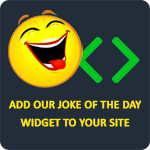 I wonder what Edward Scissorhands thinks of touchscreen technology.
latinopunk91
Q: What do you call 5 gay guys walking straight?
A: One Direction.
Kevan34
How do you wake up Lady Gaga? Poke'r Face.
alzada
How do you find Ronald McDonald at a nude beach? You look for the sesame seed buns!
turtle91
Did you hear about Whitney Houston's funeral? The line leading to the coffin stretched into the street. A few people showed up too.
Lefty