Categories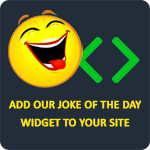 I asked my three year old grandson Malachi what his name was, he replied, "Spiderman." I said, "Malachi, what is your real name?" He replied, "Peter Parker."
dwaynereed32
Why did the rapper carry an umbrella?



Fo' drizzle.
damngoditpizza
Dear NASA, Your mom thought I was big enough. - Pluto
Anonymous
How do you wake up Lady Gaga? Poke'r Face.
alzada
The New Jersey 'Tanning Mom' has recently create a doll and called it the 'Tanorexia' doll. The doll was so ugly, it turned Ken gay.
aperkins