Categories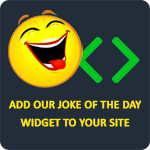 What do Michael Jackson and caviar have in common? They both come on little white crackers.
chefawkes
I hear OJ Simpson is working on a stand up act in jail, apparently he kills everytime.
TrentMabry
Curiosity killed the cat. Michael Vick killed the dog.
Karmakameleeon
What's the difference between Tiger Woods and the Titanic? Only 15,000 people went down on the Titanic.
20jv10
"Burt Reynolds once asked me out. I was in his room." — Phyllis Diller
Anonymous