Categories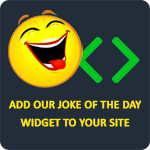 I asked my three year old grandson Malachi what his name was, he replied, "Spiderman." I said, "Malachi, what is your real name?" He replied, "Peter Parker."
dwaynereed32
I hear OJ Simpson is working on a stand up act in jail, apparently he kills everytime.
TrentMabry
Q: What do you call 5 gay guys walking straight?
A: One Direction.
Kevan34
"Burt Reynolds once asked me out. I was in his room." — Phyllis Diller
Anonymous
Did you hear about Whitney Houston's funeral? The line leading to the coffin stretched into the street. A few people showed up too.
Lefty