Categories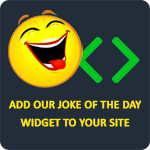 Yo mamma is so old she knew Burger King when he was a prince.
Anonymous
When my girlfriend said she was leaving because of my obsession with The Monkees, I thought she was joking. And then I saw her face.
Derryk
Q: Do you know who was the first black guy to admit he is the father?
A: Darth Vader.
Gabe Neaveill
Q: What's the difference between Tom Cruise and a tuxedo?
A: One comes out of the closet on special occasions and the other is a tuxedo.
Anonymous
Why did LaBron James skip college? Because he would never make it to the finals!
idol2680