Categories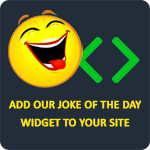 It's a little unfair that Mike Vick is looked down upon for dog fighting, and The Mario Bros. are celebrated from taking mushrooms and turtle bashing.
sosofino
What do Michael Jackson and caviar have in common? They both come on little white crackers.
chefawkes
Knock, knock.
Who's there?
Joanna.
Joanna who?
Joanna build a snowman?
Melzinger
I asked my three year old grandson Malachi what his name was, he replied, "Spiderman." I said, "Malachi, what is your real name?" He replied, "Peter Parker."
dwaynereed32
Q: How do you turn a duck into a soul singer?
A: Put it in the microwave until it's Bill Withers.
iwe