Categories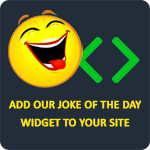 Why did LaBron James skip college? Because he would never make it to the finals!
idol2680
The energizer bunny was arrested on a charge of battery.
Silenxio Maximeaning Ultimious
Yo mamma is so old she knew Burger King when he was a prince.
Anonymous
Q: What's the difference between Tom Cruise and a tuxedo?
A: One comes out of the closet on special occasions and the other is a tuxedo.
Anonymous
Yo mama is so fat when Jabba's guard pushed her into the sarlacc pit, it choked to death.
Anonymous