Categories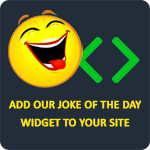 Why did the rapper carry an umbrella?



Fo' drizzle.
damngoditpizza
Q: How do you turn a duck into a soul singer?
A: Put it in the microwave until it's Bill Withers.
iwe
I wonder what Edward Scissorhands thinks of touchscreen technology.
latinopunk91
Q: Why did Mickey Mouse get shot?
A: Because Donald ducked!
Racal
Q: What is Rodney King's least favorite band?
A: The Police.
Anonymous