Categories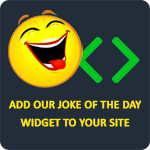 Tiger Woods plays 18 holes. Both on and off the golf course.
jdg62
Q: Why don't Batman and Robin go fishing?

A: Because Robin eats all the worms.
My English teacher
Why did Mickey Mouse go to space? To visit Pluto.
panorama14
Knock, knock.
Who's there?
Joanna.
Joanna who?
Joanna build a snowman?
Melzinger
Q: What is Rodney King's least favorite band?
A: The Police.
Anonymous