Categories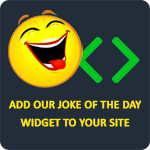 I wonder what Edward Scissorhands thinks of touchscreen technology.
latinopunk91
Q: What is Rodney King's least favorite band?
A: The Police.
Anonymous
Q: Why did Mickey Mouse get shot?
A: Because Donald ducked!
Racal
I hear OJ Simpson is working on a stand up act in jail, apparently he kills everytime.
TrentMabry
What did Jay-Z call his girlfriend before getting married? Feyoncè.
Joy Barr