Categories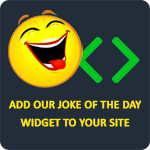 Q: Do you know who was the first black guy to admit he is the father?
A: Darth Vader.
Gabe Neaveill
Q: What do you call an deep sea Transformer?
A: Octopus Prime!
Silly joker
Elton John used to work at the sperm bank, but he was fired for drinking on the job.
Anonymous
20 years ago we had Johnny Cash, Bob Hope, and Steve Jobs. Now we have no cash, no hope, and no jobs.
james wilson
Q: Why did Miley and Liam break up?
A: It just wasn't twerking.
Anonymous