Categories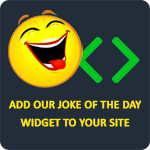 The New Jersey 'Tanning Mom' has recently create a doll and called it the 'Tanorexia' doll. The doll was so ugly, it turned Ken gay.
aperkins
The Lone Ranger woke to see his tent blown away by a tornado. He declared, "Tonto, we're not in canvas anymore."
@flipyou_co_uk
Knock, knock.
Who's there?
Joanna.
Joanna who?
Joanna build a snowman?
Melzinger
I hear OJ Simpson is working on a stand up act in jail, apparently he kills everytime.
TrentMabry
Q: What show do cows love to watch while they're eating?
A: Graze Anatomy.
Melzinger