Categories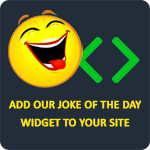 The Lone Ranger woke to see his tent blown away by a tornado. He declared, "Tonto, we're not in canvas anymore."
@flipyou_co_uk
I wonder what Edward Scissorhands thinks of touchscreen technology.
latinopunk91
Q: Why did Mickey Mouse get shot?
A: Because Donald ducked!
Racal
Q: What did the Black Eyed Peas do at Wiz Khalifa's costume party?
A: They dressed up in black and yellow, black and yellow, and said, "I'm a bee, I'm a bee, I'm a I'm a I'm a bee!"
Anonymous
The New Jersey 'Tanning Mom' has recently create a doll and called it the 'Tanorexia' doll. The doll was so ugly, it turned Ken gay.
aperkins