Categories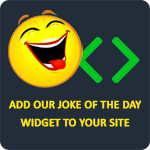 Q: What's the difference between Tom Cruise and a tuxedo?
A: One comes out of the closet on special occasions and the other is a tuxedo.
Anonymous
Q: What is the dirtiest line said on television?
A: "Ward, I think you were a little hard on the Beaver last night."
Mark My Words
When my girlfriend said she was leaving because of my obsession with The Monkees, I thought she was joking. And then I saw her face.
Derryk
Yo mama is so fat when Jabba's guard pushed her into the sarlacc pit, it choked to death.
Anonymous
The NSA: a government organization that actually listens to you!
noahlegoid