Categories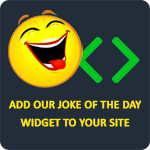 Q: What do you call 5 gay guys walking straight?
A: One Direction.
Kevan34
Q: Why don't Batman and Robin go fishing?

A: Because Robin eats all the worms.
My English teacher
Q: What is Rodney King's least favorite band?
A: The Police.
Anonymous
20 years ago we had Johnny Cash, Bob Hope, and Steve Jobs. Now we have no cash, no hope, and no jobs.
james wilson
Q: What do you call security guards working outside Samsung shops?
A: Guardians of the Galaxy.
Anonymous