Categories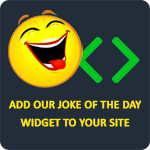 When my girlfriend said she was leaving because of my obsession with The Monkees, I thought she was joking. And then I saw her face.
Derryk
Q: Why did Captain Kirk go in to the ladies room?
A: Because he wanted to go where no man had gone before.
Anonymous
Why did LaBron James skip college? Because he would never make it to the finals!
idol2680
Yo mama is so fat when Jabba's guard pushed her into the sarlacc pit, it choked to death.
Anonymous
The NSA: a government organization that actually listens to you!
noahlegoid