Categories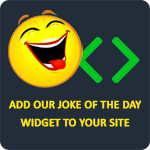 What's the difference between Tiger Woods and the Titanic? Only 15,000 people went down on the Titanic.
20jv10
Celine Dion walks in a bar. The bartender asks, "Why the long face?"
Meggoty
Why is Ray Charles happy? Because he doesn't know he's black.
gumby918
Q: What's brown and rhymes with Snoop?
A: Dr. Dre!
Lindseyfay01
Why did LeBron cross the road? To put the hammer down!
LaRhonda