Categories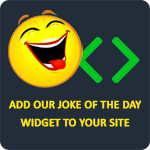 Curiosity killed the cat. Michael Vick killed the dog.
Karmakameleeon
How do you find Ronald McDonald at a nude beach? You look for the sesame seed buns!
turtle91
What's the difference between Tiger Woods and the Titanic? Only 15,000 people went down on the Titanic.
20jv10
Knock, knock.
Who's there?
Joanna.
Joanna who?
Joanna build a snowman?
Melzinger
Q: Why does Micheal Jackson like twenty six year olds?
A: Because there's twenty of them.
eric