Categories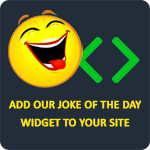 Q: Why don't Batman and Robin go fishing?

A: Because Robin eats all the worms.
My English teacher
Why did Mickey Mouse go to space? To visit Pluto.
panorama14
Tiger Woods plays 18 holes. Both on and off the golf course.
jdg62
Chuck Norris once ate a whole cake before his friends could tell him there was a stripper in it.
vinhx408
Q: What do you call security guards working outside Samsung shops?
A: Guardians of the Galaxy.
Anonymous