Categories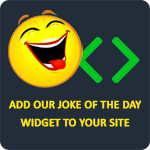 Tiger Woods plays 18 holes. Both on and off the golf course.
jdg62
Q: Why don't Batman and Robin go fishing?

A: Because Robin eats all the worms.
My English teacher
Chuck Norris once ate a whole cake before his friends could tell him there was a stripper in it.
vinhx408
It's a little unfair that Mike Vick is looked down upon for dog fighting, and The Mario Bros. are celebrated from taking mushrooms and turtle bashing.
sosofino
Q: How does a woman have safe sex in Detroit?
A: She locks the car doors.
jimbo.