Categories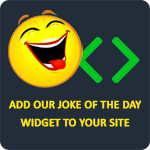 Q: What do you call 5 gay guys walking straight?
A: One Direction.
Kevan34
Knock, knock.
Who's there?
Joanna.
Joanna who?
Joanna build a snowman?
Melzinger
Q: What is Rodney King's least favorite band?
A: The Police.
Anonymous
Q: Why did Miley and Liam break up?
A: It just wasn't twerking.
Anonymous
Q: Why does Micheal Jackson like twenty six year olds?
A: Because there's twenty of them.
eric