Categories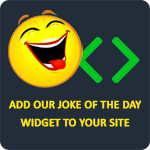 Did you hear about Whitney Houston's funeral? The line leading to the coffin stretched into the street. A few people showed up too.
Lefty
Why is Ray Charles happy? Because he doesn't know he's black.
gumby918
Q: What show do cows love to watch while they're eating?
A: Graze Anatomy.
Melzinger
"Burt Reynolds once asked me out. I was in his room." — Phyllis Diller
Anonymous
Q: What's brown and rhymes with Snoop?
A: Dr. Dre!
Lindseyfay01