Categories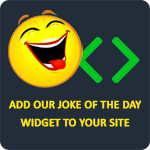 What did Jay-Z call his girlfriend before getting married? Feyoncè.
Joy Barr
I hear OJ Simpson is working on a stand up act in jail, apparently he kills everytime.
TrentMabry
Q: What is the dirtiest line said on television?
A: "Ward, I think you were a little hard on the Beaver last night."
Mark My Words
Q: Why does Micheal Jackson like twenty six year olds?
A: Because there's twenty of them.
eric
Curiosity killed the cat. Michael Vick killed the dog.
Karmakameleeon