Categories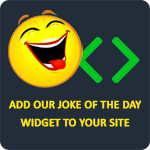 Why did the rapper carry an umbrella?



Fo' drizzle.
damngoditpizza
Q: Why does Micheal Jackson like twenty six year olds?
A: Because there's twenty of them.
eric
I wonder what Edward Scissorhands thinks of touchscreen technology.
latinopunk91
Q: Why did Mickey Mouse get shot?
A: Because Donald ducked!
Racal
The energizer bunny was arrested on a charge of battery.
Silenxio Maximeaning Ultimious