Categories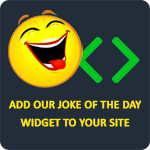 Q: How does a woman have safe sex in Detroit?
A: She locks the car doors.
jimbo.
It's a little unfair that Mike Vick is looked down upon for dog fighting, and The Mario Bros. are celebrated from taking mushrooms and turtle bashing.
sosofino
I asked my three year old grandson Malachi what his name was, he replied, "Spiderman." I said, "Malachi, what is your real name?" He replied, "Peter Parker."
dwaynereed32
Bill Clinton is no longer playing the saxophone. He is now playing the whore-Monica.
Mark My Words
Q: How do you turn a duck into a soul singer?
A: Put it in the microwave until it's Bill Withers.
iwe