Categories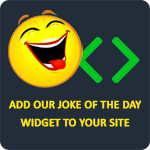 I wonder what Edward Scissorhands thinks of touchscreen technology.
latinopunk91
The Lone Ranger woke to see his tent blown away by a tornado. He declared, "Tonto, we're not in canvas anymore."
@flipyou_co_uk
Q: Why does Micheal Jackson like twenty six year olds?
A: Because there's twenty of them.
eric
The energizer bunny was arrested on a charge of battery.
Silenxio Maximeaning Ultimious
Q: What show do cows love to watch while they're eating?
A: Graze Anatomy.
Melzinger