Categories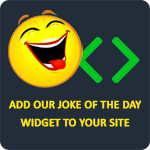 What is the differece between Han Solo and Chewbacca? One's a hairy and inaudible man and the other one's Chewbacca.
Repor9
The Tiger Woods short story using every nominated film of the 2010 Oscars. "We all thought Tiger Woods was a Serious Man. Then, last November he really screwed Up. Those Inglorious Basterds all came forward, not from District 9, but from the red light district. Tiger got caught from The Blind Side with his pants down. His Precious world then entered The Hurt Locker. He received An Education in Mississippi on Sex Addiction where he was told even as an Avatar, it's still considered Cheating! After all this, his golf career is Up in the Air."
JokesForSale
I surf the web a lot, and I guess I was using too much bandwidth, because the other day I got an automated phone call from my service provider. It was The Rolling Stones singing, "Hey, you. Get off of my cloud!"
ProfessorMarvel
After listening to some of Whitney Houston's last, raspy performances, it was pretty clear she didn't end her career on "high" note...or did she? Tox report still pending.
whosrushin
"Well, I could be wrong, but I believe, uh, diversity is an old, old wooden ship that was used during the Civil War era." - Ron Burgundy, Anchorman
Lolalovesleaves