Categories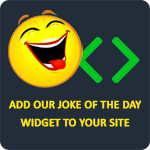 The NSA: a government organization that actually listens to you!
noahlegoid
Q: What is Rodney King's least favorite band?
A: The Police.
Anonymous
Why did LaBron James skip college? Because he would never make it to the finals!
idol2680
Q: What do you call security guards working outside Samsung shops?
A: Guardians of the Galaxy.
Anonymous
Q: Why does Micheal Jackson like twenty six year olds?
A: Because there's twenty of them.
eric