Categories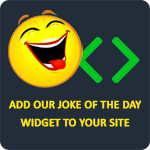 Yo mama is so fat when Jabba's guard pushed her into the sarlacc pit, it choked to death.
Anonymous
Why did LaBron James skip college? Because he would never make it to the finals!
idol2680
Q: What do you call security guards working outside Samsung shops?
A: Guardians of the Galaxy.
Anonymous
Q: What is Rodney King's least favorite band?
A: The Police.
Anonymous
Q: Why does Micheal Jackson like twenty six year olds?
A: Because there's twenty of them.
eric