Categories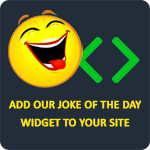 Chuck Norris once ate a whole cake before his friends could tell him there was a stripper in it.
vinhx408
Q: What did Gandhi say to the British, after they asked him to move?
A: Nah, mastay.
Anonymous
I asked my three year old grandson Malachi what his name was, he replied, "Spiderman." I said, "Malachi, what is your real name?" He replied, "Peter Parker."
dwaynereed32
It's a little unfair that Mike Vick is looked down upon for dog fighting, and The Mario Bros. are celebrated from taking mushrooms and turtle bashing.
sosofino
How do you wake up Lady Gaga? Poke'r Face.
alzada