Categories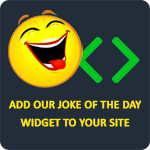 What is the differece between Han Solo and Chewbacca? One's a hairy and inaudible man and the other one's Chewbacca.
Repor9
What's green and sings? Britney Spearagus.
atovar626
What type of meat does Lady GaGa eat? Raw raw raw huh haa!
narasek
Q: What is Doctor Who's favorite snack?
A: Pop-TARDIS.
Mishaz
I surf the web a lot, and I guess I was using too much bandwidth, because the other day I got an automated phone call from my service provider. It was The Rolling Stones singing, "Hey, you. Get off of my cloud!"
ProfessorMarvel