Categories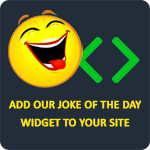 Elton John used to work at the sperm bank, but he was fired for drinking on the job.
Anonymous
Q: What do you call 5 gay guys walking straight?
A: One Direction.
Kevan34
Remember that watch from Switzerland? The Swatch! Thank God Croatia didn't come out with a watch of their own. "Hey what time is it?" "Oh hold on let me take a look at my Crotch."
Mark My Words
Knock, knock.
Who's there?
Joanna.
Joanna who?
Joanna build a snowman?
Melzinger
Bill Clinton is no longer playing the saxophone. He is now playing the whore-Monica.
Mark My Words