Categories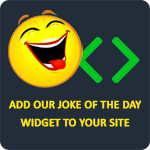 How do you find Ronald McDonald at a nude beach? You look for the sesame seed buns!
turtle91
What's the difference between Tiger Woods and the Titanic? Only 15,000 people went down on the Titanic.
20jv10
Why is Ray Charles happy? Because he doesn't know he's black.
gumby918
The energizer bunny was arrested on a charge of battery.
Silenxio Maximeaning Ultimious
Q: What do the starship Enterprise and toilet paper have in common?
A: They both probe Uranus and wipe out Klingons.
Mark My Words