Categories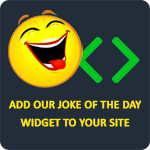 I asked my three year old grandson Malachi what his name was, he replied, "Spiderman." I said, "Malachi, what is your real name?" He replied, "Peter Parker."
dwaynereed32
Q: What did Gandhi say to the British, after they asked him to move?
A: Nah, mastay.
Anonymous
Q: How do you turn a duck into a soul singer?
A: Put it in the microwave until it's Bill Withers.
iwe
How do you wake up Lady Gaga? Poke'r Face.
alzada
I wonder what Edward Scissorhands thinks of touchscreen technology.
latinopunk91