Categories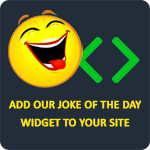 Knock, knock.
Who's there?
Joanna.
Joanna who?
Joanna build a snowman?
Melzinger
Q: Why did Miley and Liam break up?
A: It just wasn't twerking.
Anonymous
Bill Clinton is no longer playing the saxophone. He is now playing the whore-Monica.
Mark My Words
Q: Why don't Batman and Robin go fishing?

A: Because Robin eats all the worms.
My English teacher
Q: How does a woman have safe sex in Detroit?
A: She locks the car doors.
jimbo.