Categories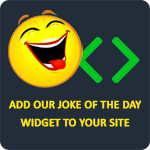 "Burt Reynolds once asked me out. I was in his room." — Phyllis Diller
Anonymous
Q: What's brown and rhymes with Snoop?
A: Dr. Dre!
Lindseyfay01
Why did LeBron cross the road? To put the hammer down!
LaRhonda
Q: What is the dirtiest line said on television?
A: "Ward, I think you were a little hard on the Beaver last night."
Mark My Words
What is the differece between Han Solo and Chewbacca? One's a hairy and inaudible man and the other one's Chewbacca.
Repor9