Categories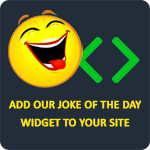 Bill Clinton is no longer playing the saxophone. He is now playing the whore-Monica.
Mark My Words
The New Jersey 'Tanning Mom' has recently create a doll and called it the 'Tanorexia' doll. The doll was so ugly, it turned Ken gay.
aperkins
I hear OJ Simpson is working on a stand up act in jail, apparently he kills everytime.
TrentMabry
Q: What is the dirtiest line said on television?
A: "Ward, I think you were a little hard on the Beaver last night."
Mark My Words
Q: What do the starship Enterprise and toilet paper have in common?
A: They both probe Uranus and wipe out Klingons.
Mark My Words