Categories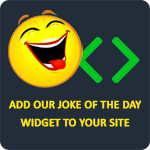 I wonder what Edward Scissorhands thinks of touchscreen technology.
latinopunk91
Q: What did Gandhi say to the British, after they asked him to move?
A: Nah, mastay.
Anonymous
What do Michael Jackson and caviar have in common? They both come on little white crackers.
chefawkes
How do you wake up Lady Gaga? Poke'r Face.
alzada
Q: What does Miley Cyrus eat for Christmas dinner?
A: Roast twerky!
Anonymous