Categories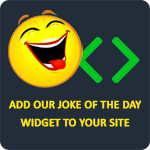 Bill Clinton is no longer playing the saxophone. He is now playing the whore-Monica.
Mark My Words
Q: Why did Captain Kirk go in to the ladies room?
A: Because he wanted to go where no man had gone before.
Anonymous
Q: How does a woman have safe sex in Detroit?
A: She locks the car doors.
jimbo.
Q: What do you call security guards working outside Samsung shops?
A: Guardians of the Galaxy.
Anonymous
I hear OJ Simpson is working on a stand up act in jail, apparently he kills everytime.
TrentMabry