Categories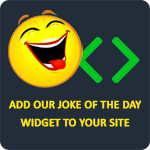 Q: What's brown and rhymes with Snoop?
A: Dr. Dre!
Lindseyfay01
Why did LeBron cross the road? To put the hammer down!
LaRhonda
What is the differece between Han Solo and Chewbacca? One's a hairy and inaudible man and the other one's Chewbacca.
Repor9
Celine Dion walks in a bar. The bartender asks, "Why the long face?"
Meggoty
Q: What do the starship Enterprise and toilet paper have in common?
A: They both probe Uranus and wipe out Klingons.
Mark My Words