Categories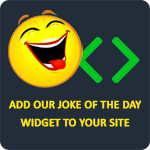 A child asked his father, "How were people born?" So his father said, "Adam and Eve made babies, then their babies became adults and made babies, and so on." The child then went to his mother, asked her the same question and she told him, "We were monkeys then we evolved to become like we are now." The child ran back to his father and said, "You lied to me!" His father replied, "No, your mom was talking about her side of the family."
Anonymous
Wife: "I look fat. Can you give me a compliment?"
Husband: "You have perfect eyesight."
coloured pencils
A man approached a very beautiful woman in a large supermarket and said, "I've lost my wife here in the supermarket. Can you talk to me for a couple of minutes?" "Why do you want to talk to me?" she asked puzzled. "Because every time I talk to a beautiful woman, my wife appears out of nowhere."
penehoff
Yo momma is so fat, I took a picture of her last Christmas and it's still printing.
Its More Fun In The Philippines!
A police officer attempts to stop a car for speeding and the guy gradually increases his speed until he's topping 100 mph. The man eventually realizes he can't escape and finally pulls over. The cop approaches the car and says, "It's been a long day and my shift is almost over, so if you can give me a good excuse for your behavior, I'll let you go." The guy thinks for a few seconds and then says, "My wife ran away with a cop about a week ago. I thought you might be that officer trying to give her back!"
James Harris