Categories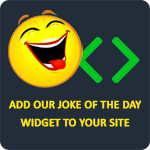 Yo momma is so fat that Dora can't even explore her!
Haydenjr1
My friend thinks he is smart. He told me an onion is the only food that makes you cry, so I threw a coconut at his face.
funny jokes
Yo momma's so stupid, she put two quarters in her ears and thought she was listening to 50 Cent.
marquez007
Wife: "In my dream, I saw you in a jewelry store and you bought me a diamond ring."
Husband: "I had the same dream and I saw your dad paying the bill."
Anonymous
What happens to a frog's car when it breaks down?
It gets toad away.
ZDW