Categories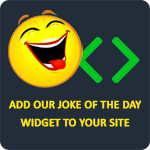 An elderly couple are in church. The wife leans over and whispers to her husband, "I just let out a long, silent fart. What should I do?" The husband replies, "First off, replace the batteries in your hearing aid!"
mtelloibew
Yo momma's so fat and old when God said, "Let there be light," he asked your mother to move out of the way.
Anonymous
Yo mamma is so ugly when she tried to join an ugly contest they said, "Sorry, no professionals."
Anonymous
A man goes to a bar and sees a fat girl dancing on a table. He walks over to her and says, "Wow, nice legs!" She is flattered and replies, "You really think so?" The man says, "Oh definitely! Most tables would have collapsed by now."
TheLaughFactory
A clear conscience is usually the sign of a bad memory.
Anonymous