Categories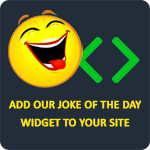 Two blondes fell down a hole. One said, "It's dark in here isn't it?" The other replied, "I don't know; I can't see."
Anonymous
Yo momma is so fat, I took a picture of her last Christmas and it's still printing.
Its More Fun In The Philippines!
What did one saggy boob say to the other saggy boob? "We better get some support before someone thinks we're nuts!"
ScillaB03
Q: Did you hear about the Buddhist who refused Novocaine during a root canal?
A: His goal: transcend dental medication.
TheLaughFactory
As an airplane is about to crash, a female passenger jumps up frantically and announces, "If I'm going to die, I want to die feeling like a woman." She removes all her clothing and asks, "Is there someone on this plane who is man enough to make me feel like a woman?" A man stands up, removes his shirt and says, "Here, iron this!".
cdiesel1208