Categories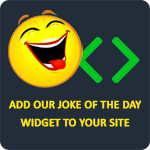 Two blondes fell down a hole. One said, "It's dark in here isn't it?" The other replied, "I don't know; I can't see."
Anonymous
A hippie backpacker from the Swiss Alps was tramping across a farmers field when it got dark. He asked the farmer if he could spend the night. The farmer agreed but said he would have to sleep in bed with his 18 year old daughter. The farmer told him, "If I catch you molesting my daughter I'll shoot you!" That night the hippie and the farmers daughter got it on and had a great time. The farmer could hear the goings on from the next room. In the morning he opened the door and asked the hippie, "Did you have sex with my daughter?" The hippie was a Jesus freak so he decided to be honest: "Yes, I did. Please forgive me." The farmer took the hippie out back of the house and pointed a shotgun at him. "Ya got any last words, bub?" he asked. The Swiss hippie said, "Yodelayheehoo!" Then the farmer shot him. When the Sheriff arrived, he asked the farmer why he shot the man just for having sex with his daughter. The farmer replied, "Well, I didn't really have a problem with him screwing Bonnie. I was just gonna scare him a little, but when he said, 'Yer 'ol lady too!' that's when I blew his head off."
Anonymous
A teacher is teaching a class and she sees that Johnny isn't paying attention, so she asks him, "If there are three ducks sitting on a fence, and you shoot one, how many are left?" Johnny says, "None." The teacher asks, "Why?" Johnny says, "Because the shot scared them all off." The teacher says, "No, two, but I like how you're thinking." Johnny asks the teacher, "If you see three women walking out of an ice cream parlor, one is licking her ice cream, one is sucking her ice cream, and one is biting her ice cream, which one is married?" The teacher says, "The one sucking her ice cream." Johnny says, "No, the one with the wedding ring, but I like how you're thinking!"
rockabillyray
What did God say when he made the first black man? "Damn, I burnt one."
joe to good
Wife: "I look fat. Can you give me a compliment?"
Husband: "You have perfect eyesight."
coloured pencils