Categories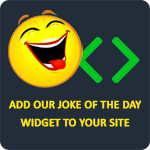 On the roof of a very tall building are four men; one is asian, one is mexican, one is black, and the last one is white. The asian walks to the ledge and says, "This is for all my people" and jumps off the roof. Next, the mexican walks to the ledge and also says, "This is for all my people" and then he jumps off the roof. Next is the black guy's turn. The black guy walks to the ledge and says, "This is for all my people" and then throws the white guy off the roof.
godd211
A boy is selling fish on a corner. To get his customers' attention, he is yelling, "Dam fish for sale! Get your dam fish here!" A pastor hears this and asks, "Why are you calling them 'dam fish.'" The boy responds, "Because I caught these fish at the local dam." The pastor buys a couple fish, takes them home to his wife, and asks her to cook the dam fish. The wife responds surprised, "I didn't know it was acceptable for a preacher to speak that way." He explains to her why they are dam fish. Later at the dinner table, he asks his son to pass the dam fish. He responds, "That's the spirit, Dad! Now pass the f*cking potatoes!"
bandajoey92
A man kills a deer and takes it home to cook for dinner. Both he and his wife decide that they won't tell the kids what kind of meat it is, but will give them a clue and let them guess. The dad said, "Well it's what Mommy calls me sometimes." The little girl screamed to her brother, "Don't eat it. Its an asshole!
blackray
I had a broken vacuum, then I put a One Direction sticker on it and it suddenly sucked again.
Alana
A recent worldwide survey showed that out of 2,146,703,436 people, 94% were too lazy to actually read that number.
flolez