Categories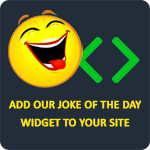 I asked a Chinese girl for her number. She said, "Sex! Sex! Sex! Free sex tonight!" I said, "Wow!" Then her friend said, "She means 666-3629."
Anonymous
Roses are red.
Your blood is too.
You look like a monkey
And belong in a zoo.
Do not worry,
I'll be there too.
Not in the cage,
But laughing at you.
Anonymous
My friend thinks he is smart. He told me an onion is the only food that makes you cry, so I threw a coconut at his face.
funny jokes
Yo mamma is so ugly when she tried to join an ugly contest they said, "Sorry, no professionals."
Anonymous
Q: Did you hear abut the hungry clock?
A: It went back four seconds.
LAMEGIRL23