Categories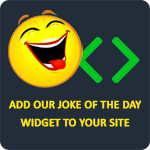 What did one saggy boob say to the other saggy boob? "We better get some support before someone thinks we're nuts!"
ScillaB03
What did God say when he made the first black man? "Damn, I burnt one."
joe to good
A little girl and boy are fighting about the differences between the sexes, and which one is better. Finally, the boy drops his pants and says, "Here's something I have that you'll never have!" The little girl is pretty upset by this, since it is clearly true, and runs home crying. A while later, she comes running back with a smile on her face. She drops her pants and says, "My mommy says that with one of these, I can have as many of those as I want!"
Anonymous
Yo momma is so fat that when she went to the beach a whale swam up and sang, "We are family, even though you're fatter than me."
Anonymous
There was a blonde, a redhead, and a brunette. They were all trapped on an island and the nearest shore was 50 miles away. The redhead swam trying to make it to the other shore she swam 15 miles, drowned, and died. The brunette swam 24 miles, drowned, and died. The blonde swam 25 miles, got tired, and swam back.
Donovan