Categories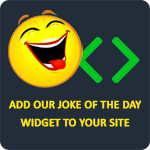 A young woman was taking golf lessons and had just started playing her first round of golf when she suffered a bee sting. Her pain was so intense that she decided to return to the clubhouse for medical assistance. The golf pro saw her heading back and said, "You are back early, what's wrong?" "I was stung by a bee!" she said. "Where?" he asked. "Between the first and second hole." she replied. He nodded and said, "Your stance is far too wide."
Anonymous
A boy walks in on his mom and dad having sex. He asks, "What are you doing?" The dad replies, "Making you a brother or sister!" The boy says, "Well, do her doggy style I want a puppy."
Lydia Hatch
What happens to a frog's car when it breaks down?
It gets toad away.
ZDW
Q: How do you keep a blonde busy for 2 days?
A: Give her a piece of paper that has "Please turn over" written on both sides.
Francisco Davis
What did God say when he made the first black man? "Damn, I burnt one."
joe to good