Categories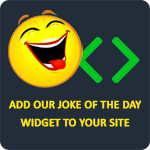 Reaching the end of a job interview, the Human Resources Officer asks a young engineer fresh out of the Massachusetts Institute of Technology, "And what starting salary are you looking for?" The engineer replies, "In the region of $125,000 a year, depending on the benefits package." The interviewer inquires, "Well, what would you say to a package of five weeks vacation, 14 paid holidays, full medical and dental, company matching retirement fund to 50% of salary, and a company car leased every two years, say, a red Corvette?" The engineer sits up straight and says, "Wow! Are you kidding?" The interviewer replies, "Yeah, but you started it."
lauren
Q: How do you count cows?
A: With a cowculator.
Anonymous
A little kids sends a letter to Santa that says: "Dear Santa I want a brother for Christmas." Santa writes back, "Dear Timmy send me me your mommy."
fps23laugh
Johnny wanted to get his mom something nice for Christmas but she's hard to shop for. Passing a pet store he thought, "Hmm, a pet might be a good idea." He walked in the pet store and asked the manager what might be a good idea. "How about a puppy?" "No," said Johnny. "It may poop around the house." "A fish?" "No, her house is small, so I don't think an aquarium will fit." Johnny then spied a parrot and asked, "How about that parrot?" "Oh," said the manager, "That's Chet. He's very expensive." "Well," said Johnny, "It's my mom let's take a look." The manager went to Chet, put a lighter under his left wing, and Chet started to sing "Jingle bells, jingle bells..." Then the manager put a lighter under Chet's right wig and it started to sing, "Dashing through the snow..." "Wow!" said Johnny, "What else does he sing?" The manager held the lighter under Chet's crotch at which point Chet sang, "Chestnuts roasting on an open fire."
Tony Roxxx
Why did I get divorced? Well, last week was my birthday. My wife didn't wish me a happy birthday. My parents forgot and so did my kids. I went to work and even my colleagues didn't wish me a happy birthday. As I entered my office, my secretary said, "Happy birthday, boss!" I felt so special. She asked me out for lunch. After lunch, she invited me to her apartment. We went there and she said, "Do you mind if I go into the bedroom for a minute?" "Okay," I said. She came out 5 minutes later with a birthday cake, my wife, my parents, my kids, my friends, & my colleagues all yelling, "SURPRISE!!!" while I was waiting on the sofa... naked.
Anonymous