Categories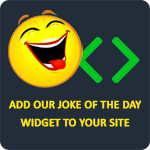 What did God say when he made the first black man? "Damn, I burnt one."
joe to good
A few months after his parents were divorced, little Johnny passed by his mom's bedroom and saw her rubbing her body and moaning, "I need a man, I need a man!" Over the next couple of months, he saw her doing this several times. One day, he came home from school and heard her moaning. When he peeked into her bedroom, he saw a man on top of her. Little Johnny ran into his room, took off his clothes, threw himself on his bed, started stroking himself, and moaning, "Ohh, I need a bike! I need a bike!"
kandue0962
Two blondes fell down a hole. One said, "It's dark in here isn't it?" The other replied, "I don't know; I can't see."
Anonymous
Why did I get divorced? Well, last week was my birthday. My wife didn't wish me a happy birthday. My parents forgot and so did my kids. I went to work and even my colleagues didn't wish me a happy birthday. As I entered my office, my secretary said, "Happy birthday, boss!" I felt so special. She asked me out for lunch. After lunch, she invited me to her apartment. We went there and she said, "Do you mind if I go into the bedroom for a minute?" "Okay," I said. She came out 5 minutes later with a birthday cake, my wife, my parents, my kids, my friends, & my colleagues all yelling, "SURPRISE!!!" while I was waiting on the sofa... naked.
Anonymous
On Thanksgiving day, a little boy overhears his mom and dad fighting. He hears his mom call his dad a bastard and hears his dad call his mom a bitch. He asks, "Mommy, what does bastard mean?" She answers, "Um, it means boy." Then he asks, "Daddy, what does bitch mean?" He says, "Uh, it means girl." Later that day, the boy sees his father in the bathroom shaving; the dad accidentally cuts himself and says, "Shit." The son asks, "What does shit mean?" The dad says, "It means shaving cream." Then he sees his mom in the kitchen carving the turkey; she accidentally cuts herself and says, "Fuck." The son asks her what that word means and she says, "It means carving." That evening, the family's guests arrive for Thanksgiving dinner. The son opens the door to welcome them and says, "Welcome bitches and bastards! My dad is in the bathroom rubbing shit on his face and my mom is in the kitchen fucking the turkey."
JackIsPigs