Categories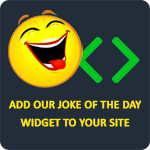 Two cowboys are out on the range talking about their favorite sex position. One says, "I think I enjoy the rodeo position the best." "I don't think I have ever heard of that one," says the other cowboy. "What is it?" "Well, it's where you get your girl down on all four, and you mount her from behind. Then you reach around, cup her t*ts, and whisper in her ear, 'boy these feel almost as nice as your sisters.' Then you try and hold on for 30 seconds."
ballmyloveb
What did one saggy boob say to the other saggy boob? "We better get some support before someone thinks we're nuts!"
ScillaB03
A few months after his parents were divorced, little Johnny passed by his mom's bedroom and saw her rubbing her body and moaning, "I need a man, I need a man!" Over the next couple of months, he saw her doing this several times. One day, he came home from school and heard her moaning. When he peeked into her bedroom, he saw a man on top of her. Little Johnny ran into his room, took off his clothes, threw himself on his bed, started stroking himself, and moaning, "Ohh, I need a bike! I need a bike!"
kandue0962
A robber comes into the store & steals a TV. A blonde runs after him and says, "Wait, you forgot the remote!"
standbyme23
A man and woman had been married for 30 years, and in those 30 years, they always left the lights off when having sex. He was embarrassed and scared that he couldn't please her, so he always used a big dildo on her. All these years she had no clue. One day, she decided to reach over and flip the light switch on and saw that he was using a dildo. She said "I knew it, asshole, explain the dildo!" He said, "Explain the kids!"
skylertouchet