Categories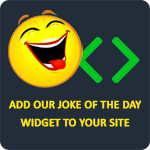 A blonde, a redhead, and a brunette were all lost in the desert. They found a lamp and rubbed it. A genie popped out and granted them each one wish. The redhead wished to be back home. Poof! She was back home. The brunette wished to be at home with her family. Poof! She was back home with her family. The blonde said, "Awwww, I wish my friends were here."
Donovan
What happens to a frog's car when it breaks down?
It gets toad away.
ZDW
Yo momma's so fat, she got baptized at Sea World.
LaughFactory
A man kills a deer and takes it home to cook for dinner. Both he and his wife decide that they won't tell the kids what kind of meat it is, but will give them a clue and let them guess. The dad said, "Well it's what Mommy calls me sometimes." The little girl screamed to her brother, "Don't eat it. Its an asshole!
blackray
A little girl and boy are fighting about the differences between the sexes, and which one is better. Finally, the boy drops his pants and says, "Here's something I have that you'll never have!" The little girl is pretty upset by this, since it is clearly true, and runs home crying. A while later, she comes running back with a smile on her face. She drops her pants and says, "My mommy says that with one of these, I can have as many of those as I want!"
Anonymous