Categories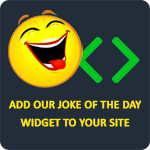 Yo mamma is so ugly when she took a bath the water jumped out.
zacky
Yo momma is so fat, when she sat on an iPod, she made the iPad!
My mom
A teacher wanted to teach her students about self-esteem, so she asked anyone who thought they were stupid to stand up. One kid stood up and the teacher was surprised. She didn't think anyone would stand up so she asked him, "Why did you stand up?" He answered, "I didn't want to leave you standing up by yourself."
ronald34
Yo momma is so ugly even Hello Kitty said, "Goodbye" to her
mariela sapon
There's a blond and a brunette in a car. The brunette is driving while the blonde is in the passenger seat. They're going down a steep hill when the brunette realizes that the brakes don't work. The brunette tells the blonde that the brakes don't work and they will drive off the side of the cliff because they failed to stop. The blonde then replies, "Don't worry! There's a stop sign ahead."
Mikayla