Categories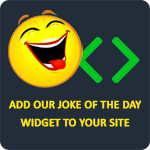 A teacher wanted to teach her students about self-esteem, so she asked anyone who thought they were stupid to stand up. One kid stood up and the teacher was surprised. She didn't think anyone would stand up so she asked him, "Why did you stand up?" He answered, "I didn't want to leave you standing up by yourself."
ronald34
A teacher is teaching a class and she sees that Johnny isn't paying attention, so she asks him, "If there are three ducks sitting on a fence, and you shoot one, how many are left?" Johnny says, "None." The teacher asks, "Why?" Johnny says, "Because the shot scared them all off." The teacher says, "No, two, but I like how you're thinking." Johnny asks the teacher, "If you see three women walking out of an ice cream parlor, one is licking her ice cream, one is sucking her ice cream, and one is biting her ice cream, which one is married?" The teacher says, "The one sucking her ice cream." Johnny says, "No, the one with the wedding ring, but I like how you're thinking!"
rockabillyray
Late one night, a preacher was driving on a country road and had a wreck. A farmer stopped and said, "Sir, are you okay?" The preacher said, "Yes, I had the Lord riding with me." The farmer said, "Well, you better let him ride with me, because you're gonna kill him."
Anonymous
What is the difference between a Mexican and a book? A book has papers.
kblove
A guy took his blonde girlfriend to her first football game. They had great seats right behind their team's bench. After the game, he asked her how she liked the experience. "Oh, I really liked it," she replied, "especially the tight pants and all the big muscles, but I just couldn't understand why they were killing each other over 25 cents." Dumbfounded, her date asked, "What do you mean?" "Well, they flipped a coin, one team got it, and then for the rest of the game, all they kept screaming was, 'Get the quarterback! Get the quarterback!' I'm like, hello? It's only 25 cents!"
laurieleebrown