Categories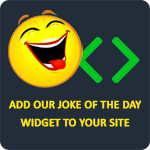 Q: Why can't a blonde dial 911?
A: She can't find the eleven.
TheLaughFactory
Lady 1: "Why is your husband so punctual when returning home from work?"
Lady 2: "I made a simple rule: sex will begin at 9pm sharp, whether he is there or not."
tushar1th sharma
Yo momma is so fat when she sat on WalMart, she lowered the prices.
zacky
Yo momma's so fat, that when she fell, no one was laughing but the ground was cracking up.
LaughFactory
A teacher wanted to teach her students about self-esteem, so she asked anyone who thought they were stupid to stand up. One kid stood up and the teacher was surprised. She didn't think anyone would stand up so she asked him, "Why did you stand up?" He answered, "I didn't want to leave you standing up by yourself."
ronald34