Categories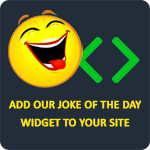 Whenever your ex says, "You'll never find someone like me," the answer to that is, "That's the point."
Ascelyn
A teacher wanted to teach her students about self-esteem, so she asked anyone who thought they were stupid to stand up. One kid stood up and the teacher was surprised. She didn't think anyone would stand up so she asked him, "Why did you stand up?" He answered, "I didn't want to leave you standing up by yourself."
ronald34
How do you blindfold a Chinese person? Put floss over their eyes.
kallen007
Q: Why was six scared of seven?
A: Because seven "ate" nine.
Anonymous
A taxi passenger taps the driver on the shoulder to ask him a question. The driver screams, loses control of the car, nearly hits a bus, goes up on the footpath, and stops centimeters from a shop window. For a second, everything goes quiet in the cab, then the driver says, "Look mate, don't ever do that again. You scared the daylights out of me!" The passenger apologizes and says, "I didn't realize that a little tap would scare you so much." The driver replies, "Sorry, it's not really your fault. Today is my first day as a cab driver. I've been driving a funeral van for the last 25 years."
Anonymous