Categories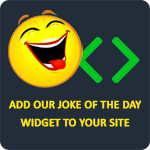 Yo momma is so stupid she brought a spoon to the super bowl.
Angel Stalone
Roses are red.
Your blood is too.
You look like a monkey
And belong in a zoo.
Do not worry,
I'll be there too.
Not in the cage,
But laughing at you.
Anonymous
A little girl and boy are fighting about the differences between the sexes, and which one is better. Finally, the boy drops his pants and says, "Here's something I have that you'll never have!" The little girl is pretty upset by this, since it is clearly true, and runs home crying. A while later, she comes running back with a smile on her face. She drops her pants and says, "My mommy says that with one of these, I can have as many of those as I want!"
Anonymous
What happens to a frog's car when it breaks down?
It gets toad away.
ZDW
Teacher: "What is the future tense of the statement: 'I had killed a thief'?"
Student: "You will go to jail."
Anonymous