Categories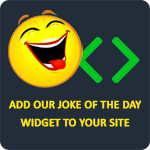 What did one saggy boob say to the other saggy boob? "We better get some support before someone thinks we're nuts!"
ScillaB03
Yo momma's so fat and old when God said, "Let there be light," he asked your mother to move out of the way.
Anonymous
Blonde: "What does IDK stand for?"
Brunette: "I don't know."
Blonde: "OMG, nobody does!"
Anonymous
Q: Why can't a blonde dial 911?
A: She can't find the eleven.
TheLaughFactory
There was a blonde, a redhead, and a brunette. They were all trapped on an island and the nearest shore was 50 miles away. The redhead swam trying to make it to the other shore she swam 15 miles, drowned, and died. The brunette swam 24 miles, drowned, and died. The blonde swam 25 miles, got tired, and swam back.
Donovan