Categories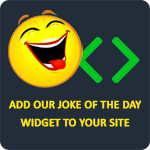 Having sex is like playing bridge. If you don't have a good partner, you'd better have a good hand.
Anonymous
Your momma is so ugly she made One Direction go another direction.
Anonymous
Why are asprins white? Because they work!
ScottBackman
A black boy walks into the kitchen where his mother is baking and accidentally pulls the flour over onto his head. He turns to his mother and says, "Look Mama, I'm a white boy!" His mother smacks him and says, "Go tell your Daddy what you just said!" The boy finds his father and says, "Look Daddy, I'm a white boy!" His Daddy bends him over, spanks him, stands the boy back up, and says, "Now, what do you have to say for yourself?" The boy replies, "I've only been a white boy for five minutes and I already hate you black people!"
nghtvisn
Why do Mexicans eat beans for dinner? So they can take bubble baths.
TheLaughFactory