Categories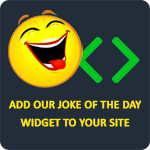 Yo momma is so fat when she sat on WalMart, she lowered the prices.
zacky
A few months after his parents were divorced, little Johnny passed by his mom's bedroom and saw her rubbing her body and moaning, "I need a man, I need a man!" Over the next couple of months, he saw her doing this several times. One day, he came home from school and heard her moaning. When he peeked into her bedroom, he saw a man on top of her. Little Johnny ran into his room, took off his clothes, threw himself on his bed, started stroking himself, and moaning, "Ohh, I need a bike! I need a bike!"
kandue0962
Why do women make better soldiers? Because they can bleed for a week and not die.
srehak1
Maria went home happy, telling her mother about how she earned $20 by climbing a tree. Her mom responded, "Maria, they just wanted to see your panties!" Maria replied, "See Mom, I was smart, I took them off!"
yohel
A robber comes into the store & steals a TV. A blonde runs after him and says, "Wait, you forgot the remote!"
standbyme23