Categories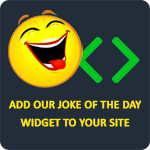 Q: Why can't a blonde dial 911?
A: She can't find the eleven.
TheLaughFactory
Maria went home happy, telling her mother about how she earned $20 by climbing a tree. Her mom responded, "Maria, they just wanted to see your panties!" Maria replied, "See Mom, I was smart, I took them off!"
yohel
Yo momma's so fat and old when God said, "Let there be light," he asked your mother to move out of the way.
Anonymous
Do not be racist , be like Mario. He's an italian plumber, made by Japanese people, who speaks english, looks like a mexican, jumps like a black man, and grabs coins like a jew!
Andrew
There was a blonde, a redhead, and a brunette. They were all trapped on an island and the nearest shore was 50 miles away. The redhead swam trying to make it to the other shore she swam 15 miles, drowned, and died. The brunette swam 24 miles, drowned, and died. The blonde swam 25 miles, got tired, and swam back.
Donovan