Categories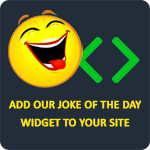 Yo mamma is so ugly when she tried to join an ugly contest they said, "Sorry, no professionals."
Anonymous
A married couple are out one night at a dance club. There's a guy on the dance floor giving it large: break dancing, moon walking, back flips, the works. The wife turns to her husband and says, "See that guy? Twenty years ago he proposed to me and I turned him down." The husband says, "Looks like he's still celebrating!"
Penelope Snyder
Yo momma is so fat when she got on the scale it said, "I need your weight not your phone number."
swaggerboy
What happens to a frog's car when it breaks down?
It gets toad away.
ZDW
Yo momma's so fat and old when God said, "Let there be light," he asked your mother to move out of the way.
Anonymous