Categories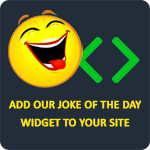 Roses are red.
Your blood is too.
You look like a monkey
And belong in a zoo.
Do not worry,
I'll be there too.
Not in the cage,
But laughing at you.
Anonymous
What did God say when he made the first black man? "Damn, I burnt one."
joe to good
Q: Why can't a blonde dial 911?
A: She can't find the eleven.
TheLaughFactory
What happens to a frog's car when it breaks down?
It gets toad away.
ZDW
Two blondes fell down a hole. One said, "It's dark in here isn't it?" The other replied, "I don't know; I can't see."
Anonymous