Categories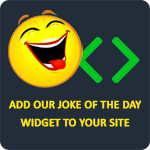 Yo momma is so fat that when she went to the beach a whale swam up and sang, "We are family, even though you're fatter than me."
Anonymous
A woman was taking an afternoon nap. When she woke up, she told her husband, "I just dreamed that you gave me a pearl necklace. What do you think it means?" "You'll know tonight," he said. That evening, the man came home with a small package and gave it to his wife. Delighted, she opened it to find a book entitled "The Meaning of Dreams."
Hayden Thomas
What happens to a frog's car when it breaks down?
It gets toad away.
ZDW
What did God say when he made the first black man? "Damn, I burnt one."
joe to good
Q: How do you keep a blonde busy for 2 days?
A: Give her a piece of paper that has "Please turn over" written on both sides.
Francisco Davis