Categories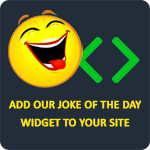 Blonde: "What does IDK stand for?"
Brunette: "I don't know."
Blonde: "OMG, nobody does!"
Anonymous
Q: What did the duck say when he bought lipstick?
A: "Put it on my bill."
TheLaughFactory
Yo momma's so fat and old when God said, "Let there be light," he asked your mother to move out of the way.
Anonymous
Yo mamma is so ugly when she tried to join an ugly contest they said, "Sorry, no professionals."
Anonymous
Maria went home happy, telling her mother about how she earned $20 by climbing a tree. Her mom responded, "Maria, they just wanted to see your panties!" Maria replied, "See Mom, I was smart, I took them off!"
yohel