Categories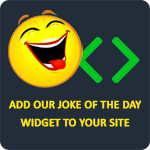 Bob was in trouble. He forgot his wedding anniversary. His wife was really pissed. She told him "Tomorrow morning, I expect to find a gift in the driveway that goes from 0 to 200 in 6 seconds AND IT BETTER BE THERE !!" The next morning he got up early and left for work. When his wife woke up, she looked out the window and sure enough there was a box gift-wrapped in the middle of the driveway. Confused, the wife put on her robe and ran out to the driveway, brought the box back in the house. She opened it and found a brand new bathroom scale. Bob has been missing since Friday.
meriwether12
Blonde: "What does IDK stand for?"
Brunette: "I don't know."
Blonde: "OMG, nobody does!"
Anonymous
Two blondes fell down a hole. One said, "It's dark in here isn't it?" The other replied, "I don't know; I can't see."
Anonymous
There was a papa mole, a momma mole, and a baby mole. They lived in a hole out in the country near a farmhouse. Papa mole poked his head out of the hole and said, "Mmmm, I smell sausage!" Momma mole poked her head outside the hole and said, "Mmmm, I smell pancakes!" Baby mole tried to stick his head outside but couldn't because of the two bigger moles. Baby mole said, "The only thing I smell is molasses."
mkelly1283
A robber comes into the store & steals a TV. A blonde runs after him and says, "Wait, you forgot the remote!"
standbyme23