Categories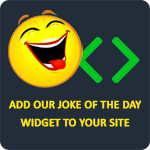 Q: What do you call a nun in a wheelchair? A: Virgin Mobile
Anonymous
Q: How do astronomers organize a party?
A: They planet.
Wenz
Do not be racist , be like Mario. He's an italian plumber, made by Japanese people, who speaks english, looks like a mexican, jumps like a black man, and grabs coins like a jew!
Andrew
A man kills a deer and takes it home to cook for dinner. Both he and his wife decide that they won't tell the kids what kind of meat it is, but will give them a clue and let them guess. The dad said, "Well it's what Mommy calls me sometimes." The little girl screamed to her brother, "Don't eat it. Its an asshole!
blackray
Q: What did the duck say when he bought lipstick?
A: "Put it on my bill."
TheLaughFactory