Categories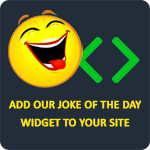 Mr. and Mrs. Brown had two sons. One was named Mind Your Own Business & the other was named Trouble. One day the two boys decided to play hide and seek. Trouble hid while Mind Your Own Business counted to one hundred. Mind Your Own Business began looking for his brother behind garbage cans and bushes. Then he started looking in and under cars until a police man approached him and asked, "What are you doing?" "Playing a game," the boy replied. "What is your name?" the officer questioned. "Mind Your Own Business." Furious the policeman inquired, "Are you looking for trouble?!" The boy replied, "Why, yes."
Anonymous
Yo momma is so fat when she got on the scale it said, "I need your weight not your phone number."
swaggerboy
A man was having premature ejaculation problems so he went to the doctor. The doctor said, "When you feel like you are getting ready to ejaculate, try startling yourself." That same day the man went to the store and bought himself a starter pistol and ran home to his wife. That night the two were having sex and found themselves in the 69 position. The man felt the urge to ejaculate and fired the starter pistol. The next day he went back to the doctor who asked how it went. The man answered, "Not well. When I fired the pistol, my wife pooped on my face, bit three inches off my penis, and my neighbor came out of the closet with his hands in the air."
Oure
Yo momma is so dumb she tripped over a cordless phone.
Anonymous
Q: If you were forced to go through one of the following doors, which door do you go through with 100 % certainty you'd stay alive: a door with a man with a gun behind it, a door with a tiger who hasn't eaten in 7 years behind it, or a door with an electrical chair behind it?
A: The one with the tiger behind it, because if it hasn't eaten in 7 years it's dead.
Kroft