Categories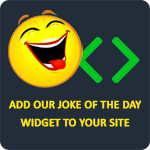 Do not be racist , be like Mario. He's an italian plumber, made by Japanese people, who speaks english, looks like a mexican, jumps like a black man, and grabs coins like a jew!
Andrew
A teacher wanted to teach her students about self-esteem, so she asked anyone who thought they were stupid to stand up. One kid stood up and the teacher was surprised. She didn't think anyone would stand up so she asked him, "Why did you stand up?" He answered, "I didn't want to leave you standing up by yourself."
ronald34
There was a blonde, a redhead, and a brunette. They were all trapped on an island and the nearest shore was 50 miles away. The redhead swam trying to make it to the other shore she swam 15 miles, drowned, and died. The brunette swam 24 miles, drowned, and died. The blonde swam 25 miles, got tired, and swam back.
Donovan
Blonde: "What does IDK stand for?"
Brunette: "I don't know."
Blonde: "OMG, nobody does!"
Anonymous
During the wedding rehearsal, the groom approaches the pastor with an unusual offer. "Look, I'll give you $100 if you'll change the wedding vows. When you get to the part where I'm supposed to promise to 'love, honor, and obey' and 'be faithful to her forever,' I'd appreciate it if you'd just leave that out." He passes the minister a $100 bill and walks away satisfied. On the day of the wedding, when it comes time for the groom's vows, the pastor looks the young man in the eye and says, "Will you promise to prostrate yourself before her, obey her every command and wish, serve her breakfast in bed every morning of your life, and swear eternally before God and your lovely wife that you will not ever even look at another woman, as long as you both shall live?" The groom gulps, looks around, and says in a tiny voice, "Yes," then leans toward the pastor and hisses, "I thought we had a deal." The pastor puts a $100 bill into the groom's hand and whispers, "She made me a better offer."
Basala