Categories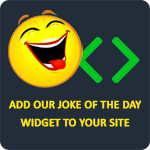 Yo momma is so fat that when she went to the beach a whale swam up and sang, "We are family, even though you're fatter than me."
Anonymous
Yo momma is so fat when she got on the scale it said, "I need your weight not your phone number."
swaggerboy
Yo momma's so fat and old when God said, "Let there be light," he asked your mother to move out of the way.
Anonymous
A doctor reaches into his smock to get a pen to write a prescription and pulls out a rectal thermometer. "Oh, damn it," he proclaims, "Some asshole has my pen!"
Mark My Words
A black Jewish boy runs home from school one day and asks his father, "Daddy, am I more Jewish or more black?" The dad replies, "Why do you want to know, son?" "Because a kid at school is selling a bike for $50 and I want to know if I should talk him down to $40 or just steal it!"
Anonymous