Categories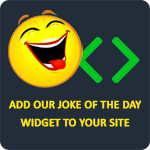 A teacher is teaching a class and she sees that Johnny isn't paying attention, so she asks him, "If there are three ducks sitting on a fence, and you shoot one, how many are left?" Johnny says, "None." The teacher asks, "Why?" Johnny says, "Because the shot scared them all off." The teacher says, "No, two, but I like how you're thinking." Johnny asks the teacher, "If you see three women walking out of an ice cream parlor, one is licking her ice cream, one is sucking her ice cream, and one is biting her ice cream, which one is married?" The teacher says, "The one sucking her ice cream." Johnny says, "No, the one with the wedding ring, but I like how you're thinking!"
rockabillyray
Yo momma is so fat that when she went to the beach a whale swam up and sang, "We are family, even though you're fatter than me."
Anonymous
Q: Is Google male or female?
A: Female, because it doesn't let you finish a sentence before making a suggestion.
Montgomery2004
My friend thinks he is smart. He told me an onion is the only food that makes you cry, so I threw a coconut at his face.
funny jokes
A boy is selling fish on a corner. To get his customers' attention, he is yelling, "Dam fish for sale! Get your dam fish here!" A pastor hears this and asks, "Why are you calling them 'dam fish.'" The boy responds, "Because I caught these fish at the local dam." The pastor buys a couple fish, takes them home to his wife, and asks her to cook the dam fish. The wife responds surprised, "I didn't know it was acceptable for a preacher to speak that way." He explains to her why they are dam fish. Later at the dinner table, he asks his son to pass the dam fish. He responds, "That's the spirit, Dad! Now pass the f*cking potatoes!"
bandajoey92