Categories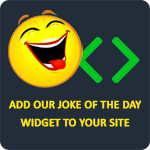 A teacher is teaching a class and she sees that Johnny isn't paying attention, so she asks him, "If there are three ducks sitting on a fence, and you shoot one, how many are left?" Johnny says, "None." The teacher asks, "Why?" Johnny says, "Because the shot scared them all off." The teacher says, "No, two, but I like how you're thinking." Johnny asks the teacher, "If you see three women walking out of an ice cream parlor, one is licking her ice cream, one is sucking her ice cream, and one is biting her ice cream, which one is married?" The teacher says, "The one sucking her ice cream." Johnny says, "No, the one with the wedding ring, but I like how you're thinking!"
rockabillyray
A teacher wanted to teach her students about self-esteem, so she asked anyone who thought they were stupid to stand up. One kid stood up and the teacher was surprised. She didn't think anyone would stand up so she asked him, "Why did you stand up?" He answered, "I didn't want to leave you standing up by yourself."
ronald34
Q: What did the duck say when he bought lipstick?
A: "Put it on my bill."
TheLaughFactory
Why did I get divorced? Well, last week was my birthday. My wife didn't wish me a happy birthday. My parents forgot and so did my kids. I went to work and even my colleagues didn't wish me a happy birthday. As I entered my office, my secretary said, "Happy birthday, boss!" I felt so special. She asked me out for lunch. After lunch, she invited me to her apartment. We went there and she said, "Do you mind if I go into the bedroom for a minute?" "Okay," I said. She came out 5 minutes later with a birthday cake, my wife, my parents, my kids, my friends, & my colleagues all yelling, "SURPRISE!!!" while I was waiting on the sofa... naked.
Anonymous
Reaching the end of a job interview, the Human Resources Officer asks a young engineer fresh out of the Massachusetts Institute of Technology, "And what starting salary are you looking for?" The engineer replies, "In the region of $125,000 a year, depending on the benefits package." The interviewer inquires, "Well, what would you say to a package of five weeks vacation, 14 paid holidays, full medical and dental, company matching retirement fund to 50% of salary, and a company car leased every two years, say, a red Corvette?" The engineer sits up straight and says, "Wow! Are you kidding?" The interviewer replies, "Yeah, but you started it."
lauren