Categories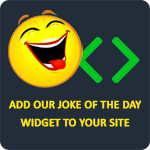 A man goes to a bar and sees a fat girl dancing on a table. He walks over to her and says, "Wow, nice legs!" She is flattered and replies, "You really think so?" The man says, "Oh definitely! Most tables would have collapsed by now."
TheLaughFactory
What happens to a frog's car when it breaks down?
It gets toad away.
ZDW
A black boy walks into the kitchen where his mother is baking and accidentally pulls the flour over onto his head. He turns to his mother and says, "Look Mama, I'm a white boy!" His mother smacks him and says, "Go tell your Daddy what you just said!" The boy finds his father and says, "Look Daddy, I'm a white boy!" His Daddy bends him over, spanks him, stands the boy back up, and says, "Now, what do you have to say for yourself?" The boy replies, "I've only been a white boy for five minutes and I already hate you black people!"
nghtvisn
Why are asprins white? Because they work!
ScottBackman
Whenever your ex says, "You'll never find someone like me," the answer to that is, "That's the point."
Ascelyn