Categories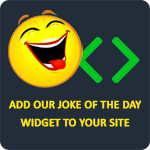 A teacher wanted to teach her students about self-esteem, so she asked anyone who thought they were stupid to stand up. One kid stood up and the teacher was surprised. She didn't think anyone would stand up so she asked him, "Why did you stand up?" He answered, "I didn't want to leave you standing up by yourself."
ronald34
Your Halloween costume came in the mail today. I opened it. It was a rooster mask and a bag of lollipops. Going as a c*ck sucker again!?
jewelzee86
Q: Why does Humpty Dumpty love autumn?
A: Because Humpty Dumpty had a great fall.
TheLaughFactory
What did one saggy boob say to the other saggy boob? "We better get some support before someone thinks we're nuts!"
ScillaB03
Q: How do astronomers organize a party?
A: They planet.
Wenz