Categories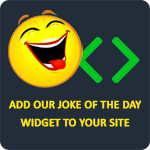 Three babies are in their mother's womb. One of them says, "I want to be an artist so everyone knows what it looks like in here." The next one says, "I want to be a swimmer because I get so much practice in here." The last baby says, "I'm going to be a hunter because if that snake comes in here and pokes me again, I'm going to chop that thing in half!"
KarateBabe
Do not be racist; be like Mario. He's an Italian plumber, who was made by the Japanese, speaks English, looks like a Mexican, jumps like a black man, and grabs coins like a Jew!
Andrew
Roses are red.
Your blood is too.
You look like a monkey
And belong in a zoo.
Do not worry,
I'll be there too.
Not in the cage,
But laughing at you.
Anonymous
I asked a Chinese girl for her number. She said, "Sex! Sex! Sex! Free sex tonight!" I said, "Wow!" Then her friend said, "She means 666-3629."
Anonymous
A boy is selling fish on a corner. To get his customers' attention, he is yelling, "Dam fish for sale! Get your dam fish here!" A pastor hears this and asks, "Why are you calling them 'dam fish.'" The boy responds, "Because I caught these fish at the local dam." The pastor buys a couple fish, takes them home to his wife, and asks her to cook the dam fish. The wife responds surprised, "I didn't know it was acceptable for a preacher to speak that way." He explains to her why they are dam fish. Later at the dinner table, he asks his son to pass the dam fish. He responds, "That's the spirit, Dad! Now pass the f*cking potatoes!"
bandajoey92