Categories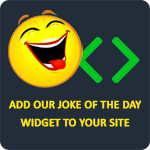 Mother superior tells two new nuns that they have to paint their room without getting any paint on their clothes. One nun suggests to the other, "Hey, let's take all our clothes off, fold them up, and lock the door." So they do this, and begin painting their room. Soon they hear a knock at the door. They ask, "Who is it?" "Blind man!" The nuns look at each other and one nun says, "He's blind, so he can't see. What could it hurt?" They let him in. The blind man walks in and says, "Hey, nice tits. Where do you want me to hang the blinds?"
Anonymous
I was at my bank today waiting in a short line. There was just one lady in front of me, an Asian lady, who was trying to exchange yen for dollars. It was obvious she was a little irritated. She asked the teller, "Why it change? Yesterday, I get two hunat dolla of yen. Today I only get hunat eighty? Why it change?" The teller shrugged his shoulders and said, "Fluctuations." The Asian lady says, "Fluc you white people too!"
deanjchou
There was a blonde, a redhead, and a brunette. They were all trapped on an island and the nearest shore was 50 miles away. The redhead swam trying to make it to the other shore she swam 15 miles, drowned, and died. The brunette swam 24 miles, drowned, and died. The blonde swam 25 miles, got tired, and swam back.
Donovan
Yo momma's so fat and old when God said, "Let there be light," he asked your mother to move out of the way.
Anonymous
Yo Mama is so fat, when she pressed the UP button on the elevator it went DOWN.
Anonymous