Categories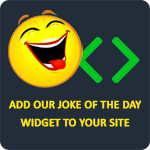 I asked a Chinese girl for her number. She said, "Sex! Sex! Sex! Free sex tonight!" I said, "Wow!" Then her friend said, "She means 666-3629."
Anonymous
Teacher: "I asked you to draw a cow and grass, but I only see a cow. Where is grass?"
Student: "The cow ate the grass, sir."
Ponyboy
Your momma is so ugly she made One Direction go another direction.
Anonymous
Wife: "How would you describe me?"
Husband: "ABCDEFGHIJK."
Wife: "What does that mean?"
Husband: "Adorable, beautiful, cute, delightful, elegant, fashionable, gorgeous, and hot."
Wife: "Aw, thank you, but what about IJK?"
Husband: "I'm just kidding!"
tiya
Yo momma's so stupid, she put two quarters in her ears and thought she was listening to 50 Cent.
marquez007