Categories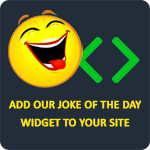 Yo momma is so hairy, when she went to the movie theater to see Star Wars, everybody screamed and said, "IT'S CHEWBACCA!"
Angel Stalone
Yo momma is so stupid she climbed over a glass wall to see what was on the other side.
Anonymous
How do you blindfold a Chinese person? Put floss over their eyes.
kallen007
"Knock, knock."
"Who's there?"
"Nobel."
"Nobel who?"
"No bell that's why I knocked."
jean hegarty
Yo momma is so stupid she brought a spoon to the super bowl.
Angel Stalone