Categories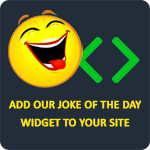 A blonde goes on a hot date and ends up making out with the guy in his car. The guy asks if she would like to go in the backseat. "No!" yells the blonde. Things get even hotter, and the guy asks again. "For the last time, no!" says the blonde. Frustrated, the guy asks, "Well, why the hell not?" The blonde says, "Because I wanna stay up here with you!"
Faith
My friend thinks he is smart. He told me an onion is the only food that makes you cry, so I threw a coconut at his face.
funny jokes
What do you call a lawyer who doesn't know the law? A judge.
Anonymous
I had a broken vacuum, then I put a One Direction sticker on it and it suddenly sucked again.
Alana
What happens to a frog's car when it breaks down?
It gets toad away.
ZDW