Categories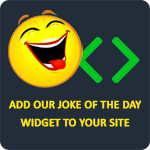 A priest, a minister, and a rabbi want to see who's best at his job. So they each go into the woods, find a bear, and attempt to convert it. Later they get together. The priest begins: "When I found the bear, I read to him from the Catechism and sprinkled him with holy water. Next week is his first communion." "I found a bear by the stream," says the minister, "and preached God's holy word. The bear was so mesmerized that he let me baptize him." They both look down at the rabbi, who is lying on a gurney in a body cast. "Looking back," he says, "maybe I shouldn't have started with the circumcision."
TheLaughFactory
Blonde: "What does IDK stand for?"
Brunette: "I don't know."
Blonde: "OMG, nobody does!"
Anonymous
Yo momma's so fat and old when God said, "Let there be light," he asked your mother to move out of the way.
Anonymous
Reaching the end of a job interview, the Human Resources Officer asks a young engineer fresh out of the Massachusetts Institute of Technology, "And what starting salary are you looking for?" The engineer replies, "In the region of $125,000 a year, depending on the benefits package." The interviewer inquires, "Well, what would you say to a package of five weeks vacation, 14 paid holidays, full medical and dental, company matching retirement fund to 50% of salary, and a company car leased every two years, say, a red Corvette?" The engineer sits up straight and says, "Wow! Are you kidding?" The interviewer replies, "Yeah, but you started it."
lauren
Q: What's the best thing about Switzerland?
A: I don't know, but the flag is a big plus.
TheLaughFactory