Categories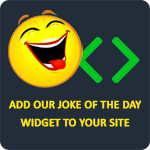 Yo momma is so fat her bellybutton gets home 15 minutes before she does.
Anonymous
Yo momma's so dumb, when y'all were driving to Disneyland, she saw a sign that said "Disneyland left," so she went home.
LaughFactory
What happens to a frog's car when it breaks down?
It gets toad away.
ZDW
How do you blindfold a Chinese person? Put floss over their eyes.
kallen007
Yo momma is so hairy, when she went to the movie theater to see Star Wars, everybody screamed and said, "IT'S CHEWBACCA!"
Angel Stalone