Categories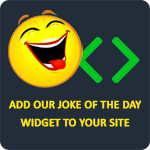 There was a preacher who fell in the ocean and he couldn't swim. When a boat came by, the captain yelled, "Do you need help, sir?" The preacher calmly said "No, God will save me." A little later, another boat came by and a fisherman asked, "Hey, do you need help?" The preacher replied again, "No God will save me." Eventually the preacher drowned & went to heaven. The preacher asked God, "Why didn't you save me?" God replied, "Fool, I sent you two boats!"
rodski
Yo momma's so stupid, she put two quarters in her ears and thought she was listening to 50 Cent.
marquez007
Yo momma's so dumb, when y'all were driving to Disneyland, she saw a sign that said "Disneyland left," so she went home.
LaughFactory
Yo momma is so fat her bellybutton gets home 15 minutes before she does.
Anonymous
A blonde girl was talking to her redhead friend about her boyfriend's dandruff problem. The redhead says, "Why don't you give him Head and Shoulders?" The blonde replies, "How do you give shoulders?"
Rere-lulu82