Categories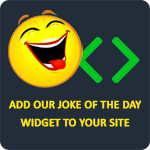 A man gets on a bus, and ends up sitting next to a very attractive nun. Enamored with her, he asks if he can have sex with her. Naturally, she says no, and gets off the bus. The man goes to the bus driver and asks him if he knows of a way for him to have sex with the nun. "Well," says the bus driver, "every night at 8 o'clock, she goes to the cemetery to pray. If you dress up as God, I'm sure you could convince her to have sex with you." The man decides to try it, and dresses up in his best God costume. At eight, he sees the nun and appears before her. "Oh, God!" she exclaims. "Take me with you!" The man tells the nun that she must first have sex with him to prove her loyalty. The nun says yes, but tells him she prefers anal sex. Before you know it, they're getting down to it, having nasty, grunty, loud sex. After it's over, the man pulls off his God disguise. "Ha, ha!" he says, "I'm the man from the bus!" "Ha, ha!" says the nun, removing her costume, "I'm the bus driver!"
Monty & Sam
A bride tells her husband, "Honey, you know I'm a virgin and I don't know anything about sex. Can you explain it to me first?" "Okay, sweetheart. Putting it simply, we will call your private place 'the prison' and call my private thing 'the prisoner'. So what we do is put the prisoner in the prison." And they made love for the first time and the husband was smiling with satisfaction. Nudging him, his bride giggles, "Honey the prisoner seems to have escaped." Turning on his side, he smiles and says, "Then we will have to re-imprison him." After the second time, the bride says, "Honey, the prisoner is out again!" The husband rises to the occasion and they made love again. The bride again says, "Honey, the prisoner escaped again," to which the husband yelled, "Hey, it's not a life sentence!!!"
MrsChinchilla
How do you blindfold a Chinese person? Put floss over their eyes.
kallen007
Your momma is so ugly she made One Direction go another direction.
Anonymous
Why did I get divorced? Well, last week was my birthday. My wife didn't wish me a happy birthday. My parents forgot and so did my kids. I went to work and even my colleagues didn't wish me a happy birthday. As I entered my office, my secretary said, "Happy birthday, boss!" I felt so special. She asked me out for lunch. After lunch, she invited me to her apartment. We went there and she said, "Do you mind if I go into the bedroom for a minute?" "Okay," I said. She came out 5 minutes later with a birthday cake, my wife, my parents, my kids, my friends, & my colleagues all yelling, "SURPRISE!!!" while I was waiting on the sofa... naked.
Anonymous