Categories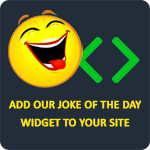 My friend thinks he is smart. He told me an onion is the only food that makes you cry, so I threw a coconut at his face.
funny jokes
Q: Why can't a blonde dial 911?
A: She can't find the eleven.
TheLaughFactory
Yo momma is so short, you can see her feet on her driver's license.
TheLaughFactory
As an airplane is about to crash, a female passenger jumps up frantically and announces, "If I'm going to die, I want to die feeling like a woman." She removes all her clothing and asks, "Is there someone on this plane who is man enough to make me feel like a woman?" A man stands up, removes his shirt and says, "Here, iron this!".
cdiesel1208
There was a blonde, a redhead, and a brunette. They were all trapped on an island and the nearest shore was 50 miles away. The redhead swam trying to make it to the other shore she swam 15 miles, drowned, and died. The brunette swam 24 miles, drowned, and died. The blonde swam 25 miles, got tired, and swam back.
Donovan