Categories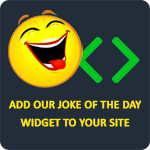 A guy took his blonde girlfriend to her first football game. They had great seats right behind their team's bench. After the game, he asked her how she liked the experience. "Oh, I really liked it," she replied, "especially the tight pants and all the big muscles, but I just couldn't understand why they were killing each other over 25 cents." Dumbfounded, her date asked, "What do you mean?" "Well, they flipped a coin, one team got it, and then for the rest of the game, all they kept screaming was, 'Get the quarterback! Get the quarterback!' I'm like, hello? It's only 25 cents!"
laurieleebrown
How do you blindfold a Chinese person? Put floss over their eyes.
kallen007
As an airplane is about to crash, a female passenger jumps up frantically and announces, "If I'm going to die, I want to die feeling like a woman." She removes all her clothing and asks, "Is there someone on this plane who is man enough to make me feel like a woman?" A man stands up, removes his shirt and says, "Here, iron this!".
cdiesel1208
A man kills a deer and takes it home to cook for dinner. Both he and his wife decide that they won't tell the kids what kind of meat it is, but will give them a clue and let them guess. The dad said, "Well it's what Mommy calls me sometimes." The little girl screamed to her brother, "Don't eat it. Its an asshole!
blackray
Q: What is the Mexican version of One Direction?
A: Juan Direction.
Anonymous