Categories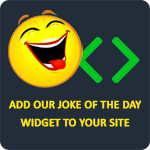 A recent worldwide survey showed that out of 2,146,703,436 people, 94% were too lazy to actually read that number.
flolez
There was a preacher who fell in the ocean and he couldn't swim. When a boat came by, the captain yelled, "Do you need help, sir?" The preacher calmly said "No, God will save me." A little later, another boat came by and a fisherman asked, "Hey, do you need help?" The preacher replied again, "No God will save me." Eventually the preacher drowned & went to heaven. The preacher asked God, "Why didn't you save me?" God replied, "Fool, I sent you two boats!"
rodski
What do you get when you cross an elephant and a rhino? Ell-if-I-no (Hell if I know).
Anonymous
After picking her son up from school one day, the mother asks him what he did at school. The kid replies, "I had sex with my teacher." She gets so mad that when they get home, she orders him to go straight to his room. When the father returns home that evening, the mother angrily tells him the news of what their son had done. As the father hears the news, a huge grin spreads across his face. He walks to his son's room and asks him what happened at school, the son tells him, "I had sex with my teacher." The father tells the boy that he is so proud of him, and he is going to reward him with the bike he has been asking for. On the way to the store, the dad asks his son if he would like to ride his new bike home. His son responds, "No thanks Dad, my butt still hurts."
MISSDIONE02
Q: What is a Mexican 7-course dinner?
A: A taco and a six-pack.
Mulachack