Categories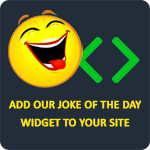 Maria went home happy, telling her mother about how she earned $20 by climbing a tree. Her mom responded, "Maria, they just wanted to see your panties!" Maria replied, "See Mom, I was smart, I took them off!"
yohel
A recent worldwide survey showed that out of 2,146,703,436 people, 94% were too lazy to actually read that number.
flolez
How do you blindfold a Chinese person? Put floss over their eyes.
kallen007
I haven't spoken to my wife for 18 months. I don't like to interrupt her.
LaughFactory
There was a blonde, a redhead, and a brunette. They were all trapped on an island and the nearest shore was 50 miles away. The redhead swam trying to make it to the other shore she swam 15 miles, drowned, and died. The brunette swam 24 miles, drowned, and died. The blonde swam 25 miles, got tired, and swam back.
Donovan