Categories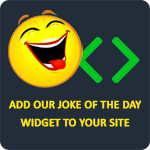 Yo momma is so hairy, when she went to the movie theater to see Star Wars, everybody screamed and said, "IT'S CHEWBACCA!"
Angel Stalone
Yo mamma is so ugly when she took a bath the water jumped out.
zacky
Yo momma is so fat when she went to KFC the cashier asked, "What size bucket?" and yo momma said, "The one on the roof."
jaelynn leonen
Yo momma so stupid she stuck a battery up her ass and said, "I GOT THE POWER!"
GIovanni pinto ramos
Why are asprins white? Because they work!
ScottBackman