Categories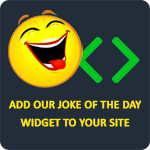 A lady comes home from her doctor's appointment grinning from ear to ear. Her husband asks, "Why are you so happy?" The wife says, "The doctor told me that for a forty-five year old woman, I have the breasts of a eighteen year old." "Oh yeah?" quipped her husband, "What did he say about your forty-five year old ass?" She said, "Your name never came up in the conversation."
Mark My Words
Q: What did the duck say when he bought lipstick?
A: "Put it on my bill."
TheLaughFactory
Yo mama is so fat on Halloween she threw on a white sheet and went as Antarctica.
olaf the unicorn!
A little girl and boy are fighting about the differences between the sexes, and which one is better. Finally, the boy drops his pants and says, "Here's something I have that you'll never have!" The little girl is pretty upset by this, since it is clearly true, and runs home crying. A while later, she comes running back with a smile on her face. She drops her pants and says, "My mommy says that with one of these, I can have as many of those as I want!"
Anonymous
How do you blindfold a Chinese person? Put floss over their eyes.
kallen007