Categories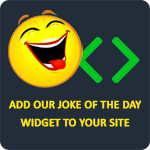 Wife: "How would you describe me?"
Husband: "ABCDEFGHIJK."
Wife: "What does that mean?"
Husband: "Adorable, beautiful, cute, delightful, elegant, fashionable, gorgeous, and hot."
Wife: "Aw, thank you, but what about IJK?"
Husband: "I'm just kidding!"
tiya
A child asked his father, "How were people born?" So his father said, "Adam and Eve made babies, then their babies became adults and made babies, and so on." The child then went to his mother, asked her the same question and she told him, "We were monkeys then we evolved to become like we are now." The child ran back to his father and said, "You lied to me!" His father replied, "No, your mom was talking about her side of the family."
Anonymous
A lady goes to the doctor and complains that her husband is losing interest in sex. The doctor gives her a pill, but warns her that it's still experimental. He tells her to slip it into his mashed potatoes at dinner, so that night, she does just that. About a week later, she's back at the doctor, where she says, "Doc, the pill worked great! I put it in the potatoes like you said! It wasn't five minutes later that he jumped up, raked all the food and dishes onto the floor, grabbed me, ripped all my clothes off, and ravaged me right there on the table!" The doctor says, "I'm sorry, we didn't realize the pill was that strong! The foundation will be glad to pay for any damages." "Nah," she says, "that's okay. We're never going back to that restaurant anyway."
Mariah
A husband exclaims to his wife one day, "Your butt is getting really big. It's bigger than the BBQ grill!" Later that night in bed, the husband makes some advances towards his wife who completely brushes him off. "What's wrong?" he asks. She answers, "Do you really think I'm going to fire up this big-ass grill for one little weenie?"
Washingpound
Bob was in trouble. He forgot his wedding anniversary. His wife was really angry. She told him "Tomorrow morning, I expect to find a gift in the driveway that goes from 0 to 200 in 6 seconds AND IT BETTER BE THERE!" The next morning he got up early and left for work. When his wife woke up, she looked out the window and sure enough there was a box gift-wrapped in the middle of the driveway. Confused, the wife put on her robe and ran out to the driveway, brought the box back in the house. She opened it and found a brand new bathroom scale. Bob has been missing since Friday.
meriwether12