Categories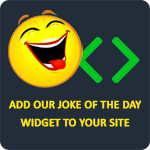 A man and a wife were in bed one morning when the wife said, "I had a strange dream last night. I dreamed I was at a penis auction. Long penises were going for $100 and thick penises were going for $300." The husband asked, "What would mine go for?" The wife replied, "They were giving ones like yours away for free." The husband said, "I also had a dream last night about an auction where they were selling juicy vaginas for $500 and tight vaginas for $1,000." "How about mine?" the wife asked and the husband replied, "That was where they were holding the auction."
Anonymous
A wife says, "Hey! Look at that funny guy whose been drinking a lot." The husband responds, "Who is he?" The wife answers, "Well, five years ago, he was my boyfriend and I denied him for marriage." "Oh my God! He's still celebrating his freedom!" says the husband.
aksoyozgur
Roger is a hard worker, and he spends most of his nights bowling or playing volleyball. One weekend, his wife decides that he needs to relax a little and take a break from sports, so she takes him to a strip club. The doorman at the club spots them and says "Hey Roger! How are you tonight?" His wife, surprised, asks her husband if he has been here before. "No, no. He's just one of the guys I bowl with." They are seated, and the waitress approaches, sees Roger and says "Nice to see you, Roger. A gin and tonic as usual?" His wife's eyes widen. "You must come here a lot!" "No, no" says Roger "I just know her from volleyball." Then a stripper walks up to the table. She throws her arms around Roger and says "Roger! A table dance as usual?" His wife, fuming, collects her things and storms out of the bar. Roger follows her and spots her getting into a cab, so he jumps into the passenger seat. His wife looks at him, seething with fury and flips out on Roger. Just then, the cabby leans over and says "Sure looks like you picked up a bitch tonight, Roger!"
daniel844533
Girlfriend: Darling, will you give me a ring on our wedding day?
Boyfriend: Sure, what is your number?
Anonymous
A man approached a very beautiful woman in the large supermarket and said, "I've lost my wife here in the supermarket. Can you talk to me for a couple of minutes?" The woman looked puzzled. "Why do you want to talk to me?" she asked. "Because every time I talk to a woman with beautiful tits like yours, my wife appears out of nowhere"
penehoff