Categories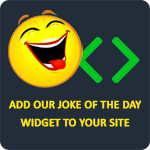 During a bank robbery, the thief's mask slipped off. He fixed it and asked a hostage, "Did you see my face?" The hostage had, so the thief killed him. He asked the next hostage, same result. After he asked a third hostage, the guy responded, "No, but my wife did."
rgactr
A lady comes home from her doctor's appointment grinning from ear to ear. Her husband asks, "Why are you so happy?" The wife says, "The doctor told me that for a forty-five year old woman, I have the breasts of a eighteen year old." "Oh yeah?" quipped her husband, "What did he say about your forty-five year old ass?" She said, "Your name never came up in the conversation."
Mark My Words
A husband and wife are moving out of their house and are starting to box everything up. The husband finds a box under the bed, pulls it out, and looks inside, where he finds two eggs and about $8,000. He approaches the wife and asks, "What are the eggs for?" She replies, "Every time I cheat on you, I put an egg in the box." He says, "That's alright, you've only cheated on me twice. What's the money for?" The wife replies, "Every time I get a dozen, I sell them!"
Anonymous
Man: I know how to please a woman.
Woman: Then please leave me alone.
LaughFactory
A husband asks his wife, "Will you marry after I die?" The wife responds, "No, I will live with my sister." The wife asks him back, "Will you marry after I die?" The husband responds, "No, I will also live with your sister."
joker