Categories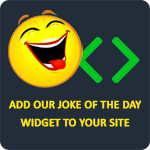 A man and a wife were in bed one morning when the wife said, "I had a strange dream last night. I dreamed I was at a penis auction. Long penises were going for $100 and thick penises were going for $300." The husband asked, "What would mine go for?" The wife replied, "They were giving ones like yours away for free." The husband said, "I also had a dream last night about an auction where they were selling juicy vaginas for $500 and tight vaginas for $1,000." "How about mine?" the wife asked and the husband replied, "That was where they were holding the auction."
Anonymous
Girlfriend: Darling, will you give me a ring on our wedding day?
Boyfriend: Sure, what is your number?
Anonymous
A man approached a very beautiful woman in the large supermarket and said, "I've lost my wife here in the supermarket. Can you talk to me for a couple of minutes?" The woman looked puzzled. "Why do you want to talk to me?" she asked. "Because every time I talk to a woman with beautiful tits like yours, my wife appears out of nowhere"
penehoff
A man comes home, finds his wife in bed with another man, and asks, "What is this?!?" The wife turns to her lover and says, "See, I told you he was stupid!"
tabya6
An old man and old woman got married and went on their honeymoon. They were in bed getting ready to have sex for the first time and the old woman said, "I should tell you I have acute angina." The old man says, "I hope so. You sure don't have cute tits."
TheLaughFactory