Categories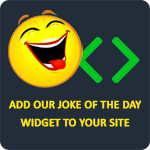 Q: What did the cannibal do after dumping his girlfriend?
A: He wiped his bum.
That Wright
A guy and his wife are sitting and watching a boxing match on television. The husband sighs and complains, "This is disappointing. It only lasted for 30 seconds!" "Good," replied his wife. "Now you know how I always feel."
Kid.KT
Dylan was practicing his golf swing in his front yard when he swung a little too hard and sent the ball through his neighbors window. Dylan ran over and rang the doorbell three times. After no one answered for a few minutes, he opened the door to see broken glass everywhere, a lamp lying on the ground, and a huge fat Arabian man wearing a turban sitting on the couch. Dylan asked, "Who are you?" The fat man replied, "I am a genie you have freed from that lamp." Dylan questioned, "Oh man, do I get three wishes?" The genie replied, "Since you freed me by accident you only get two and I get one." Dylan thought about it and realized what he wanted, "I want to be the best golfer ever." The surprised genie said, "You sure? Most people wish for money, but okay. Now your wife gets one wish." Dylan brought over his wife who wished right away, "I want a million dollars every week of my life." The genie said, "Granted. And now for my wish, I have been cramped up in that lamp for many years so its been a while since I've been with a woman. I want one day of wild, crazy sex with your wife, Dylan." Dylan said, "No way!" The genie replied, "Not even for a million dollars a week?" Dylan turned to his wife, who said, "I guess for all that, I should. Well, not until Dylan leaves." Dylan said, "Okay, have fun, I guess," and left. Dylan's wife then proceeded to have wild sex for the rest of the day with the genie. When they were finished, the genie asked how old her husband was. She said, "Forty-five." The Genie laughed and said, "Isn't he a little old to be believing in genies?"
Joseph Emberson
A man walks into a bar and orders a shot, then he looks into his shirt pocket and orders another one. After he finishes, he looks into his pocket again and orders another shot. The bartender is curious and asks the man why he looks into his pocket before ordering each shot. The man replies, "I have a picture of my wife in my pocket, and when she starts to look good, I go home."
aussieange
The secret to a long marriage is that we take time to go to a restaurant two times a week. A little candlelight, dinner, soft music and dancing. She goes on Tuesdays. I go on Fridays.
Jesse Madrid