Categories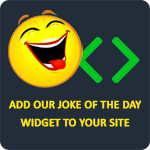 A man came home from work, sat down in his favorite chair, turned on the TV, and said to his wife, "Quick, bring me a beer before it starts" She looked a little puzzled, but brought him a beer. When he finished it, he said, "Quick, bring me another beer. It's gonna start." This time she looked a little angry, but brought him a beer. When it was gone, he said, "Quick, another beer before it starts." "That's it!" She blows her top, "You bastard! You waltz in here, flop your fat ass down, don't even say hello to me and then expect me to run around like your slave. Don't you realize that I cook and clean and wash and iron all day long?" The husband sighed. "Oh shit, it started!"
TheLaughFactory
A man put out a classified ad that read, "Wife wanted." The next day he received a hundred responses all saying the same thing: "You can have mine."
Ellen Nichol
A wife asked her husband, "Honey, will you still love me when I am old and overweight?" The man replied, "Yes, I do."
Anonymous
If you want to know who is really man's best friend, put your dog and your wife in the trunk of your car, come back an hour later, open the trunk, and see which one is happy to see you.
Anonymous
Q: Why didn't the man report his stolen credit card?
A: The thief was spending less then his wife.
TheLaughFactory