Categories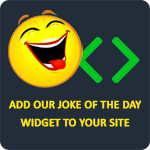 A man joins a soccer team and his new teammates inform him, "At your first team dinner as the new guy, you will have to give us a talk about sex." The evening arrives and he gives a detailed, humorous account of his sex life. When he got home, his wife asked how the evening went and not wanting to lie, but also not wanting to explain exactly what happened, he said, "Oh, I had to make a talk about yachting," his wife thought this a little peculiar but said nothing more and went to sleep. The next day she bumped into one of his new teammates at the supermarket and asked, "I heard my husband had to make a speech last night. How did it go?" His mate said smiling, 'Oh, it was excellent! Your husband is clearly very experienced!." The wife looked confused and replied to his mate, "Strange, he has only done it twice and the second time he was sick."
Anonymous
A man admitted he lied on his income tax return: he listed himself as the head of the household!
TheLaughFactory
Man: I would go to the end of the world for you.
Woman: Yes, but would you stay there?
LaughFactory
A lady comes home from her doctor's appointment grinning from ear to ear. Her husband asks, "Why are you so happy?" The wife says, "The doctor told me that for a forty-five year old woman, I have the breasts of a eighteen year old." "Oh yeah?" quipped her husband, "What did he say about your forty-five year old ass?" She said, "Your name never came up in the conversation."
Mark My Words
Q: What worse than finding out your ex-wife got cancer? A: Finding out it's curable.
TheLaughFactory