Categories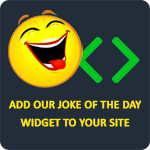 I'm about three years into my relationship now and I've started to have erection difficulties. My girlfriend and I have different ideas as to what the problem is: she bought me some Viagra and I bought her a treadmill.
george
In the first year of marriage, the man speaks and the woman listens. In the second year, the woman speaks and the man listens. In the third year, they both speak and the neighbors listen.
Me, MotherRussia
If a man opens the car door for his wife, you can be sure of one thing: either the car is new or the wife.
Anonymous
An old man goes into Victoria's Secret and tells the sales-person behind the counter he needs a present for his wife. "See," explains the man, "It is my fiftieth wedding anniversary and I would like to get something pretty to surprise the little lady, if you know what I mean." When he gets home, his wife asks with a scowl on her face, "Where have you been?" "Surprise," says the old man and hands her a sexy tiny teddy. The wife rips it from his hand and takes it to the bathroom to try it on. She struggles to make it fit, but it is two sizes too small. She take a long time in the bathroom and hopes her husband will lose interest and fall asleep because it is getting late into the evening. Finally she emerges from the bathroom with all the lights out. She is completely nude and pretends to model it in front of him. Her husband, still sitting up, squinting to try and see finally says, "For as much money I spent on it, they could of at least ironed out the wrinkles."
Mark My Words
Roger is a hard worker, and he spends most of his nights bowling or playing volleyball. One weekend, his wife decides that he needs to relax a little and take a break from sports, so she takes him to a strip club. The doorman at the club spots them and says "Hey Roger! How are you tonight?" His wife, surprised, asks her husband if he has been here before. "No, no. He's just one of the guys I bowl with." They are seated, and the waitress approaches, sees Roger and says "Nice to see you, Roger. A gin and tonic as usual?" His wife's eyes widen. "You must come here a lot!" "No, no" says Roger "I just know her from volleyball." Then a stripper walks up to the table. She throws her arms around Roger and says "Roger! A table dance as usual?" His wife, fuming, collects her things and storms out of the bar. Roger follows her and spots her getting into a cab, so he jumps into the passenger seat. His wife looks at him, seething with fury and flips out on Roger. Just then, the cabby leans over and says "Sure looks like you picked up a bitch tonight, Roger!"
daniel844533