Categories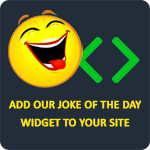 Man: Hey baby, what's your sign?
Woman: Do Not Enter
LaughFactory
A man and a woman have just had their 50th wedding anniversary. The husband turns to his wife and asks, "What do you want to do to celebrate our anniversary dear?" She replies, "Let's run upstairs and make love." He turns to her and says, "Well make up your mind, we can't do both!"
fieldfam
My wife is such a bad cook, the flies chipped in to fix the screens. - Rodney Dangerfield
fastfidos
A man is at work one day, when he notices that his co-worker is wearing an earring. The man knows his co-worker to be a conservative guy, and is curious about his sudden change in fashion sense. The man walks up and says, "I didn't know you were into earrings." The co-worker responds sheepishly, "Don't make such a big deal out of this, it's only an earring." The man falls silent for a few minutes, but then his curiosity prods him to say, "So how long have you been wearing one?" The co-worker responds, "Ever since my wife found it in my truck."
markhorist
Our last fight was my fault. My wife asked me,"What's on the TV?" I said, "Dust."
LaughFactory