Categories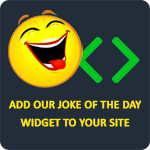 A couple drives to the hospital because the wife is in labor. The doctor alerts them that she invented a machine that will transfer some of the labor pain to the father, if they'd like. The husband eagerly says, "Give it all to me!" The couple returns home with a bouncing baby boy, only to find the mailman dead on their lawn.
pattyvasquez
Peter sat at his dying wife's bedside. Her voice was little more than a whisper. "Pete darling," she breathed, "I've a confession to make before I go... I... I'm the one who took the $10,000 from your safe. I spent it on a fling with your best friend, Alex. And it was I who forced your mistress to leave the city. And I am the one who reported your income tax evasion to the government." "Don't give it a second thought, sweetheart. Who do you think gave you the poison?" answered Peter.
Anonymous
I've spent the last two years looking for my wife's killer, but nobody will do it.
TheLaughFactory
If you want to know who is really man's best friend, put your dog and your wife in the trunk of your car, come back an hour later, open the trunk, and see which one is happy to see you.
Anonymous
A man and a woman have just had their 50th wedding anniversary. The husband turns to his wife and asks, "What do you want to do to celebrate our anniversary dear?" She replies, "Let's run upstairs and make love." He turns to her and says, "Well make up your mind, we can't do both!"
fieldfam