Categories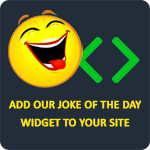 Man: Your place or mine?
Woman: Both. You go to yours and I'll go to mine.
LaughFactory
A funeral service was being held for a young woman who had just passed away. As the pallbearers carried the casket out, they accidentally bumped into a wall. They heard a faint moan come from inside the casket. They opened the casket and found that the woman was still alive! She went on to live 10 more years and then died, and they held another funeral for her. While the pallbearers were carrying her out, her husband yelled, "Watch out for that wall!"
sweetbutter
I'm about three years into my relationship now and I've started to have erection difficulties. My girlfriend and I have different ideas as to what the problem is: she bought me some Viagra and I bought her a treadmill.
george
My wife was complaining the other day saying that I never take her anywhere expensive anymore. So I said, "Come on, get in the car. We're going to the gas station."
Gurney
I've been in love with the same woman for 20 years. If my wife finds out, she'll kill me.
Samantha Stoker