Categories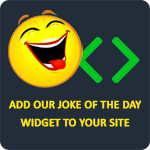 Man: I would go to the end of the world for you.
Woman: Yes, but would you stay there?
LaughFactory
Q: What worse than finding out your ex-wife got cancer? A: Finding out it's curable.
TheLaughFactory
Q: What book do women like the most?
A: Their boyfriends paycheck!
TheLaughFactory
When you are married, nobody asks about your sex life. They know that you don't have one!
at3418
How many honest, intelligent, caring men in the world does it take to do the dishes? Both of them.
LaughFactory