Categories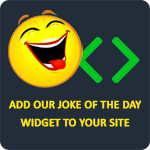 A man approached a very beautiful woman in the large supermarket and said, "I've lost my wife here in the supermarket. Can you talk to me for a couple of minutes?" The woman looked puzzled. "Why do you want to talk to me?" she asked. "Because every time I talk to a woman with beautiful tits like yours, my wife appears out of nowhere"
penehoff
I married Miss Right. I just didn't know her first name was Always.
LaughFactory
A man comes home, finds his wife in bed with another man, and asks, "What is this?!?" The wife turns to her lover and says, "See, I told you he was stupid!"
tabya6
Girlfriend: Darling, will you give me a ring on our wedding day?
Boyfriend: Sure, what is your number?
Anonymous
Boyfriend: "ILY."
Girlfriend: "Can you please say the words? It makes it better."
Boyfriend: "I'm leaving you."
Marcie