Categories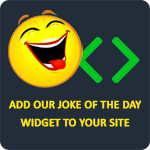 My wife was complaining the other day saying that I never take her anywhere expensive anymore. So I said, "Come on, get in the car. We're going to the gas station."
Gurney
A man drinks a shot of whiskey every night before bed. After years of this, the wife wants him to quit. She gets two shot glasses, fills one with water and the other with whiskey. After bringing him to the table that has the glasses, she brings his bait box. She says, "I want you to see this." She puts a worm in the water, and it swims around. She puts a worm in the whiskey, and the worm dies immediately. She then says, feeling that she has made her point clear, "What do you have to say about this experiment?" He responds by saying, "If I drink whiskey, I won't get worms!"
Viva173
I'm about three years into my relationship now and I've started to have erection difficulties. My girlfriend and I have different ideas as to what the problem is: she bought me some Viagra and I bought her a treadmill.
george
If a man opens the car door for his wife, you can be sure of one thing: either the car is new or the wife.
Anonymous
In the first year of marriage, the man speaks and the woman listens. In the second year, the woman speaks and the man listens. In the third year, they both speak and the neighbors listen.
Me, MotherRussia