Categories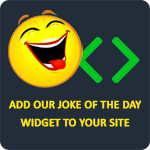 A man is standing at a grave, staring at the head stone. A second man walks up and asks, "Is this someone you knew?" The first guy says, "Yes, it was my wife." The second guy says, "It must be hard to lose a wife." The first guys replies, "Yep, damn near impossible."
KSConn1
A husband and wife decide they need to spice up their sex life. The wife buys a pair of crotchless underwear, puts them on, and goes into the bedroom. She seductively asks her husband, "Hey Big Boy, do ya want some of this?" The husband takes one look at her underwear and replies, "Hell no! Look what that thing does to underwear!"
Greg
Man: I would go to the end of the world for you.
Woman: Yes, but would you stay there?
LaughFactory
Q: What book do women like the most?
A: Their boyfriends paycheck!
TheLaughFactory
Q: What worse than finding out your ex-wife got cancer? A: Finding out it's curable.
TheLaughFactory