Categories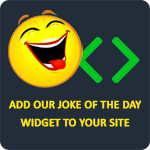 Man: I would go to the end of the world for you.
Woman: Yes, but would you stay there?
LaughFactory
Q: What book do women like the most?
A: Their boyfriends paycheck!
TheLaughFactory
Q: What worse than finding out your ex-wife got cancer? A: Finding out it's curable.
TheLaughFactory
When you are married, nobody asks about your sex life. They know that you don't have one!
at3418
Getting married is like going to a restaurant with friends. You order what you want, then when you see what the other fellow has, you wish you had ordered that instead.
naveen