Categories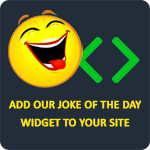 I never knew the meaning of true happiness until I got married but then it was too late.
epiccaasi
A man is at work one day, when he notices that his co-worker is wearing an earring. The man knows his co-worker to be a conservative guy, and is curious about his sudden change in fashion sense. The man walks up and says, "I didn't know you were into earrings." The co-worker responds sheepishly, "Don't make such a big deal out of this, it's only an earring." The man falls silent for a few minutes, but then his curiosity prods him to say, "So how long have you been wearing one?" The co-worker responds, "Ever since my wife found it in my truck."
markhorist
Man: Hey baby, what's your sign?
Woman: Do Not Enter
LaughFactory
What do marriage and a tornado have in common? In the beginning there's a lot of blowing and sucking, and in the end someone loses a house.
Shalia
My wife is such a bad cook, the flies chipped in to fix the screens. - Rodney Dangerfield
fastfidos