Categories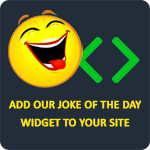 A man and a wife were in bed one morning when the wife said, "I had a strange dream last night. I dreamed I was at a penis auction. Long penises were going for $100 and thick penises were going for $300." The husband asked, "What would mine go for?" The wife replied, "They were giving ones like yours away for free." The husband said, "I also had a dream last night about an auction where they were selling juicy vaginas for $500 and tight vaginas for $1,000." "How about mine?" the wife asked and the husband replied, "That was where they were holding the auction."
Anonymous
Q: What worse than finding out your ex-wife got cancer? A: Finding out it's curable.
TheLaughFactory
When you are married, nobody asks about your sex life. They know that you don't have one!
at3418
Getting married is like going to a restaurant with friends. You order what you want, then when you see what the other fellow has, you wish you had ordered that instead.
naveen
How many honest, intelligent, caring men in the world does it take to do the dishes? Both of them.
LaughFactory