Categories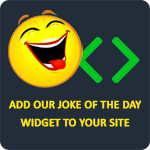 A wife says, "Hey! Look at that funny guy whose been drinking a lot." The husband responds, "Who is he?" The wife answers, "Well, five years ago, he was my boyfriend and I denied him for marriage." "Oh my God! He's still celebrating his freedom!" says the husband.
aksoyozgur
There are three women. One is dating, one is engaged, and one is married. They decide to get kinky with their men and really pull out all the stops to make it extra special. The woman who is dating says, "Okay, so I bought black leather, red lipstick, fishnet stockings, and really got crazy. He loved it so much he thinks he's in love." The woman who is engaged says, "I showed up to his work after hours wearing only a red coat. Let's just say he wants to move the wedding date up!" The woman who is married says, "Okay, I really went all out. I got a babysitter for the kids, and bought a black mask and a whip. My husband gets home, goes straight to the fridge, and grabs a beer. Then he plops down on the couch and says, 'Hey Batman! Where the f*ck is dinner?!?'"
mgrove0328
Roger is a hard worker, and he spends most of his nights bowling or playing volleyball. One weekend, his wife decides that he needs to relax a little and take a break from sports, so she takes him to a strip club. The doorman at the club spots them and says "Hey Roger! How are you tonight?" His wife, surprised, asks her husband if he has been here before. "No, no. He's just one of the guys I bowl with." They are seated, and the waitress approaches, sees Roger and says "Nice to see you, Roger. A gin and tonic as usual?" His wife's eyes widen. "You must come here a lot!" "No, no" says Roger "I just know her from volleyball." Then a stripper walks up to the table. She throws her arms around Roger and says "Roger! A table dance as usual?" His wife, fuming, collects her things and storms out of the bar. Roger follows her and spots her getting into a cab, so he jumps into the passenger seat. His wife looks at him, seething with fury and flips out on Roger. Just then, the cabby leans over and says "Sure looks like you picked up a bitch tonight, Roger!"
daniel844533
I married Miss Right. I just didn't know her first name was Always.
LaughFactory
Boyfriend: "ILY."
Girlfriend: "Can you please say the words? It makes it better."
Boyfriend: "I'm leaving you."
Marcie