Categories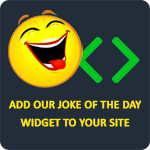 In the first year of marriage, the man speaks and the woman listens. In the second year, the woman speaks and the man listens. In the third year, they both speak and the neighbors listen.
Me, MotherRussia
Roger is a hard worker, and he spends most of his nights bowling or playing volleyball. One weekend, his wife decides that he needs to relax a little and take a break from sports, so she takes him to a strip club. The doorman at the club spots them and says "Hey Roger! How are you tonight?" His wife, surprised, asks her husband if he has been here before. "No, no. He's just one of the guys I bowl with." They are seated, and the waitress approaches, sees Roger and says "Nice to see you, Roger. A gin and tonic as usual?" His wife's eyes widen. "You must come here a lot!" "No, no" says Roger "I just know her from volleyball." Then a stripper walks up to the table. She throws her arms around Roger and says "Roger! A table dance as usual?" His wife, fuming, collects her things and storms out of the bar. Roger follows her and spots her getting into a cab, so he jumps into the passenger seat. His wife looks at him, seething with fury and flips out on Roger. Just then, the cabby leans over and says "Sure looks like you picked up a bitch tonight, Roger!"
daniel844533
A mother comes home from work to find that her kids are hiding behind the couch. She asks what's wrong, and the kids reply that aunt Sally was in the house naked. So she goes to her bedroom to investigate, and she finds her husband lying on the bed naked and sweaty. She asks, "What's going on?" He replies, "I'm having a heart attack." She says "I'm going to call 911, while I'm really looking for my sister." She discovers the aunt in the bathroom closet in the nude, and gives her a slap, "How dare you! My husband is having a heart attack and you're running around scaring the kids!"
jokester01
A man wakes up in the hospital, bandaged from head to foot. The doctor comes in and says, "Ah, I see you've regained consciousness. Now, you probably won't remember, but you were in a pile up on the freeway. You're going to be okay, you'll walk again and everything, but something happened. I'm trying to break this gently, but the fact is, your willy was chopped off in the wreck, and we were unable to find it." The man groans, but the doctor goes on, "You've got $9000 in insurance compensation coming to you, and we have the technology now to build you a new willy that will work as well as your old one did, better in fact! But the thing is, it doesn't come cheap. It's $1000 an inch." The man perks up at this. "So," the doctor says, "it's for you to decide how many inches you want, but it's something you'd better discuss with your wife. I mean, if you had a five inch one before, and you decide to go for a nine incher, she might be a bit put out. But if you had a nine inch one before, and you decide only to invest in a five incher this time, she might be disappointed. So it's important that she plays a role in helping you make the decision." The man agrees to talk with his wife. The doctor comes back the next day. "So," says the doctor, "have you spoken with your wife?" "I have," says the man. "And has she helped you in making the decision?" asked the doctor. "She has," says the man. "And what is it?" asks the doctor. "We're getting a new kitchen."
Frosty
A husband suspected his wife was cheating on him. He explained his situation to a pet shop owner who replied, "I have a parrot that will let you know daily what goes on in your house. The bird has no legs, so he holds onto his perch with his penis." Reluctantly, the husband brought the bird home. At the end of the first day, the man asked the bird, "Did anything happen today?" The parrot said, "Yes, the milk man came over." The man asked, "What did he do with my wife?" The bird said, "I don't know; I got hard and fell."
luis