Categories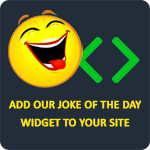 On the night of their honeymoon, a newlywed couple has an unfortunate accident, resulting in the amputation of the groom's left foot. Unable to control her grief, the bride calls her mother from the hospital. "Mother," she sobs, "my husband has only one foot." The mother, trying to console her daughter, says, "That's alright dear, your father has only six inches."
Anonymous
The five most important qualities in a woman: one who is independent and helps around the house, one who can make you laugh, one who you can trust, one who is good in bed, and most importantly, one who should make sure these four women never meet.
wildpuppy
A husband says to his wife, "Honey I just won the lottery. Pack your bags!" The wife says, "Great. Should I pack for warm weather or cold weather?" The husband replies, "I don't care, just get the hell out!"
comedylove
Two antennas met on a roof, fell in love, and got married. The ceremony wasn't much, but the reception was excellent!
stepbreaker
I get no respect with my wife. I fell asleep with a cigarette in my hand. She lit it.
Aces