Categories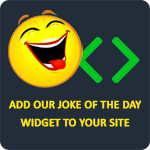 Man: I know how to please a woman.
Woman: Then please leave me alone.
LaughFactory
Jane: "Where are all the kind, considerate, loving men who can show their feelings?"
Jill: "They already have boyfriends."
Mark My Words
A woman awakes during the night to find that her husband is not in their bed. She puts on her robe and goes downstairs to look for him. She finds him sitting at the kitchen table with a cup of coffee in front of him. He appears deep in thought, just staring at the wall. She watches as he wipes a tear from his eye and takes a sip of coffee. "What's the matter, dear?" she whispers as she steps into the room. "Why are you down here at this time of night?" The husband looks up, "Do you remember 20 years ago when we were dating, and you were only 17?" he asks solemnly. The wife is touched, thinking her husband is so caring and sensitive. "Yes, I do," she replies. The husband pauses. The words are not coming easily. "Do you remember when your father caught us in the backseat of my car?" "Yes, I remember," says the wife, lowering herself into a chair beside him. The husband continues, "Do you remember when he shoved a shotgun in my face and said, "Either you marry my daughter, or I will send you to jail for 20 years!" "I remember that too," she replies softly. He wipes another tear from his cheek and says, "I would have gotten out today!"
Anonymous
A little old lady comes into the kitchen to talk to her husband and says, "Honey just look at me. My legs are heavy, thighs are getting big, and boobs are sagging. I could really use a complement right about now." The husband replied, "You have really good eye sight!"
nightmaregirl
A young couple is on their honeymoon. The husband is sitting in the bathroom on the edge of the bathtub saying to himself, "Now how can I tell my wife that I've got really smelly feet and that my socks absolutely stink? I've managed to keep it from her while we were dating, but she's bound to find out sooner or later that my feet stink. Now how do I tell her?" Meanwhile, the wife is sitting in the bed saying to herself, "Now how do I tell my husband that I've got really bad breath? I've been very lucky to keep it from him while we were courting, but as soon as he's lived with me for a week, he's bound to find out. Now how do I tell him gently?" The husband finally plucks up enough courage to tell his wife and walks into the bedroom. He walks over to the bed, climbs over to his wife, puts his arm around her neck, moves his face very close to hers and says, "Darling, I've got a confession to make." She says, "So have I, love." To which he replies, "Don't tell me, you've eaten my socks."
milagallo