Categories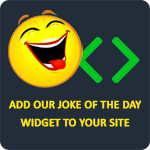 A woman awakes during the night to find that her husband is not in their bed. She puts on her robe and goes downstairs to look for him. She finds him sitting at the kitchen table with a cup of coffee in front of him. He appears deep in thought, just staring at the wall. She watches as he wipes a tear from his eye and takes a sip of coffee. "What's the matter, dear?" she whispers as she steps into the room. "Why are you down here at this time of night?" The husband looks up, "Do you remember 20 years ago when we were dating, and you were only 17?" he asks solemnly. The wife is touched, thinking her husband is so caring and sensitive. "Yes, I do," she replies. The husband pauses. The words are not coming easily. "Do you remember when your father caught us in the backseat of my car?" "Yes, I remember," says the wife, lowering herself into a chair beside him. The husband continues, "Do you remember when he shoved a shotgun in my face and said, "Either you marry my daughter, or I will send you to jail for 20 years!" "I remember that too," she replies softly. He wipes another tear from his cheek and says, "I would have gotten out today!"
Anonymous
A husband and wife decide they need to spice up their sex life. The wife buys a pair of crotchless underwear, puts them on, and goes into the bedroom. She seductively asks her husband, "Hey Big Boy, do ya want some of this?" The husband takes one look at her underwear and replies, "Hell no! Look what that thing does to underwear!"
Greg
Man: I would go to the end of the world for you.
Woman: Yes, but would you stay there?
LaughFactory
A young man and woman got married. At the time of their marriage, the husband noticed his wife carried a decently sized metal box and shoved it up at the top of their closet. Curious as he was, the wife told him to never to look in it no matter what the circumstances. Over the years, he saw that metal box in the closet, but never peered into it for the sake of his wife. One day, though, the wife had a stroke and was rushed to the hospital. As the husband sat grieving at home, he thought of the box, snatched it up, and sped to the hospital where his wife remained with her death coming soon. The husband bolted to her hospital room and pleaded and begged her to allow him to open the box by her side. "Well" she said, "I suppose now would be the right time." The husband unlatched the hook and peered inside. On one side sat two crocheted dolls, and on the other, to his surprise, sat one million dollars! "Honey, before we got married, my mother gave me this box and told me that whenever I got mad at you, I should go to the bedroom and crotchet a doll," said the wife. The husband was thrilled and thankful. He absolutely couldn't believe his wife had only been mad at him two times! "That is amazing!" said the husband to his wife. "Honey, I'm grateful beyond belief you've only been mad at me twice, but how on this earth did you manage to get one million dollars?" "Oh, honey" said the wife, "That's the money I got from selling the dolls."
Nick Williams
Q: What the difference between your first and second honeymoon?
A: Niagara and Viagra.
Mark My Words