Categories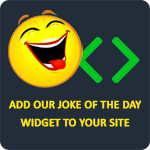 A man joins a soccer team and his new teammates inform him, "At your first team dinner as the new guy, you will have to give us a talk about sex." The evening arrives and he gives a detailed, humorous account of his sex life. When he got home, his wife asked how the evening went and not wanting to lie, but also not wanting to explain exactly what happened, he said, "Oh, I had to make a talk about yachting," his wife thought this a little peculiar but said nothing more and went to sleep. The next day she bumped into one of his new teammates at the supermarket and asked, "I heard my husband had to make a speech last night. How did it go?" His mate said smiling, 'Oh, it was excellent! Your husband is clearly very experienced!." The wife looked confused and replied to his mate, "Strange, he has only done it twice and the second time he was sick."
Anonymous
Man: "Wanna hear a joke about my penis? Oh never mind, it's too long."
Woman: "Want to hear a joke about my vagina? Never mind, you'll never get it."
Yo mamma
A man is at work one day, when he notices that his co-worker is wearing an earring. The man knows his co-worker to be a conservative guy, and is curious about his sudden change in fashion sense. The man walks up and says, "I didn't know you were into earrings." The co-worker responds sheepishly, "Don't make such a big deal out of this, it's only an earring." The man falls silent for a few minutes, but then his curiosity prods him to say, "So how long have you been wearing one?" The co-worker responds, "Ever since my wife found it in my truck."
markhorist
Our last fight was my fault. My wife asked me,"What's on the TV?" I said, "Dust."
LaughFactory
Why do married men gain weight and bachelors don't? The bachelors go to the refrigerator, see nothing they want, then go to bed. Married guys go to bed, see nothing they want, then go to the refrigerator.
Anonymous