Categories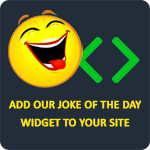 Man: Your body is like a temple.
Woman: Sorry, there are no services today.
LaughFactory
A country wife came home just in time to find her husband in bed with another woman. With superhuman strength, borne of fury, and cutting firewood, lifting sacks of feed, and bales of hay, she dragged him down the stairs, out the back door, and into the barn. She put his manhood in a vice, secured it tightly, and removed the handle. Next, she picked up an old carpenter's saw. The banged up cheater was terrified and hollered, "Stop! Stop! You're not gonna cut it off with that rusty saw, are you?" The wife, with a gleam of revenge in her eye, put the saw in her husband's hand and said, "Nope. You are! I'm gonna burn down the barn!"
cecesntraffic
A man is at work one day, when he notices that his co-worker is wearing an earring. The man knows his co-worker to be a conservative guy, and is curious about his sudden change in fashion sense. The man walks up and says, "I didn't know you were into earrings." The co-worker responds sheepishly, "Don't make such a big deal out of this, it's only an earring." The man falls silent for a few minutes, but then his curiosity prods him to say, "So how long have you been wearing one?" The co-worker responds, "Ever since my wife found it in my truck."
markhorist
Why do married men gain weight and bachelors don't? The bachelors go to the refrigerator, see nothing they want, then go to bed. Married guys go to bed, see nothing they want, then go to the refrigerator.
Anonymous
Our last fight was my fault. My wife asked me,"What's on the TV?" I said, "Dust."
LaughFactory