Categories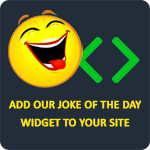 A man escapes from prison where he has been for 15 years. He breaks into a house to look for money and guns, and finds a young couple in bed. He orders the guy out of bed and ties him to a chair. He ties the girl to the bed and he gets on top of her, kisses her neck, and then gets up and goes into the bathroom. While he's in there, the husband tells his wife, "Listen, this guy is an escaped convict, look at his clothes! He probably spent lots of time in jail and hasn't seen a woman in years. I saw how he kissed your neck. If he wants sex, don't resist, don't complain, do whatever he tells you. Satisfy him no matter how much he nauseates you. This guy is probably very dangerous. If he gets angry, he'll kill us. Be strong, honey. I love you." His wife responds, "He wasn't kissing my neck. He was whispering in my ear. He told me he was gay, thought you were cute, and asked me if we had any Vaseline. I told him it was in the bathroom. Be strong honey. I love you, too!"
peeh
Women might be able to fake orgasms, but men can fake a whole relationship.
christymdrew
A lady comes home from her doctor's appointment grinning from ear to ear. Her husband asks, "Why are you so happy?" The wife says, "The doctor told me that for a forty-five year old woman, I have the breasts of a eighteen year old." "Oh yeah?" quipped her husband, "What did he say about your forty-five year old ass?" She said, "Your name never came up in the conversation."
Mark My Words
An explorer goes into an undiscovered tomb for the first time, and in the center of the tomb there's a lamp. He picks it up, and as he starts to rub the dirt off of it, a genie comes out of the lamp and says, "I want to know the person you hate the most." The explorer says, "That's gotta be my ex-wife. Why?" "I am a cursed genie. I will grant you three wishes, but whatever you wish for, your ex-wife will get double that amount." "Okay, I wish for a billion dollars." "Granted, but you ex-wife gets two billion dollars." "I wish for a mansion in California with a swimming pool, and tennis courts, everything." "Granted, and your ex-wife gets two." "Now make your final wish." The explorer walks around for a few minutes, returns to the genie with a stick, and says, "You see this stick? I'd like you to beat me half to death."
Anonymous
A husband, who has six children, begins to call his wife "mother of six" rather than by her first name. The wife, amused at first, chuckles. A few years down the road, the wife has grown tired of this. "Mother of six," he would say, "what's for dinner tonight? Get me a beer!" She gets very frustrated. Finally, while attending a party with her husband, he jokingly yells out, "Mother of six, I think it's time to go!" The wife immediately shouts back, "I'll be right with you, father of four!"
Anonymous