Categories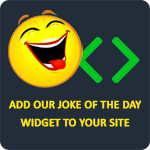 Ralph is driving home one evening, when he suddenly realizes that it's his daughter's birthday and he hasn't bought her a present. He drives to the mall, runs to the toy store, and says to the shop assistant, "How much is that Barbie in the window?" In a condescending manner, she says, "Which Barbie?" She continues, "We have Barbie Goes to the Gym for $19.95, Barbie Goes to the Ball for $19.95, Barbie Goes Shopping for $19.95, Barbie Goes to the Beach for $19.95, Barbie Goes Nightclubbing for $19.95, and Divorced Barbie for $265.00." Ralph asks, "Why is the Divorced Barbie $265.00 when all the others are only $19.95?" "That's obvious," the saleslady says. "Divorced Barbie comes with Ken's house, Ken's car, Ken's boat, Ken's furniture..."
Andrew
A lady comes home from her doctor's appointment grinning from ear to ear. Her husband asks, "Why are you so happy?" The wife says, "The doctor told me that for a forty-five year old woman, I have the breasts of a eighteen year old." "Oh yeah?" quipped her husband, "What did he say about your forty-five year old ass?" She said, "Your name never came up in the conversation."
Mark My Words
Wife: "In my dream, I saw you in a jewelry store and you bought me a diamond ring."
Husband: "I had the same dream and I saw your dad paying the bill."
Anonymous
A man escapes from prison where he has been for 15 years. He breaks into a house to look for money and guns, and finds a young couple in bed. He orders the guy out of bed and ties him to a chair. He ties the girl to the bed and he gets on top of her, kisses her neck, and then gets up and goes into the bathroom. While he's in there, the husband tells his wife, "Listen, this guy is an escaped convict, look at his clothes! He probably spent lots of time in jail and hasn't seen a woman in years. I saw how he kissed your neck. If he wants sex, don't resist, don't complain, do whatever he tells you. Satisfy him no matter how much he nauseates you. This guy is probably very dangerous. If he gets angry, he'll kill us. Be strong, honey. I love you." His wife responds, "He wasn't kissing my neck. He was whispering in my ear. He told me he was gay, thought you were cute, and asked me if we had any Vaseline. I told him it was in the bathroom. Be strong honey. I love you, too!"
peeh
A man asks his wife, "What would you do if I won the lottery?" His wife says, "Take half and leave your ass!" The man replies, "Great! I won 12 bucks, here is six, now get out!"
Anonymous