Categories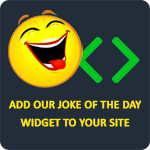 Ralph is driving home one evening, when he suddenly realizes that it's his daughter's birthday and he hasn't bought her a present. He drives to the mall, runs to the toy store, and says to the shop assistant, "How much is that Barbie in the window?" In a condescending manner, she says, "Which Barbie?" She continues, "We have Barbie Goes to the Gym for $19.95, Barbie Goes to the Ball for $19.95, Barbie Goes Shopping for $19.95, Barbie Goes to the Beach for $19.95, Barbie Goes Nightclubbing for $19.95, and Divorced Barbie for $265.00." Ralph asks, "Why is the Divorced Barbie $265.00 when all the others are only $19.95?" "That's obvious," the saleslady says. "Divorced Barbie comes with Ken's house, Ken's car, Ken's boat, Ken's furniture..."
Andrew
After Brian proposed to Jill, his father took him to one side. "Son, when I first got married to your mother, the first thing I did when we got home was take off my pants. I gave them to your mother and told her to try them on, which she did. They were huge on her and she said that she couldn't wear them because they were too large. I said to her, 'Of course they are too big for you, I wear the pants in this family and I always will.' Ever since that day, son, we have never had a single problem." Brian took his dad's advice and did the same thing to his wife on his wedding night. Then, Jill took off her panties and gave them to Brian. "Try these on," she said. Brian went along with it and tried them on, but they were far too small. "What's the point of this? I can't get into your panties," said Brian. "Exactly," Jill replied, "and if you don't change your attitude, you never will!"
Anonymous
A lady comes home from her doctor's appointment grinning from ear to ear. Her husband asks, "Why are you so happy?" The wife says, "The doctor told me that for a forty-five year old woman, I have the breasts of a eighteen year old." "Oh yeah?" quipped her husband, "What did he say about your forty-five year old ass?" She said, "Your name never came up in the conversation."
Mark My Words
Q: Is Google male or female?
A: Female, because it doesn't let you finish a sentence before making a suggestion.
Montgomery2004
Wife: "In my dream, I saw you in a jewelry store and you bought me a diamond ring."
Husband: "I had the same dream and I saw your dad paying the bill."
Anonymous