Categories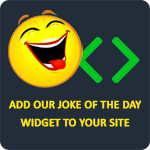 A wife comes home late one night and quietly opens the door to her bedroom. From under the blanket, she sees four legs instead of just her husband's two. She reaches for a baseball bat and starts hitting the blanket as hard as she can. Once she's done, she goes to the kitchen to have a drink. As she enters, she sees her husband there, reading a magazine. He says, "Hi darling, your parents have come to visit us, so I let them stay in our bedroom. Did you say hello?"
Eddie k
Women might be able to fake orgasms, but men can fake a whole relationship.
christymdrew
A police officer attempts to stop a car for speeding and the guy gradually increases his speed until he's topping 100 mph. The man eventually realizes he can't escape and finally pulls over. The cop approaches the car and says, "It's been a long day and my shift is almost over, so if you can give me a good excuse for your behavior, I'll let you go." The guy thinks for a few seconds and then says, "My wife ran away with a cop about a week ago. I thought you might be that officer trying to give her back!"
James Harris
A guy and his wife are sitting and watching a boxing match on television. The husband sighs and complains, "This is disappointing. It only lasted for 30 seconds!" "Good," replied his wife. "Now you know how I always feel."
Kid.KT
A man approached a very beautiful woman in a large supermarket and said, "I've lost my wife here in the supermarket. Can you talk to me for a couple of minutes?" "Why do you want to talk to me?" she asked puzzled. "Because every time I talk to a beautiful woman, my wife appears out of nowhere."
penehoff