Categories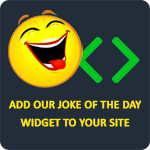 An old man goes into the Social Security Office and fills out an application. Too old to have a birth certificate, he is asked to prove he is old enough. He opens his shirt and shows them the gray hair on his chest and they accept that as proof. He goes home to his wife, shows her the check, and explains to her what has happened. She replies, "Well get back down there, pull down your pants, and see if you can get disability!"
TheLaughFactory
Marriage is a 3-ring circus: engagement ring, wedding ring, and suffering.
TheLaughFactory
A farmer walks into his bedroom carrying a lamb under his arm. He walks over to his wife who's laying in bed. "See!" he yells, "This is the pig I have to have sex with whenever you get one of your headaches!" The wife says, "You know that's a lamb under your arm, don't you?" The farmer says, "I wasn't talking to you."
Anonymous
On New Year's Eve, a woman stood up at a local pub and said it was time to get ready for the midnight countdown. At the stroke of midnight, she wanted every husband to stand next to the one person who made his life worth living. As the clock struck midnight, the bartender was almost crushed to death.
amorourk
Man: "Wanna hear a joke about my penis? Oh never mind, it's too long."
Woman: "Want to hear a joke about my vagina? Never mind, you'll never get it."
Yo mamma