Categories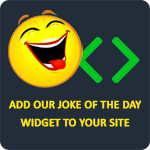 A man and a woman are sleeping together when suddenly there is a noise in the house, and the woman rolls over and says, "It's my husband, you have to leave!" The man jumps out of bed, jumps through the window, crawls through the bushes, and out on the street, when he realizes something. He goes back to the house and says to the woman, "Wait, I'm your husband!" She replies giving him a dirty look, "So why did you run?"
swtangie5
Wife: "Our new neighbor always kisses his wife when he leaves for work. Why don't you do that?"
Husband: "How can I? I don't even know her."
Anonymous
A man goes to see a wizard and says, "Can you lift a curse that a priest put on me years ago?" "Maybe," says the wizard, "Can remember the exact words of the curse?" The man replies, "I pronounce you man and wife."
Katie Reilly
Man: "Wanna hear a joke about my penis? Oh never mind, it's too long."
Woman: "Want to hear a joke about my vagina? Never mind, you'll never get it."
Yo mamma
A man comes home, finds his wife in bed with another man, and asks, "What is this?!?" The wife turns to her lover and says, "See, I told you he was stupid!"
tabya6