Categories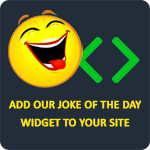 Bernie was invited to his friend's home for dinner. Morris, the host, preceded every request to his wife by endearing terms, calling her Honey, My Love, Darling, Sweetheart, Pumpkin, etc. Bernie looked at Morris and remarked, "That's really nice, that after all these years that you have been married, you keep calling your wife those pet names." Morris hung his head and whispered, "To tell you the truth, I forgot her name three years ago!"
lesliekimm
Q: Why didn't the man report his stolen credit card?
A: The thief was spending less then his wife.
TheLaughFactory
A married man was having an affair with his secretary. One day, their passions overcame them in the office and they took off for her house. Exhausted from the afternoon's activities, they fell asleep and awoke at around 8 p.m. As the man threw on his clothes, he told the woman to take his shoes outside and rub them through the grass and dirt. Confused, she nonetheless complied and he slipped into his shoes and drove home. "Where have you been?" demanded his wife when he entered the house. "Darling," replied the man, "I can't lie to you. I've been having an affair with my secretary. I fell asleep in her bed and didn't wake up until eight o'clock." The wife glanced down at his shoes and said, "You liar! You've been playing golf!"
Anonymous
A man walks into a bar and orders a shot, then he looks into his shirt pocket and orders another one. After he finishes, he looks into his pocket again and orders another shot. The bartender is curious and asks the man why he looks into his pocket before ordering each shot. The man replies, "I have a picture of my wife in my pocket, and when she starts to look good, I go home."
aussieange
Man: Your place or mine?
Woman: Both. You go to yours and I'll go to mine.
LaughFactory