Categories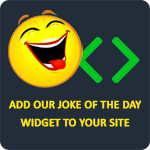 A guy and his wife are sitting and watching a boxing match on television. The husband sighs and complains, "This is disappointing. It only lasted for 30 seconds!" "Good," replied his wife. "Now you know how I always feel."
Kid.KT
A married couple are out one night at a dance club. There's a guy on the dance floor giving it large: break dancing, moon walking, back flips, the works. The wife turns to her husband and says, "See that guy? Twenty years ago he proposed to me and I turned him down." The husband says, "Looks like he's still celebrating!"
Penelope Snyder
During the wedding rehearsal, the groom approaches the pastor with an unusual offer. "Look, I'll give you $100 if you'll change the wedding vows. When you get to the part where I'm supposed to promise to 'love, honor, and obey' and 'be faithful to her forever,' I'd appreciate it if you'd just leave that out." He passes the minister a $100 bill and walks away satisfied. On the day of the wedding, when it comes time for the groom's vows, the pastor looks the young man in the eye and says, "Will you promise to prostrate yourself before her, obey her every command and wish, serve her breakfast in bed every morning of your life, and swear eternally before God and your lovely wife that you will not ever even look at another woman, as long as you both shall live?" The groom gulps, looks around, and says in a tiny voice, "Yes," then leans toward the pastor and hisses, "I thought we had a deal." The pastor puts a $100 bill into the groom's hand and whispers, "She made me a better offer."
Basala
A husband, who has six children, begins to call his wife "mother of six" rather than by her first name. The wife, amused at first, chuckles. A few years down the road, the wife has grown tired of this. "Mother of six," he would say, "what's for dinner tonight? Get me a beer!" She gets very frustrated. Finally, while attending a party with her husband, he jokingly yells out, "Mother of six, I think it's time to go!" The wife immediately shouts back, "I'll be right with you, father of four!"
Anonymous
A bus full of housewives going on a picnic crashed with no survivors. Each husband cried for a week, but one husband continued for more than two weeks. When asked he replied miserably, "My wife missed the bus."
TheLaughFactory