Categories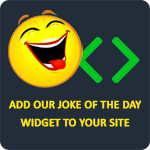 A husband, who has six children, begins to call his wife "mother of six" rather than by her first name. The wife, amused at first, chuckles. A few years down the road, the wife has grown tired of this. "Mother of six," he would say, "what's for dinner tonight? Get me a beer!" She gets very frustrated. Finally, while attending a party with her husband, he jokingly yells out, "Mother of six, I think it's time to go!" The wife immediately shouts back, "I'll be right with you, father of four!"
Anonymous
A bus full of housewives going on a picnic crashed with no survivors. Each husband cried for a week, but one husband continued for more than two weeks. When asked he replied miserably, "My wife missed the bus."
TheLaughFactory
A woman was nagging her husband to cut the grass, to which the husband answered, "What do I look like to you? A landscaper?!" Next time the sink was dripping, she asked him again, "Honey, can you fix the faucet?" The husband replied, "What do I look like to you? A Plumber?!" Two days later, a light bulb went out and she begged him again, "Honey, can you change the light bulb?" His reply was, "What am I? An electrician?!" A few days later, the husband comes home from work to find that the lawn is cut, the faucet is fixed, the light bulb is changed. Very surprised, he says, "Honey, what happened here?" The wife replies, "You know our new next door neighbor? He came over and fixed everything." The husband says, "Honey, how did you pay him?!" "Oh, you know," the wife says, "he told me that I could either bake him a cake or have sex with him." Somewhat relieved the husband asks, "Whew, so what kind of a cake did you bake for him?" The wife replies, "Who do you think I am? Betty Crocker?!"
robrob13
A husband asks his wife, "Will you marry after I die?" The wife responds, "No, I will live with my sister." The wife asks him back, "Will you marry after I die?" The husband responds, "No, I will also live with your sister."
joker
A man and a woman are sleeping together when suddenly there is a noise in the house, and the woman rolls over and says, "It's my husband, you have to leave!" The man jumps out of bed, jumps through the window, crawls through the bushes, and out on the street, when he realizes something. He goes back to the house and says to the woman, "Wait, I'm your husband!" She replies giving him a dirty look, "So why did you run?"
swtangie5